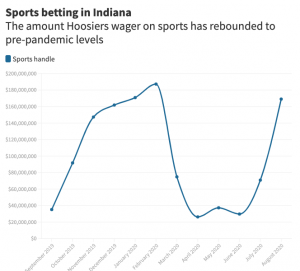 Sports betting in Indiana rebounded to pre-pandemic levels last month with Hoosiers placing wagers totaling more than $169 million.
According to a revenue report released Friday by the Indiana Gaming Commission, the sports betting handle more than doubled from July to August to reach its highest mark since February, before the pandemic hit the state.
Hoosiers wagered about $70.9 million in July and more than $169 million in August, the third-highest monthly total since sports betting launched in Indiana last September.
As part of the COVID-19 precautions taken throughout the state this spring, casinos were closed from mid-March through mid-June. Mobile sports betting was allowed to continue, but the widespread cancellation and postponement of sporting events severely limited what Hoosiers could wager on and revenue took a dive.
In April, sports betting generated a record-low handle of $26.3 million. But with casinos open again and sports back in action, betting has picked up the pace and returned.
Bets on basketball accounted for the largest share of the handle last month, with wagers totaling $55.2 million. Parlay bets were the second highest category, generating $43.6 million in wagers, and baseball was third highest with $31 million in wagers.
"A rebound was inevitable with such an active sports schedule in August, but seeing such a busy month is awfully welcome news for Indiana's sports betting industry," Dustin Gouker, lead analyst for PlayIndiana.com, said in a statement. "August's results are a clear signal that we are turning the page on its darkest days."
Adjusted gross revenue for the sportsbooks reached $9.8 million in August, which is up nearly 48% from July.
The sports wagering tax generated $934,300 for the state, which is also closer to levels since before the pandemic.
Max Bichsel, vice president of U.S. business for Gambling.com Group, predicts that sports betting will top $200 million this month, as NFL games, which started Thursday, boost bets on football.
"Looking ahead to the fall, all eyes will be on football as sports books continue to make up for lost revenue of the last six months," Bichsel said in a statement. "While the lack of Big Ten football will certainly have some impact on Indiana's betting activity this fall, you can expect sports fans will still find plenty to bet on with Notre Dame and other leagues, including the NFL in action."
Please enable JavaScript to view this content.