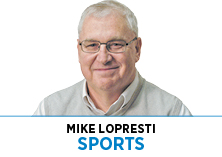 Little-known facts to help you prepare for the state's basketball season
Bounce, bounce, bounce. Yeah, college basketball is coming. Go one more week, turn left at the Halloween pumpkins, and you're there. To be ready, time for a little, "Did you know?"
Did you know …
The men's programs at IU, Purdue, Butler and IUPUI have at least one thing in common—all are now being coached by alumni? Mike Woodson's arrival at Indiana and Matt Crenshaw's naming at IUPUI joined them with Purdue's Matt Painter and Butler's LaVall Jordan. Crenshaw is the only one who scored maybe the biggest basket in his school's history. His last-second jumper in 2003 sent the Jaguars over Valparaiso in the Mid-Continent Conference tournament title game for IUPUI's first—and only—NCAA Tournament berth.
Did you know …
Woodson got his first coaching job partly because he liked golf?
There Woodson was in the 1990s, back in Bloomington and content to be a retired player working in real estate. Phoenix's Cotton Fitzsimmons called one day with an offer to help coach in the NBA summer league.
"I want no part of coaching," Woodson answered.
"Woody, we can play golf every day," Fitzsimmons reminded him.
"I'm on my way," Woodson said.
Thirty minutes into the first practice, Fitzsimmons said he was leaving for his tee time.
"I said, 'I'm going too, right?'" Woodson remembered. "He said, 'No, somebody's got to coach the team.' I knew nothing about coaching. It was one of the most embarrassing times of my life as a coach. He left me there. I thought, 'I played 11 years in the NBA and I have no clue what I'm doing from a coaching standpoint.' But when I left practice that day, I just had the bug."
Did you know …
Butler Athletic Director Barry Collier hasn't missed a Final Four in 45 years? Now, he'll help plan the road there for teams, as a new member of the NCAA Division I Men's Basketball Committee—the 12 folks who select the field and seed the entrants. It will mean a gazillion hours in front of his TV or computer screen this winter.
"I can't imagine watching more games than I already watch. It seems like the difference now is, 1/12th of my opinion will matter," he said. He's been on the NIT selection committee, "looking at the schools right behind the Peloton," Collier said, but picking the NCAA field comes with more scrutiny and criticism and must be different.
"What I don't know is what I don't know," he said. "I'm sure some people would look at this and think it's the green curtain on 'The Wizard of Oz,' and magic stuff is going on behind it and the sausage is being made and nobody can see what's going on. I think it's relatively straightforward. Twelve people are voting. The one thing I felt I could do is come through my lens as a student-athlete in the sport, and a coach in the sport and an administrator in the sport."
On Selection Sunday, the committee can become public enemy No. 1 for those teams left out. Collier figures his past work has him prepared. "When you've got 17,000 people telling you where you can go when you're coaching on the road … ."
Did you know …
With most everyone back—including 14 feet and 2 inches of trouble in 6-10 Trevion Williams and 7-4 Zach Edey—Purdue is a bona fide top-10 team and Big Ten contender, but Painter is still appealing to the basketball gods for better treatment for his Boilermakers in March? No wonder.
The Boilermakers were infamously knocked out in the first round of the NCAA Tournament last spring by North Texas in overtime. Painfully denied the Final Four in overtime by Virginia in 2019. Frustratingly sidelined in extra periods in 2015 and 2016. That makes four OT exits in the past six tournaments. Ouch.
"You remember the losses more than you remember the wins," Painter said. "That's terrible. We should cherish quality wins more than the tough losses. When you win games by one possession, you look at it like you had it the whole way, when, in reality, you're talking about one possession. When you lose, it's like you got your doors blown off, when, in reality once again, it's one possession.
"I'm a believer in the basketball gods. You play the game the right way, you carry yourself the right way, when things maybe go against you, you've got some positive things coming your way. But you have to help yourself."
Did you know …
The IU women, who rolled into their first-ever Elite Eight last season, are back for more with on-court leadership from a seventh-year senior? Between an injury redshirt, transfer season and an extra year of eligibility granted because of COVID, Ali Patberg has invested more than a fourth of her life in college basketball, time enough to make the Hoosiers program a genuine national force. It was the only Division I team in the state, male or female, to win an NCAA Tournament game in 2021. "We were a couple of plays away from the Final Four. You still feel that. It hurts," she said. "It just fuels us every day about how every detail matters."
Did you know …
New Purdue women's coach Katie Gearlds was once named MVP of the McDonald's All-America Game for high school girls? The boys also named an MVP that same year: a pretty impressive phenom named LeBron James.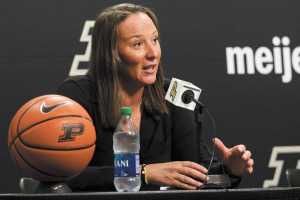 In six months, Gearlds has gone from Marian head coach to Purdue assistant to suddenly taking the top spot for the Boilermakers when Sharon Versyp retired in September. "My head is above water; my feet are moving really fast underneath," she said of the whirlwind. She built a Purdue legend as a player. Now, she'll try to give second wind to a program that just went 6-17, its worst season in 37 years.
And did you know …
Arguably the most difficult preseason schedule in the nation was born on the south side of Indianapolis? The University of Indianapolis Greyhounds will play a preseason game on Nov. 1 at Ohio State. Then another on Nov. 4 at Purdue. Then another on Nov. 5 at Butler.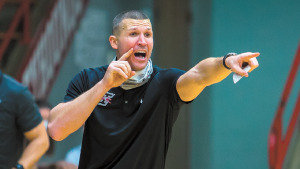 "Even at the highest level of Division I, not many teams will play three teams of that magnitude in a five-day period," coach Paul Corsaro said. "But also, it's going to give our players a great opportunity to see where we stack up and what we need to do to improve."
Three major programs, two ranked, five days. Are there moments Corsaro looks at that and wonders, "What was I thinking?"
"Not at all. I've tried to develop a standard and a culture that we'll play anybody any day," he said. "But the reason that we are doing that is to prepare us for our regular season. I want to walk away after those three games and everyone in our locker room know what our team's identity is."
The paychecks won't hurt the athletic budget, either. "There's some perks there," Corsaro said.
So, seven months after the Indianapolis NCAA Tournament bubble, college basketball is back. Still looking over its shoulder at COVID, but back.•
__________
Lopresti is a lifelong resident of Richmond and a graduate of Ball State University. He was a columnist for USA Today and Gannett newspapers for 31 years; he covered 34 Final Fours, 30 Super Bowls, 32 World Series and 16 Olympics. His column appears weekly. He can be reached at mjl5853@aol.com.
Please enable JavaScript to view this content.