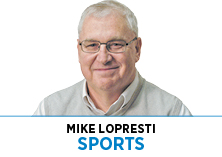 Before the first kickoff, the first touchdown, the first notes from the tuba section, there are several questions to wonder about this football season. But let's start with this one.
Who has the Colts quarterback voodoo doll with pins stuck in it?
Yes, here we are, another August, another plot twist in the ongoing saga of (insert name here) as the starting quarterback. Think back the past decade. Peyton Manning, as sturdy as an oak tree, hurts his neck, misses a season and ends up a Denver Bronco, Lombardi Trophy and all. Andrew Luck goes from face of the franchise to the retirement list in a nano second. Anyone here remember Kerry Collins? Curtis Painter? Scott Tolzien? Philip Rivers had his cameo. Now Carson Wentz. He was barely into his Indianapolis honeymoon, with a resume of many intriguing angles. Do you realize, for example, he has the same birthday—Dec. 30—as LeBron James, Tiger Woods and Sandy Koufax?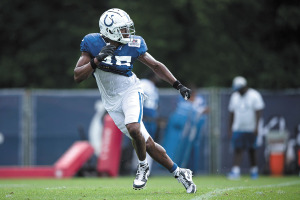 Anyway, now he has to sit down until the leaves change because of an injury that might have happened during his high school days back in North Dakota, where he was class valedictorian, a first baseman and a defensive back with 61 tackles and two interceptions. You just want to ask the football gods … Really? Again? The most important position in sports used to be as stable as helium for the Colts. They had one starting quarterback in 13 years. Peyton You-know-who. Whoever opens against Seattle September 12—Jacob Eason seems the choice—will be the 11th different quarterback starter in the past 161 games.
There are other questions bouncing around the state's football landscape.
Is the world ready for IU, football bully?
How far can Ball State go with the oldest team this side of the AFC South?
Is revival in sight for a Purdue program that has had 11 losing records in 13 seasons?
Answers coming soon. September should be a revealing month. Here are six dates that ought to tell us something.
Sept. 4. Indiana at Iowa, Oregon State at Purdue.
The Hoosiers haven't won in Iowa City in 14 years. But if they're serious about contending for the Big Ten title, this is the moment to change. And they are serious. "We're always asking each other, what did you today to win the Big Ten?" quarterback Michael Penix Jr. was saying. "We wake up every day chasing greatness."
Coach Tom Allen, the architect of this raised bar in Bloomington, is even letting his players actually speak words about a league title. "The expectations are changing. I'm not bashful talking about this," he said. "When I first took over as head coach, I would not allow our team to break [a huddle or group session] on Big Ten champs. Because I had heard us doing it before and I just felt like they were empty words. I didn't feel like there was belief in those words, so I put an end to that.
"You have to earn the right to say certain things, because you have to be accountable for your words. Words matter, words are powerful, words are important."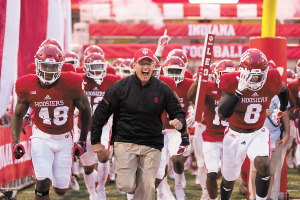 Now he figures IU is close enough for the Hoosiers to utter lofty goals. His players feel that way, too, with a new swagger. Penix and star receiver Ty Fryfogle showed up at Big Ten media day wearing natty attire and conspicuously showy jewelry. All part of the Hoosiers' comfort at center stage. "Definitely not my look," Allen said. But he doesn't mind the message of self-confidence, so long as it's earned. This will be the day to start earning it.
Oregon State has been picked to finish fifth in its six-team Pac-12 division. Predictions can be worthless, but it's a long trip from Corvallis to West Lafayette, so this opener seems very winnable for Purdue, against a team it has not played in 54 years. If the Boilermakers want to break through the .500 ceiling, this game might be necessary.
Sept. 11. Ball State at Penn State.
The Cardinals are 3-28-1 against current Big Ten members, with all three victories against Indiana. Penn State in State College is a very tall order, but then no college team in America is more grizzled than Ball State, whose roster is supercharged by the return of several seniors who took advantage of the NCAA granting an extra year of eligibility because of the disjointed 2020 pandemic season.
Eight Cardinal starters are in their sixth year of college football, and 18 are at least in their fourth season. There are 27 four-year veterans on the two-deep chart, counting the punter. That's a roster with mileage never seen before. Ball State doesn't necessarily need to upset Penn State. Scaring the Nittany Lions would get the point across.
Sept. 12. Seattle Seahawks at Indianapolis Colts.
Most children born in the year Indianapolis last won its opening game are starting second grade this fall. That was 2013. Seven opening day defeats in a row is the longest losing streak in the NFL, by a bunch.
P.S. Seen the Colts injury list lately? Many more names and it'd be the white pages.
Sept. 18. Purdue at Notre Dame, Cincinnati at IU.
The Boiler-Irish series gets a reboot after a seven-year hiatus. When last they saw one another, Notre Dame had won seven meetings in a row. David Bell, meet the Golden Dome.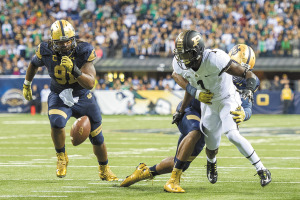 Cincinnati's name is being bandied about as a major bowl contender. The test this day will not only be for the Hoosier team, but the Hoosier crowd. Given the rare pre-season adulation currently lavished upon IU, and the quality of the opponent, anything less than a big attendance number would be hard to excuse. Unless the virus gets in the way. If the Hoosiers are 3-0 at the end of this day, anything will seem possible.
Sept. 25. Toledo at Ball State.
The Cardinals were something of surprise league champions in 2020 but will slip up on no one this season. Hence, the targets printed on the backs of their weight room shirts, reminding the players of the challenges ahead. Since Ball State and Toledo are considered the top two teams in the MAC West, a lot might be decided by this conference opener. Because of COVID restrictions, the Cardinals home crowd missed the golden 2020 season with its league title and Top 25 ranking and bowl victory. Now's the chance. "We're playing championship football," coach Mike Neu said. "We need a championship atmosphere."
Sept. 26. Colts at Tennessee Titans.
This could be the continuation of the Eason Era. Or the Sam Ehlinger Era. Or the debut of the Wentz Era. Or whatever. What we do know is this begins a three-week road stretch and is also the first game against a division opponent. If the quarterback situation doesn't have some good answers by then … trouble.
And if those dates don't seem appealing enough, just wait until Oct. 23 when Ohio State visits Bloomington. If conditions are right, it could be the biggest football game on the IU campus in more than a half-century, and maybe ever. But best not to think too far ahead. Trying to keep track of the Colts quarterbacks as they go by has taught us that.•
__________
Lopresti is a lifelong resident of Richmond and a graduate of Ball State University. He was a columnist for USA Today and Gannett newspapers for 31 years; he covered 34 Final Fours, 30 Super Bowls, 32 World Series and 16 Olympics. His column appears weekly. He can be reached at mjl5853@aol.com.
Please enable JavaScript to view this content.