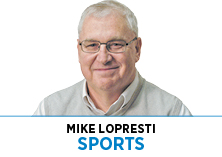 Susan Baughman can look at her schedule to find out where the college football season begins this weekend: in places such as West Lafayette and Iowa City and Madison. She already knows well enough where it's going to end.
The finish line is the hulking giant she regularly passes on the way to work. She gazes at Lucas Oil Stadium every day and imagines it's Jan. 10. She's president of the Indy College Football Playoff 2022, so she understands that, with the season fully underway, her city is now truly on the clock.
"I count weeks, because days sound too long to the staff," she says. "I dream about it, and I think about it and I talk about it. I'm consumed, I'm obsessed, in a positive way. I want to enjoy every bit of it and do as well as I can, and then it'll be gone. That's the nature of these events. You can't sit around and feel like, 'I'm going to do it later.' Because there is no later."
Wasn't it just yesterday that Indianapolis was basking in the glow of pulling off the NCAA Tournament, with COVID banging on the door? But the calendar moves on, and now Indy and its 425-person playoff host committee prepares for their next moment of truth on the big stage. It won't be March Madness. The city had to deal with 68 teams coming and going then; this time, there will be only two.
But it's still an enormous task, and Baughman sits at lunch, looks out the window at Lucas Oil, and considers what keeps her up at night.
"Beating the clock. How do you have time to get all the things done?" she says. "I feel like we're at that place where everybody still has great ideas, but we're sort of past great new ideas. We're really into executing." Hence, the notepads by her bed and shower to jot down any concern that comes to mind.
Just look at all the things on their plate, besides getting the place ready for a football game.
◗ The hope was that the pandemic would be a fading issue by January. That ain't happening. The virus situation might be better by January. Might be worse, too. Might be like the NCAA Tournament, with attendance limitations and concern about mass gatherings.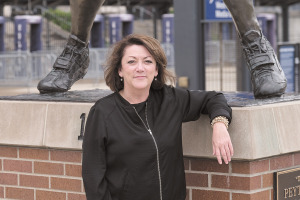 Downtown packed with thousands in Clemson orange or Ohio State scarlet has long been a dream. The Super Bowl brought corporate big cheeses and VIPs; this event will bring boosters and true believers. There are plans for a fan festival in the Indiana Convention Center, and a media day open to the public. Might COVID wreck all that? The Marion County Health Department will likely have a huge say about what that weekend looks like in Indianapolis. Just like in March.
"Two months ago, it felt pretty good," Baughman says. Then the delta variant hit. Now, nobody knows. Nobody ever knows for sure with the virus. "It is a little frustrating, especially because it's not about us. It's about the fans and those teams getting their one shot at doing this and hopefully it will be all that it should be."
The experience in March gives encouragement. "I think the real key fact is, people were willing to play by those guidelines and rules, because they wanted to get to the end as much as the people organizing," she says. Indy will hope for the best and plan for everything else. What else can you do with the virus?
"Perspective is everything, right?" Baughman says. "Whereas weather used to be the scariest thing, I think I would say public health and safety in all the different ways is probably the main thought. We have no control over the weather, but we have more management control over how we deal with the weather than we do with the virus."
◗ The pandemic also has wreaked havoc around the nation in delayed deliveries and spot shortages. Who knew there'd be challenges in finding banners, backdrops, promotional items, even rental cars to be used by visiting official parties? "One week something will be impossible, the next week it'll be back out there," Baughman says. "Sometimes you don't know what the problem is going to be."
◗ There are days when even the most hardened Indianapolis commuters feel like sticking their faces in a fan, trying vainly to get through all the construction barrels and road-closed signs. Imagine what it will be like for visitors from Alabama. Want people ticked off at your city? Have them sit in a traffic jam every time they try to go from Point A to Point B.
"The highway's not going to be done and we know that," Baughman says. "So, we have to do whatever we can do to make sure that we're making smart decisions on how we're routing everything. People are going to have to continue to be patient and find their own routes like they do."
It won't hurt that fans staying in all those downtown hotels are so close to the stadium and restaurants. No detours in walking.
◗ That'll be winter in Indiana. Fondly remembering how Super Bowl week felt like early spring back in 2012, local organizers are hoping for another climatic winning lottery ticket. If not, there'll be plans to cope, including, in Baughman's words, this most basic snow strategy for the volunteers: "Grab a shovel."
So college football is here, and all Baughman has to do is look at her TV on Saturdays to know January is not that far away. Nebraska is already 0-1 and they're already nearly after the coach with pitchforks. Baughman has been around the block with Indiana Sports Corp. for the Super Bowl, Final Fours, etc. She understands what's to come.
"You always have to answer your critics," she says. "People who are not sure if something's going to work. But time and time again—it doesn't matter what it is—in Indiana, it does work and it can work. I think there's an inner confidence that these things will go well.
"I feel that mantle of responsibility. I want it because I feel like it pushes you to never rest on your laurels."
Billboards are going up. There are tailgate parties at two different high schools each Friday night of the regular season, spreading the hype for January, and a program to honor Indiana teachers. There are more than 2,000 names on the wait list for volunteer information. Indianapolis, forever a host of something, has to be wary of big-event fatigue, but as Baughman says, "I think people get excited when it's something new." And this has never happened here before. You haven't seen visitors spend money until you've seen SEC football fans hit town.
Baughman takes another glance at Lucas Oil on her way to the office from lunch.
"It's so grand and it's such a beautiful building," she says. "I think teams are going to love it."
Around her is the downtown that must soon be ready for yet another closeup. But also the relentless microbe enemy she can't even see.•
__________
Lopresti is a lifelong resident of Richmond and a graduate of Ball State University. He was a columnist for USA Today and Gannett newspapers for 31 years; he covered 34 Final Fours, 30 Super Bowls, 32 World Series and 16 Olympics. His column appears weekly. He can be reached at mjl5853@aol.com.
Please enable JavaScript to view this content.