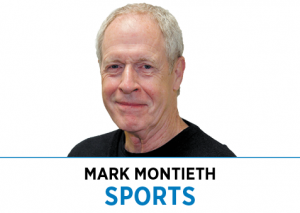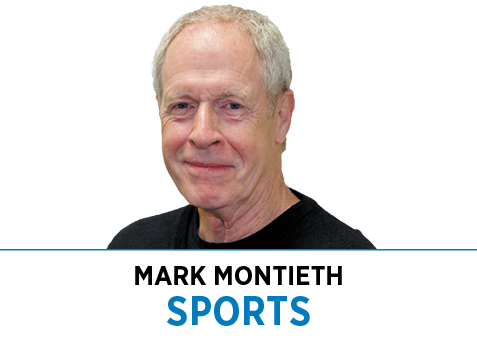 The college basketball season is underway, the first of a bold era after the proverbial lid was blown off the system that had remained mostly intact for nearly 100 years.
Forget NCAA, the most relevant acronym now is NIL—name, image and likeness. It means that formerly amateur athletes can now be compensated for their popularity in a myriad of ways with a myriad of dollars.
It remains to be seen how this plays out, and it's possible the pendulum will swing back toward the vicinity of sanity someday. But it's safe to say things will never be the same again at good ol' State U. While the college game was never purely amateurish, and many of the players were far from serious students, it still once possessed far more innocence than it does today.
Today's players would hardly recognize the game as it operated 50 years or so ago. Players usually stayed for all four years of their eligibility, even the All-Americans. Freshmen weren't eligible until the 1972-1973 season because it was believed they needed a year to establish themselves as students and athletes.
Coaches sat down for most of the game, rather than standing and barking signals as they do today. They weren't paid millions of dollars, either. Bob Knight, for example, was paid about $32,000 annually when he started at Indiana University in 1971. Johnny Wooden was earning $35,000 his final season at UCLA, which ended in 1975 with his 10th national championship. Gene Keady's salary when he took over at Purdue in 1980 was $42,500.
The greatest indicator of a more idealistic and grounded time, however, was the Big Ten schedule that attempted to minimize missed class time for the players. It seems an incredibly quaint notion now, nearly laughable, that a conference actually took academics into consideration when devising its schedule. Perhaps Norman Rockwell drew it up, in sepia tones.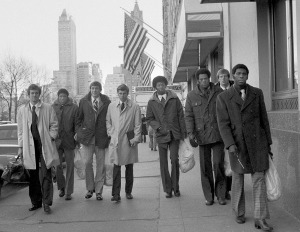 Starting with the 1972-1973 season, the Big Ten began playing all conference games on Saturdays and Mondays. Then, for the 1974-1975 season, when the conference schedule was expanded to 18 games—so each team played each other twice, home and away—travel partners were instituted. Each school was paired with the one that made the most geographic sense (Indiana with Ohio State, Purdue with Illinois), and they toured the conference in an efficient and logical fashion against other travel partners.
IU, for example, might fly out on Friday afternoon for Evanston, Illinois, conduct a brief practice that evening and play a game at Northwestern on Saturday, probably in the afternoon. It then traveled to Madison, Wisconsin, had a light practice on Sunday, and played Wisconsin on Monday evening. The players would be home by around midnight, having missed only Monday classes.
"It seems like there were some classes we would have to miss, but [conference leaders] were cognizant we had some schoolwork to take care of," said Tom Abernethy, a 1976 Indiana graduate.
Walter Jordan, a 1978 Purdue graduate, has fond memories of the team's trips to play the Michigan schools. The players would take a bus to Fort Wayne, Jordan's hometown, have a meal, then head on to Ann Arbor. They practiced that night, played Michigan the next day, then bused to East Lansing for a game two days later. The team was back in West Lafayette by midnight.
For longer trips, such as to Iowa and Minnesota, the team flew.
"I remember, no matter what time we got back, we had to be at class the next morning," Jordan said. "That's just the way it was. They checked to make sure you were there."
The conference switched to a Thursday-Saturday format in the 1976-1977 season. IU's Knight, for one, protested that move, because it meant players missed Thursday and Friday classes when on road trips, but the schedule still qualified as an orderly procession through the season. In the '80s, however, with the college game's popularity soaring, the television networks strengthened their grip on the conferences and took control of the schedules. Sunday games, which had been rare in the '70s, became more common. Then Wednesdays entered the picture.
By the 1986-1987 season, the pretense of academic emphasis had all but slipped away in favor of maximizing dollars and exposure. It came to a head for Knight on Feb. 16, 1987, when IU had to play the second half of a Big Monday doubleheader at Wisconsin on ESPN. The game tipped off at 9:40 p.m. It took three overtimes to complete and ended about 12:15 a.m. Despite getting a victory that preserved his team's share of the Big Ten championship and a No. 1 seed for the NCAA tournament, Knight was incensed.
He said it was time the university "presidents or somebody stepped in and laid some rules down on when the teams can play and when they can't and how much class you're allowed to miss and to hell with ESPN and getting on television," he said. "This is absolutely ridiculous to put a college student through."
Knight had held a long-standing grudge against television's control over the games. Steve Green, a 1975 IU grad, remembered a game at Northwestern during his career where the tipoff was delayed while waiting for the TV broadcast to return from a commercial break.
"We were ready for the tipoff and TV wasn't and [Knight] was barking at this poor official, 'Throw the ball up! [Bleep] TV!" Green recalled.
By 1987, however, Knight's cause was lost. Television would always have its way. And truth be told, most coaches were—and are—in favor of playing on any night or day of the week, at any time, if it means more national exposure that can assist recruiting efforts. The Big Ten coaches, in fact, had voted to accept the ESPN package of the '80s.
"We've had coaches kick up dust about it, and they have a good point," Purdue coach Matt Painter said. "But we're trying to grow our league. We have a good league in terms of recruiting, and you want to attract the best players. The more exposure you have, the more it helps your league."
Another truth: The players like playing on national television, no matter when. Besides, those well-structured weekend road trips of the '70s that took class schedules into account apparently didn't have much impact on academics.
"Yes, we did take books," Green said. "Did we get anything done? Hell, no."
"You couldn't study when you knew you had to face Kevin McHale and Mychal Thompson and Phil Hubbard," Jordan added. "There wasn't much studying going on, I'll tell you that."
Green got by, even though he once fell asleep during an organic chemistry exam the morning following a game at the University of Notre Dame and had to beg for another shot at the test. He's had a long career as a dentist and is now co-founder of the Arora Specialty Sleep Clinic in Fishers.
Jordan got by, too. He's executive director and coach of a youth basketball travel program in Atlanta—Team Impact Inc.—and recently self-published an autobiography, "Gracefully Broken."
Painter had an eye on coaching throughout his playing career at Purdue and kept his focus mostly on basketball during road trips. He's done all right as well, being one of today's elite millionaire coaches.
This season, Painter's Purdue team will play every night of the week. Complaints are difficult to hear, having been muffled by the blaring volume of the enthusiasm surrounding the games. Nobody pretends college basketball is a purely amateur event any longer, either. Its purpose has been clearly defined and scheduled for all to see.•
__________
Montieth, an Indianapolis native, is a longtime newspaper reporter and freelance writer. He is the author of three books: "Passion Play: Coach Gene Keady and the Purdue Boilermakers," "Reborn: The Pacers and the Return of Pro Basketball to Indianapolis," and "Extra Innings: My Life in Baseball," with former Indianapolis Indians President Max Schumacher.
Please enable JavaScript to view this content.