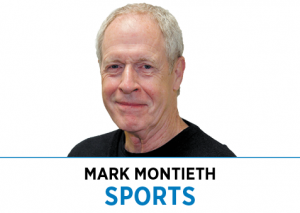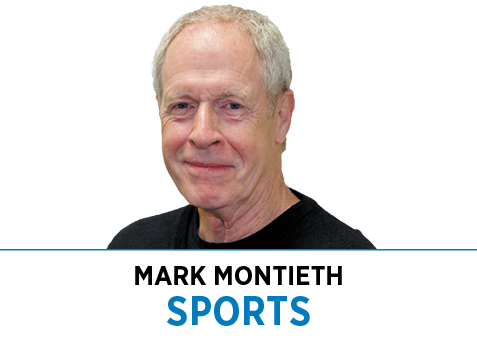 Paying tribute to Jerry Harkness gets complicated. There were too many accomplishments, too many storylines to know where to start. Or end, for that matter.
The encounter with Jackie Robinson that immediately changed the direction of his life?
Leading Loyola of Chicago to the 1963 NCAA basketball championship while playing an unwitting role in breaking down racial barriers?
Giving up a rare and secure corporate opportunity to take one final, high-risk shot at fulfilling his dream of playing professional basketball with the Indiana Pacers?
Making a final, high-risk shot for the Pacers that stands as the longest game-winner in the history of professional basketball, if not all levels?
Breaking racial barriers in local broadcasting and community service?
Harkness, who passed away early Tuesday morning at age 81, had a knack for being part of history. He also had a knack for making it himself when necessary. He had one of the best backstories of any athlete to live in Indianapolis, one filled with unlikely drama.
But for those who met him, his overriding legacy will be the decent and humble nature that muted his accomplishments and amplified his impact.
The respect he accumulated along the way was evident to the very end. Oliver Darden, a teammate of Harkness' on the inaugural Pacers team, flew from his home near Miami last weekend to spend three days with Harkness at the hospital. Freddie Lewis, another teammate, called from Washington, D.C., on Saturday evening, although Harkness couldn't speak by then.
"I shared my love and let him know everybody was thinking about him and praying for him," Lewis said.
A gathering was conducted in Harkness' honor on July 18 at the home of Jeannie Brown, wife of former Pacer Roger Brown. Harkness was in the hospital that day and unable to go, but a large group turned out to speak with him via a Zoom call. Former Pacers George McGinnis, Darnell Hillman, Billy Keller and Dave Robisch were among the attendees, as was 1962 Indiana Mr. Basketball Larry Humes, 1953 Mr. Basketball Hallie Bryant, former trainer David Craig, and Nancy Leonard, wife of former coach Bobby "Slick" Leonard.
"He's one of those guys you didn't want to let go," Darden said. "He's the kind of person you need.
"Jerry was the life of the party, but he didn't swear, and he didn't drink. He never said a bad word about anybody. He didn't go out and do crazy things like some of the other players would do. He was the kind of guy who could really help a team even if he didn't play."
Brush with greatness
If he had never played basketball, if he had been just another relatively anonymous resident, Harkness still would have left a significant imprint on Indianapolis for his involvement in community affairs. He did play basketball, though, and it was basketball that took him from the Harlem YMCA to Madison Square Garden to Chicago and back to the Garden before he ultimately wound up in Indianapolis. It was basketball, also, that provided a venue for him to flex the initiative that brought so much success.
The great irony of Harkness' life was that, while he was a steadfast force for integration, his biggest break came about as an indirect result of segregation. Black professionals of the 1950s mostly lived in the same neighborhoods as the rest of their race's citizens, which meant doctors, lawyers and celebrities from the sports and entertainment worlds were a common presence in places like Harlem.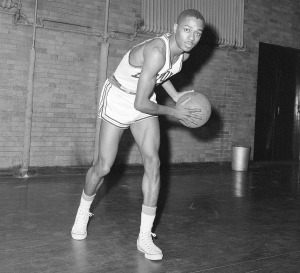 That would have a profound impact on Harkness' life during the summer before his senior year at DeWitt Clinton High School. He was having success as a distance runner but had not gone out for his high school basketball team. His father had left home, and he was feeling more disappointed than confident. Most of the players on the varsity team lived in other areas of the school district and he just assumed they were better than he was.
One Saturday morning he was in the gymnasium at the Harlem YMCA, shooting around and practicing some one-on-one moves against an invisible defender, when a recently retired baseball player passed through.
"Hey, kid, you're not bad!" Jackie Robinson shouted.
Something like that, anyway. Robinson's exact words faded from Harkness' memory over time. Maybe he threw out something hopeful to go with the compliment, along the lines of, "Maybe you can get a scholarship!"
Whatever Robinson said, it played out like a scene from a movie, lighting a spark in an impressionable kid in need of inspiration and direction. Harkness tried out for DeWitt Clinton's varsity team his senior year. He made it, and quickly became a starter. His team went on to win the city championship in 1958, and he received honorable mention all-city recognition.
Famous handshake
He landed a scholarship offer, too, although it took another year and unpredictable circumstances that he considered fateful for Loyola to come through. Four years later, he led the Ramblers to the 1963 NCAA championship.
Equally memorable, however, is what happened earlier in the tournament.
Loyola's second opponent, Mississippi State, had literally escaped from its campus and crossed state lines under the cover of darkness to fly to East Lansing, Michigan, to compete, defying an injunction from the state's governor. The state schools had been following an unwritten policy of refusing to play against integrated teams in previous seasons, but pressure was building to break from the past and get in step with the rest of the country.
A photo of the pre-game handshake between Harkness and Mississippi State captain Joe Dan Gold amid popping flashbulbs has become a historic document of its own, another dramatic scene that signaled the end of enforced segregation in college basketball. Loyola went on to win the game, and the state of Mississippi survived. It would become a measure of society's progress and of Harkness' ability to unite that he was invited to serve as an honorary pallbearer at Gold's funeral service in 2011.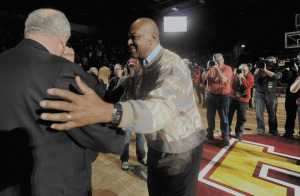 Loyola won the NCAA title with an overtime victory over Cincinnati, setting off a heady time for Harkness. He was voted a consensus first-team All-American. He then played in college basketball's greatest showcase of that time, the East-West All-Star Game. He led the West team—coached by UCLA's Johnny Wooden—to a victory and was voted Most Valuable Player. Shortly afterward, he became the ninth overall pick in the NBA draft by his hometown New York Knicks.
He reported out of shape following a protracted contract negotiation, however, and lasted just five games. Being a poor perimeter shooter while having to make the adjustment from college forward to professional guard didn't help.
He took a sales and public relations position with Quaker Oats and was transferred to Chicago, where his name carried weight. The company's first Black front-office employee, he made sales calls during the week and organized sports clinics on weekends. By 1967, he was tracking toward a position in management.
One more chance
The sting of his failed NBA opportunity lingered, however, and fate intervened again when he read a wire service article in a Chicago newspaper that told of the formation of a new league, the American Basketball Association. One of the franchises was to play out of Indianapolis, so he wrote a letter to the sports editor of The Indianapolis Star, Bob Collins. The letter was forwarded after the franchise hired a general manager, Mike Storen, and Harkness was invited to participate in an open tryout in June.
It was a flimsy opportunity on which to hang a dream, being one of about 150 men seeking one of a few precious open spots with a team in a league that might not survive for even a season. But it was enough to convince Harkness to give up a secure job and leave behind his wife and infant child to take a shot.
Harkness barely survived the first cut to earn an invitation to training camp, then barely survived the final cut. He always considered himself the last player selected to the team, nosing out Humes. He was 27, the oldest player on the roster.
The next obstacle was finding housing for his family. Turned away by various north-side apartment complexes, even newly opened ones, local real estate developer Robert Welch had to intervene on his behalf.
Harkness appeared in just 81 games over two seasons with the Pacers but found time to deliver one of the franchise's iconic highlights in a game in Dallas on Nov. 13, 1967, when he hit an 88-foot game-winning three-pointer at the final buzzer. It was regarded at the time as the longest shot in the history of professional basketball, perhaps any level of basketball. It would turn out to be the only made three-pointer in his professional career, out of just five attempts.
Baron Davis of the Charlotte Hornets, standing near the sideline, is reported to have hit one slightly longer in 2001, but that came at the end of the third quarter. Harkness' heave remains the sport's longest game-winning shot.
Harkness' play improved in his second season, and he was in the starting lineup when Leonard made his debut as Pacers coach 10 games into the season. Back and knee injuries forced Harkness into retirement after he had played in just 10 games, however. He was kept on as a scout and broadcaster for the rest of the season, which enabled him to further establish himself in the community.
Community icon
He took a job with United Way as its first Black fundraiser and was promoted to director of minority affairs. He retained that position—for more than 25 years—even after WTHR-TV Channel 13 hired him to become the state's first Black television sports reporter and weekend anchor. Harkness was photogenic and had a pleasing voice but had absolutely no training as a broadcaster other than a handful of games as a color commentator. Thrown to the wolves, he considered himself "awful" at first before improving to "mediocre," but took the job out of a sense of obligation to dissolve another barrier.
His name and reputation enabled him to get exclusive interviews with the likes of Larry Bird, Bob Knight and Kareem Abdul-Jabbar throughout his 12 years with the station. He also became friends with the weekend weatherman, David Letterman, who invited him to dinner while in Indianapolis for the "500" a few years ago.
Harkness took a part-time gig with radio station WTLC's morning news team after he was let go by Channel 13 and immersed himself in community affairs. He was instrumental in the development of Indiana Black Expo and 100 Black Men and was part of a ministry, Kairos, that spent weekends in prisons to mentor inmates. He coached youth basketball teams as well.
Above all, however, it was the daily decency, accompanied by the soundtrack of his high-pitched, gentle voice, that stood out most.
An example: Harkness and former Indiana University All-American Jimmy Rayl were opponents in college and teammates during the Pacers' 1967-1968 inaugural season. They came from nearly polar-opposite backgrounds, and it would have been easy for them to go their separate ways after they were released about a month apart from each other during the second season.
And they did, for nearly 20 years. Harkness, though, invited his wife and himself to Kokomo to have lunch with Rayl and his wife on a Sunday afternoon around 1987 to renew acquaintances. Harkness was out of town when Rayl died in January 2019 but arranged to go to Kokomo a couple of months later to have lunch with Rayl's wife, Nancy. Then in February 2020, when the street outside of Kokomo High School's gymnasium was renamed for Rayl, Harkness was among those who spoke at the dedication ceremony.
It's not just the grand gestures and great accomplishments that define a life. The daily habits matter, too. Harkness was a master of them all, a long-shot artist in and out of basketball.•
__________
Montieth, an Indianapolis native, is a longtime newspaper reporter and freelance writer. He is the author of three books: "Passion Play: Coach Gene Keady and the Purdue Boilermakers," "Reborn: The Pacers and the Return of Pro Basketball to Indianapolis," and "Extra Innings: My Life in Baseball," with former Indianapolis Indians president Max Schumacher.
Please enable JavaScript to view this content.