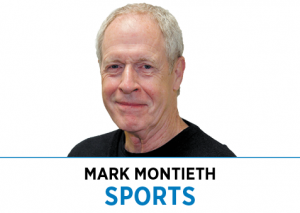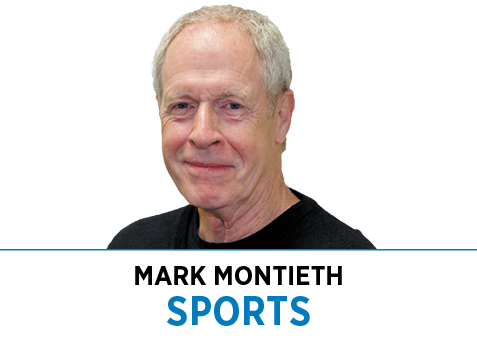 College basketball coaches drive (and fly) themselves crazy recruiting elite high school talent. They get to as many of the high schoolers' games as possible, visit them in their homes, host them on their campuses, check in with them via surgically attached phones and generally obsess over them like starstruck teenagers.
They operate with a shot clock, too. Blink and you're too far behind in the race to catch up. Two standout freshmen in Indiana already have multiple Big Ten offers—Jalen Haralson at Fishers and Trent Sisley at Heritage Hills. They'll be pursued relentlessly until they announce a decision and still will be hearing from hopeful coaches until they sign a letter of intent.
You have to feel for the coaches, at least the clean ones, having to devote so much of their lives to wooing prepubescent kids and their anxious parents. They're paid well to do it, sure, but it's a grueling and occasionally demeaning process that's certain to bring annual disappointments as kids call press conferences and announce their decision by putting on hats representing other schools.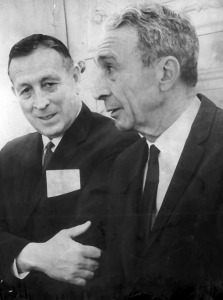 Wouldn't it be nice if today's college coaches had the luxury of doing it as it was done by two of Indiana's greatest coaching icons, Tony Hinkle and Johnny Wooden? Which basically was to sit back, throw out a few lines and wait to see who bites without having to beg or bend a truth?
They had earned that privilege.
Hinkle coached basketball at Butler from 1926-1970, with a three-year break during World War II. He was elected to the Naismith Basketball Hall of Fame in 1965 and ultimately won 560 games, so he was well established. Butler's administrators at the time wanted to keep a low athletic profile, so he felt no external pressure to win big. Besides, he also coached football and baseball and served as athletic director, so he didn't have time to scour Hoosier hinterlands for recruits.
Wooden coached at South Bend Central High School for nine seasons before World War II and Indiana State University for two afterward. He took over at UCLA in 1948 but—even from Los Angeles and even after winning his first national championship in 1964—managed to maintain an innocent, simplistic recruiting approach.
Some of Hinkle's and Wooden's recruits tell stories that seem fictional today, tales of innocence that must sound like fairy tales to today's harried recruiters.
Rick Mount
Consider the case of Rick Mount, the most highly publicized recruit in the history of Indiana high school basketball up until 1966, and perhaps still to this day. Mount led all of Boone County in scoring as a freshman at Lebanon High School and from then on was widely publicized. His peak fame came when he graced the cover of Sports Illustrated as a senior in 1966. His recruiting visits to the University of Miami in Florida and the University of Kentucky in Lexington were reported at length and in detail in the respective local newspapers with articles and photographs. Purdue, his ultimate choice, and Indiana also tracked him relentlessly.
Hinkle and Wooden had different approaches, however.
Mount was a prep All-American with little interest in playing in the Indiana Collegiate Conference but visited Butler at the request of his high school coach, Jim Rosenstihl, who had played for Hinkle. Mount recalls Hinkle showing up late for the meeting, by 30 minutes or so, and without apology. He was wearing a baseball uniform, because practice was about to begin, and said: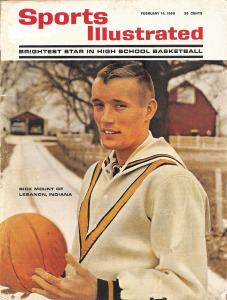 "Hey, Mount, how you doing? I know you probably don't want to come here, but we'd like to have you. You can come if you want, but if you don't, that's OK, too."
And with that, Hinkle left.
Mount got an even less welcoming reaction from Wooden when he and Rosenstihl drove to meet him at Weir-Cook Airport, as it was called at the time. Wooden and his UCLA team were on their way home from a road game and had a stopover in Indianapolis, so the three of them met in the waiting area outside the TWA gate where Wooden's plane had docked.
"Rick, I read you might be willing to come to UCLA," Wooden said. "I'm going to be truthful with you. You've seen my team. I don't need any more shooters. It wouldn't be fair to you for me to throw you in there with them. You're a great shooter but" it probably wouldn't work.
"I appreciated his honesty," Mount says today.
Billy Shepherd
Billy Shepherd, Mr. Basketball out of Carmel in 1968, also was recruited by both Wooden and Hinkle as well as other high-profile programs. He visited with Wooden in West Lafayette the night before UCLA played Purdue in the inaugural game in Mackey Arena but wanted to stay close to home. He was leaning toward Butler all along.
Hinkle, aside from coaching three sports and serving as Butler's athletic director, also refereed high school football games on Friday nights. A guy's got to make a living, right? He was invited to work a game at Carmel in the fall of 1967 by Shepherd's father, Bill, Carmel's basketball coach and athletic director who also had played for Hinkle.
Afterward, young Bill was led to the referees' dressing room to meet Hinkle.
"Hey, kid, how you doing?" Hinkle said.
"Fine, Mr. Hinkle."
"What size shoe do you wear?"
Shepherd's ears perked up. Was Hinkle going to give him a free pair?
"I wear size 9-1/2, Mr. Hinkle," he said.
"That's great; we've got that size at Butler."
That was it. And that was enough. Shepherd still holds Butler's single-season scoring record, set as a sophomore in Hinkle's final season as coach.
Mike Warren
Wooden offered scholarships to several Indiana high school players while at UCLA aside from Mount and Shepherd, but landed only two: Mike Warren out of South Bend and Pete Trgovich from East Chicago. They had similar recruiting experiences.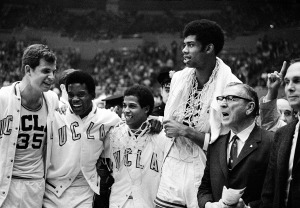 "Other coaches put on a hard sell, promising that I would start and things like that," said Warren, who graduated from UCLA in 1967 and went on to an acting career that included a role on a hit television show, "Hill Street Blues." "We talked about mutual friends, we talked about family, we talked about the importance of getting an education."
Wooden did make a point of unrolling the architectural rendering of UCLA's under-construction arena, Pauley Pavilion, but that was the closest he came to an enticement.
"Other places were ahead of UCLA as far as their recruiting pitch, but none of them impressed me as much as Coach Wooden," Warren said.
Quinn Buckner
Quinn Buckner took a wilder pitch from Wooden in the summer of 1972. In fact, it might be considered a brush-back.
Buckner was a blue-chip recruit for football and basketball and wanted to play both in college. He also wanted to go to UCLA, which by then had won seven of Wooden's 10 national championships. Wooden wouldn't come to him, however, so Quinn and his father, William, drove to O'Hare Airport outside of Chicago to meet the coach.
"I understand you play football," Wooden said.
"Yes."
"That's going to be really difficult to do at UCLA."
Buckner took that to mean Wooden either wouldn't allow him to play football at all or would force him to decide between the two sports at some point. That, combined with Wooden's refusal to make the trek to their home in Phoenix, Illinois, dampened the Buckners' interest—particularly that of Quinn's father, who had played football at IU and considered that to be Quinn's best sport.
Near the end of July, with time running out before the deadline to sign a letter of intent, Buckner was lying across his bed one day when his father walked in his room with a piece of paper.
"Sign this, boy. You're going to Indiana," he said.
Buckner wound up starting for two seasons as a safety for IU's football team before deciding on his own to focus solely on basketball. He could have been on the UCLA teams that won the NCAA championship in 1973 and 1975, but it worked out all right. He was a four-year starter at point guard for IU and helped it produce an undefeated season and national championship as a senior in 1976. He was a first-round draft pick and played nine NBA seasons before shifting to a broadcasting career.
Buckner's procrastination was extreme, but it once was the norm for players to wait until after their final high school season to select a college. That meant most decisions were made in the spring and that meant Hinkle met with most of his prospects while coaching baseball.
Bobby Plump
Bobby Plump had offers from the likes of IU, Purdue and Michigan State after hitting the game-winning shot for Milan in the historic state championship game at Butler in 1954. Hinkle, however, wooed him to campus via a handwritten letter that Plump has committed to memory. The two met at a fraternity house where Hinkle showed up in his baseball uniform and closed the deal.
Jeff Blue
Six years later, Jeff Blue, an all-state player from Bainbridge with offers from Big Ten schools, received a call from a university official asking if he would like to meet with Hinkle. On Butler's campus, of course. So Blue, who already had made up his mind to go to Butler because of its proximity to home and the fact that his brother Mike was in school there, was led to the equipment cage in the fieldhouse basement. He sat on the edge of a desk. Hinkle, wearing dusty sweatpants and a sweatshirt because he had been tending to the baseball diamond, sat in a rocking chair.
"Well, kid, we think you'd be a good fit here and we'd like you to come to Butler," Hinkle said. He went on to tell him Butler was not the place for him if he was looking for added benefits that violated NCAA rules.
"No, sir; that's fine," Blue said.
"Well, you think it over, kid."
"No, sir; there's no need for that. I'm in."
"No, you go back home and talk it over with your parents and call me in a day or two. And if you decide you don't want a scholarship, let me know as soon as you can; we don't want to cheat some other kid out of a good opportunity."
Blue, a 6-foot-4 center, was an all-conference selection all three of his varsity seasons at Butler and was drafted by the Boston Celtics. He once told his recruiting story at a gathering during Brad Stevens' coaching tenure. Stevens approached him afterward with a big smile.
"It's never that easy anymore," Stevens said. "Gosh, if only it was that easy."
Gosh, indeed.•
__________
Montieth, an Indianapolis native, is a longtime newspaper reporter and freelance writer. He is the author of three books: "Passion Play: Coach Gene Keady and the Purdue Boilermakers," "Reborn: The Pacers and the Return of Pro Basketball to Indianapolis," and "Extra Innings: My Life in Baseball," with former Indianapolis Indians President Max Schumacher.
Please enable JavaScript to view this content.