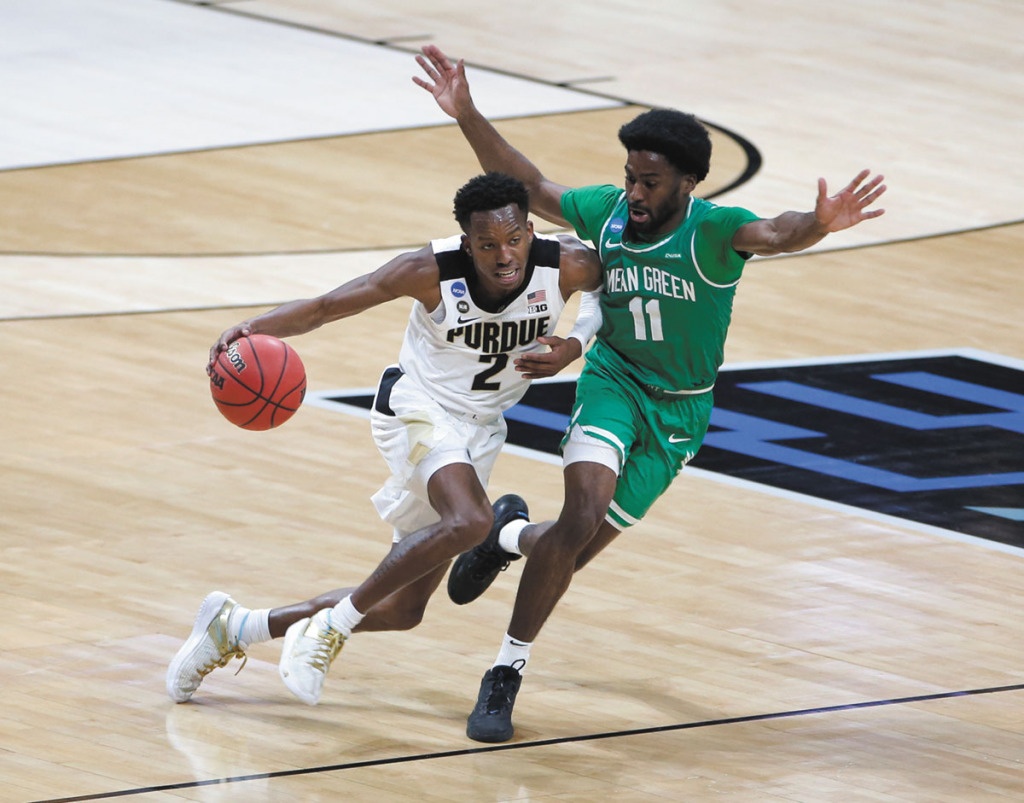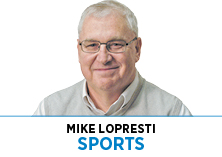 Welcome, NCAA Tournament. Welcome to our basketball holy land. With the Sweet 16 imminent, let us show you around so you can see all the powerhouse teams we have here and why Indiana is the natural place to be when you hand out the trophy.
We noticed a hallowed name such as UCLA is still in the hunt this week. Maybe the Bruins would like to go west on Interstate 70 a bit and visit Hall, Indiana, birthplace of John Wooden. If anybody can find it. A traditional heavyweight should feel right at home because we have our own blueblood, too, you know. That's IU.
But come to think of it, the Hoosiers just fired their coach; a booster used PayPal or something to get rid of Archie Miller's buyout. And it is true that next year's freshmen weren't born yet the last time Indiana was in the Elite Eight, so never mind …
Gonzaga is still rolling. The Zags won at Hinkle Fieldhouse last week, and the last time they were in the building, they lost on a last-second shot—one of those Roosevelt Jones floaters that made every highlight show. Gonzaga is a former mid-major Cinderella that has grown up to be a beast, so, while they were in Hinkle, wonder if they noticed the Butler banners? Yep, this is where it happened, bulldog and all.
Except, Butler finished 10th in the Big East this season. Well, moving along …
Loyola Chicago, pride of the Missouri Valley Conference, is barnstorming again through the bracket with its 101-year-old nun. Sister Jean is still such a live wire, you wouldn't be that surprised if she rode into Bankers Life Fieldhouse on the back of a motorcycle. She was seen chatting with our governor the other day at a game, but since she still offers the Ramblers their pre-game prayer via cell phone, she's accustomed to talking basketball to someone in high places. Anyway, maybe she and Gov. Holcomb were trading Missouri Valley stories because Indiana has three teams in the conference, too, even if our big rivers are the Wabash and the Ohio. Valparaiso, Evansville and Indiana State.
Only, the first two had losing seasons. Indiana State finished above .500 but fired its coach. Anyway …
Creighton is still alive and kicking as one of those private schools that is so good in athletics. Just like our own Notre Dame.
Speaking of the Irish, pay no attention to that 11-15 record …
Ohio made a splash by beating Virginia. The Mid-American Conference is famous for making trouble in March, like Ball State did in upsetting Louisville.
Of course, that was 31 years ago and the Cardinals haven't been in the NCAA Tournament since 2000. But still …
North Texas won an NCAA Tournament game for the first time in its history. We're so happy for the Mean Green, who would be headed for the Final Four if this tournament were about nicknames, probably to play the UC Santa Barbara Gauchos or Iona Gaels.
But they beat Purdue to do it, so enough said about that. Other than to repeat that age-old mantra for all power conference teams such as the Boilermakers: Try never to lose in the tournament to any school with a hyphen or a direction in its name …
We could go on about our other state schools, IUPUI and Fort Wayne, but maybe you've heard enough. Eight of the 10 teams in Indiana had losing records this season. OK, maybe you didn't exactly catch us on our best year. But then, we're also proud of our conference affiliation, so let's talk about the Big Ten. Best league in the land by mass acclaim. Just look at all the conference faces in the bracket. What a throng.
Here comes Illinois. Well, there went Illinois after playing Loyola. The Illini had been talking national championship, but it's kind of hard to do that when you're not even the best team in your own state.
Purdue, Ohio State, Michigan State. All went out the same exit door. Since when is overtime the Bermuda Triangle for the Big Ten? Rutgers just needed the game to be 35 minutes long against Houston. We could chat about Wisconsin, but those three buses heading west out of town might have been theirs. Look at the bright side with Iowa. At least the Hawkeyes held Oregon under 96. The Ducks had 11 3-pointers but also 10 dunks. It takes quite a slovenly defensive effort to allow that.
Oh, dear. Michigan Wolverines, a conference turns its lonely eyes to you. Only yesterday, the Big Ten was the baddest bunch in the land. Today, it has as many teams in the Sweet 16 as the Summit League.
Maybe we should talk about high school basketball. Carmel and Lawrence North are playing for the big-school championship of the entire state, even if they are only 20 minutes apart. We could suggest you drop in and watch while you're in town, but for reasons known only to God and the IHSAA, they're playing that game on Saturday night, April 3, directly opposite the NCAA national semifinals. Friday night might have been an idea.
Should we talk about the NBA? Things have been a little tough on that front lately, too. At last check, the Pacers were out of the playoffs. One of the teams they're chasing for the last spot is the Boston Celtics. Maybe they could work out a deal: If the Pacers pass the Celtics, Brad Stevens has to come coach IU, which is what the Hoosier faithful go to bed dreaming about. If Stevens keeps saying no, other forms of persuasion might be needed. Word is, IU Athletic Director Scott Dolson is considering a horse head in Stevens' bed.
Oh, well. Back to the NCAA Tournament and the Sweet 16. Butler is not around, but one of its alums, Scott Drew, is coaching Baylor. Does that count? It does seem a little strange that there is no representative from this hoop-happy state, but there is Oral Roberts. No, the most notable presence Indiana has in the Sweet 16 is the buildings where they're playing: Bankers Life Fieldhouse and its mentor, Hinkle Fieldhouse. Lots of teams have gotten their first looks at Hinkle this month. That includes the Kansas Jayhawks, who lost to USC by 34 points. Bill Self probably didn't find the place all that charming.
As for teams still playing, let's see. There's Oregon. There's Oregon State. There's Gonzaga. Geez, maybe this tournament should have been in the Cascades.•
__________
Lopresti is a lifelong resident of Richmond and a graduate of Ball State University. He was a columnist for USA Today and Gannett newspapers for 31 years; he covered 34 Final Fours, 30 Super Bowls, 32 World Series and 16 Olympics. His column appears weekly. He can be reached at mjl5853@aol.com.
Please enable JavaScript to view this content.