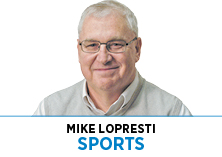 Four men, who might be having the summers of their baseball lives. Four roads that led through the state of Indiana. Where to begin? Maybe the former Greenfield-Central Cougar …
Kyle Gibson
This was Opening Day in April for the Texas Rangers in Kansas City, and starting on the mound was Kyle Gibson. He lasted only one out, giving up five runs among the eight batters he faced, and his earned run average after one game was 135.00. It was the quickest hook for an Opening Day pitcher in the major leagues in 39 years.
Understand, this was following a rough 2020 for Gibson, when he was dealing with ulcerative colitis from a recent E. coli infection, which he likely picked up on a missionary trip to Haiti as part of his passion for philanthropy and battling such maladies as world hunger. He had worked hard during the off-season, and certainly 2021 would be better. Then he lives a pitcher's nightmare on Opening Day. April Fool's Day, no less.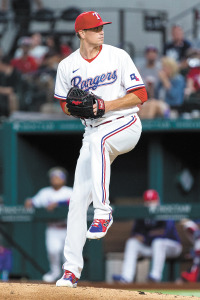 How low could it go?
Now flash forward to this past weekend. Named to his first All-Star Game with a 6-0 record and 1.98 ERA: Kyle Gibson. His world has changed. According to Baseball Reference, since the ERA became an official stat in 1913, only two pitchers have been unbeaten after 16 starts with an earned run average under 2.00. Gibson is one of them.
"As I just look back over the last couple of years and think about where I've been and the journey that my family and I have been on, it's really humbling," he said over the phone. "To just sit back and sometimes think about the low spots, I think that helps you really appreciate the high points.
"If there was always sunshine and not a cloud in the sky, it'd be great, but that's just not the case."
That dark day in April in Kansas City, he got in the car and drove 3-1/2 hours to his home outside St. Louis with his wife, Elizabeth. She was the exact person he needed at that moment. They met when both were athletes at the University of Missouri, he in baseball, she in gymnastics. She knows about tough times. She had five knee surgeries while trying to still compete. She also has always been highly involved in good nutrition, so when the colitis made it vital that her husband watch his diet, she knew just what to do. The Revival of Kyle Gibson has not been a one-person operation.
"I couldn't have done any of this without her," he said. "That drive on the way back to the house that night was a whole lot easier because I knew who was sitting beside me. I've joked with her the last couple of days, 'Did you think at any point after the first game that halfway through the year I'd be an All-Star?' She said, 'Never a doubt.' I don't know how much of that was sarcastic."
So what's happened? Gibson will tell you how getting over his health problems allowed him to work on his mechanics. How he regained command of his fastball and developed a cutter and got his true sinker back. And he will tell you how careful he is about his diet now, to keep the colitis in check. "How I eat now is probably how my wife would have liked me to eat the last seven or eight years," he said. He has to watch his acid, so hold the tomatoes. He has to watch the spices. And, alas, he has to watch the ice cream. "If I could make a list of foods I miss the most, desserts by far are at the top of the list," he said.
But now he's an All-Star for the first time in his career, at the age of 33, and that's a long way from the 1-0 semistate loss to Indianapolis Cathedral in his last high school game for Greenfield-Central in 2006. He's expecting at least 18 family members in Denver next week. Sometime during those days in Colorado, he and Elizabeth will likely think back to that long drive from Kansas City.
Kyle Schwarber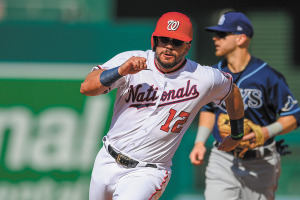 Gibson is not the only guy with Indiana ties who has been having a big time this summer. Consider three days in late June and early July.
On June 29, Kyle Schwarber, ex-Indiana University slugger, hit a home run for the Washington Nationals on the first pitch of the game. That was his 16th homer in 18 days, seven of which led off games. He didn't have one all month until the 12th, and then turned into Babe Ruth. Or maybe Barry Bonds and Sammy Sosa, since they're the only two other hitters in history to homer 16 times in 18 games. "It's kind of a joke at this point," Washington pitcher Joe Ross said that night. "It's like every time he goes up there, he hits a ball 350, 370 [feet] to right field."
Schwarber strained his hamstring last week and will be lost for some time. But the last two weeks of June belonged to him.
Chris Lemonis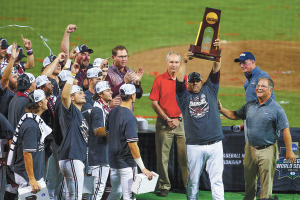 On June 30, Mississippi State, coached by Chris Lemonis, won the College World Series.
Hey, wait a second. Chris Lemonis … that rings a bell. Didn't we once see him making pitching changes in Bloomington? Sure thing. He was IU's coach from 2015-2018 and led the Hoosiers to a bunch of NCAA Tournament berths, not to mention 41 academic All-Big-Ten honors. "We're really excited to be here," he said the day he was introduced in Bloomington. "It's tough saying goodbye," he said four years later, after Mississippi State had offered him a job. No college baseball coach turns down the SEC.
Until last week, Mississippi State was one of only three schools from the power-5 conferences to never win a team national championship in anything. Now, there's only Virginia Tech and Kansas State. This was the school's 12th trip to Omaha, and finally came the breakthrough. Lemonis said it was a little like when the Cubs finally won.
Think the cicadas were heavy last month? You should have seen all the Mississippi license plates in Omaha. A maroon army invaded to watch the Bulldogs finally get their title. "I haven't even been able to walk down the street for the last four days. I have to stay in the room because our fans have taken over the city," Lemonis said. He may never have to buy his own lunch again in the state of Mississippi.
Lance Lynn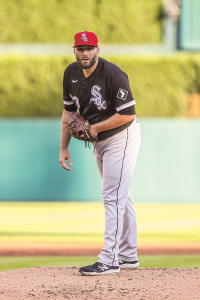 On July 2, while Gibson was warming up for his start in Seattle, Lance Lynn was finishing his work for the first-place Chicago White Sox against the Tigers in Detroit. Brownsburg's own Lance Lynn, who once helped pitch his hometown to not only the Little League World Series but also the state high school championship in 2005. At the end of the night in Detroit, his ERA was 2.02, the second-best in the American League, behind only one other starting pitcher.
Kyle Gibson.
Both were named to the All-Star Game. So was Schwarber, before he got hurt.
It's an Indiana summer at the ballpark.•
__________
Lopresti is a lifelong resident of Richmond and a graduate of Ball State University. He was a columnist for USA Today and Gannett newspapers for 31 years; he covered 34 Final Fours, 30 Super Bowls, 32 World Series and 16 Olympics. His column appears weekly. He can be reached at mjl5853@aol.com.
Please enable JavaScript to view this content.