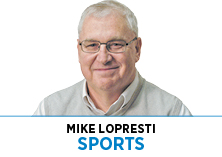 They are college basketball coaches whom magic touched but once. Not like Wooden or Krzyzewski or Knight. Once.
They are men granted by fate to have a single chance at the national championship game, and when that didn't work out, never again. Even Brad Stevens got two shots at Butler. But these guys didn't.
George King was one of those guys. He was with Purdue in the 1969 championship game, where Kareem Abdul-Jabbar was waiting to play his final UCLA game as Lew Alcindor, and it ended 92-72. King never coached Purdue in another NCAA Tournament game.
Bill Hodges was one of those guys. He and Larry Bird and Indiana State were unbeaten in 1979—until the Sycamores ran into Magic Johnson. Three years later, Hodges was gone from Indiana State. He ended up coaching high school in Virginia, and led his team to a championship game there, too. Lost it. "I tell people that's just my plight in life," he once said. "I guess that's the way the Good Lord meant it to be."
Rick Majerus was one of those guys. He won big at Ball State but moved up the college basketball food chain to Utah, where he took the Utes to the 1998 title game and lost by nine points to Kentucky, the third year in a row he was taken out by the Wildcats.
"When I die, they might as well bury me at the finish line at Churchill Downs, so they can run over me again," Majerus said of Kentucky. He was gone at the age of 64 from heart disease.
Mike Davis is probably one of those guys, too.
Overlooked?
It is 20 years now since Indiana showed up in the national championship game. No banner hangs for those 2002 runner-up Hoosiers in Assembly Hall, and does it seem to anyone else that they don't get mentioned very often, considering what they did that March? Not forgotten, but somehow overlooked?
"We didn't win the championship," Davis reminded the other day from his office at Detroit Mercy. "But we did get there. We're the last team to go to the Final Four."
Not only the last, but the only IU team in the past 29 years. That's worth remembering.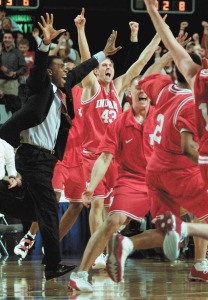 How they stormed back from 17 points behind to stun No. 1 Duke 74-73 in the Sweet 16, with 24 points and 15 rebounds from Jared Jeffries, overcoming 23 turnovers and pounding the Blue Devils on the boards 46-29. That's worth remembering.
How they shredded Kent State in the Elite Eight with 64% shooting, making an other-worldly 15-of-19 from the 3-point line. How they whipped Oklahoma 73-64 in the Final Four, despite the starting lineup being held to 32 points, because reserves Jeff Newton and Donald Perry scored 19 and 10. Even the loss to Maryland for the title. That's worth remembering.
Dane Fife's defensive fire, Jarrad Odle unstoppable the second half against Duke, Tom Coverdale playing 30 minutes a game on a horribly painful ankle. A.J. Moye stuffing Duke's Carlos Boozer—6 inches taller—on a dunk attempt, Kyle Hornsby's big baskets. And the look on Mike Davis' face all month as his life changed. That's certainly worth remembering.
'Let's go shock the world'
Maybe he never gets back. He left IU for UAB, Texas Southern, now Detroit Mercy. He has taken nine teams from three different schools to the NCAA Tournament. But chances are, 2002 will be his moment in the sun.
"When people talk about you as a coach, they talk about the national championship game," he said. "You can be in this business for a lifetime and never get to that point. So it's something that's really special to me."
Indiana lost 11 times that regular season, but it was a strange schedule. Only two of the Hoosiers' 12 non-conference games were in Assembly Hall. No early-season parade of gimme games to Bloomington. Kentucky, North Carolina, Texas, Marquette, Notre Dame and Butler were all on the docket.
"I kind of chuckle now; we only had, like, $40,000 to play buy games," Davis said. That's when you pay smaller fish to visit as designated victims. "It was, like, against the law for me to play a buy game. I can remember them telling me, 'We want to play a top-10 schedule. We want to play six or seven or eight non-conference games against a top-25 kind of thing.'"
Nobody was doing that.
"When you think about it, it was good in that it challenged us and made us a better basketball team," he said.
The Hoosiers were good. The nation didn't know how good until the night they played Duke in Rupp Arena. Davis' last words to his team before they took the floor: "Let's go shock the world."
Duke's early lead was 27-12, but the Hoosiers got back in it with Jeffries, and a hot Odle in the second half, and somehow ended up with a 74-70 lead in the final 10 seconds. Jay Williams hit a 3 for the Blue Devils at 4.2 seconds and was fouled by Fife, giving Williams a free throw and chance to tie. Ironic that it would be Fife on the miscue. He was Big Ten defensive player of the year.
Williams missed the free throw. Duke got the rebound and had a shot to win at the end. Two decades later, Davis can still see those four seconds. "It was like slow motion. It was like a movie. You're thinking, 'There's no way we can lose.' And then, 'We could go to overtime.' Then it was, like, 'We could lose.' It happened that slow."
Other upsets had helped ease the Indiana road a bit. USC's downfall meant the Hoosiers got UNC Wilmington in the second round. Pittsburgh's ouster meant it was Kent State in the Elite Eight. But still.
"What's so funny, that year, when it was over, a couple of writers said if USC doesn't lose to Wilmington, then we couldn't have beat USC. Or if Pittsburgh doesn't lose to Kent State, then we wouldn't have beat Pittsburgh," Davis said. "But we beat Duke, who had, like, six NBA guys on that team. They tried to discredit it. I don't know why."
'You have to be tested'
It was not easy for him in Bloomington. Not a day. Would you like to be the guy who replaced Bob Knight?
"Looking back on it, when you pray for wisdom and knowledge, you have to be tested to get it," Davis said. "When you pray for patience and understanding, you have to be tested to get all those things. All I was doing was going through a test to get me to where I needed to be as a coach.
"Our guys were so strong, they blocked everything out. They had one thing on their minds—it was to be remembered by the Indiana fans. They wanted to do something special. I know why everyone was watching us; I had taken over for Coach Knight."
The IU program later stalled, and Davis resigned in 2006. But the experience has stayed with him.
"I wouldn't be here right now coaching at Detroit. I wouldn't have gotten the Texas Southern job, wouldn't have gotten the UAB job. You get jobs based on what you've done, and not many people who are coaching college basketball can say they played for a national championship," he said.
"I'm a way better coach now than then. It's not even close. It changed me for the good. Sometimes while I was there, you'd feel sorry for yourself and make it all about you. But when you look back and reflect on it, it should never be about you. It should be about the players and the life lessons you have the opportunity to teach them."
Now he coaches his son Antoine at Detroit Mercy. At last check, Antoine was second in the nation in scoring. Had he been more developed coming out of high school, know where his father kinda wanted him to play?
Indiana.
"Really good memories," Mike Davis said of 20 years ago. "It made me more appreciative of why I'm here now coaching."•
__________
Lopresti was a columnist for USA Today and Gannett newspapers for 31 years; he covered 34 Final Fours, 30 Super Bowls, 32 World Series and 16 Olympics. His column appears weekly. He can be reached at mjl5853@aol.com.
Please enable JavaScript to view this content.