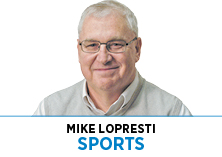 So now it's autumn, when the frost will be on the pumpkin and the heat will be on the football teams that struggled out of the gate and are trying not to turn into a pumpkin. We're looking at you, Colts and IU.
Clarity. That's what October is for. Baseball pours champagne over its champions' heads and football begins to answer questions. So here we go.
Will the Colts and Hoosiers—who last weekend combined to have five drives inside the opponents' 10-yard line aborted with no points—find a way to stop turning the red zone into the Bermuda Triangle?
Will the Colts offensive line get healthy and regroup, before Carson Wentz goes on the critically endangered species list next to the Bornean orangutan?
Will Purdue's drum fit into the stadium its next trip?
Will Hoosier football fans, starry-eyed with all the lavish expectations this season, already start to fidget in their new seats on the bandwagon? In September, IU was playing to a packed house while Notre Dame was being asked about empty seats.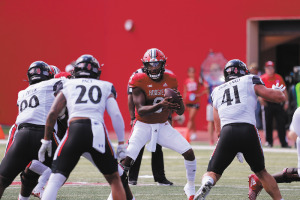 It seemed like an alternate universe. Suddenly, construction on State Road 37 wasn't keeping people away, even though—with civilians now blasting into space—it might be easier to go into orbit than it is to drive from Indianapolis to Bloomington. Gazing at the terrific crowd for the Cincinnati game, one of the Indiana players told Tom Allen he remembered the days of the coach trying to give away tickets at the student center and some not even wanting them for free. "Which is true," Allen said.
October could be fun or at least telling …
The Colts will have to reboot the season in white uniforms. Four of the next five games are on the road, and every last opposing pass rusher will be studying the films of the Seattle and Los Angeles Rams games like steak lovers eyeing a St. Elmo menu, eager to get their own chance at turning Wentz into a pretzel. He now has only one more touchdown pass this season (three) than he has sprained ankles (two). In the NFL, bad news travels fast on scouting reports.
"There's no hiding it in this league," center Ryan Kelly said. "We've got to stop it."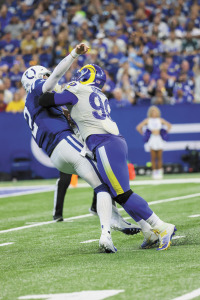 IU will have to rekindle the offense and Michael Penix will have to stop throwing interceptions. He had four interceptions in 220 passes last season. He's had six in his first 87 attempts in 2021. Can't afford that anymore, with Western Kentucky an absolute must this weekend, followed by the all-East Division stretch of Penn State, Michigan State, Ohio State, Maryland, Maryland and Rutgers. Current combined record: 17-1. Gulp. The Buckeyes have their own issues, so the opportunity might still be there on Oct. 23 in Bloomington to end a losing streak against Ohio State that is now in its second century, fifth decade, sixth U.S. president and seventh IU coach.
David Bell might be back soon for Purdue, which would be a heartening victory in itself after the frightening, turn-the-stadium-quiet knock the star receiver took on the head at Notre Dame. The Boilermakers' revival might hinge on the next two weeks at home against Illinois and Minnesota, because then comes a trip to Iowa and a home game with Wisconsin and that might not be nearly so much fun.
The Indianapolis Indians' season will end. Still playing baseball because of the COVID-delayed schedule, the Tribe will have games in Indianapolis in October, and that hasn't happened since 1949, when the opponent was the Montreal Royals. This Indians season, spent mostly just below .500 and including 40 one-run games as of last Monday, has featured a cast larger than "Avengers Endgame." Going into the past week, Indianapolis had used 69 players, including 36 pitchers.
Center Grove will play at Indianapolis Cathedral Oct. 15, in the state's regular-season high school football game of the year. There is every chance that Center Grove will be No. 1 in 6A and Cathedral No. 1 in 5A, and the two will meet with a combined record of 43-1 over the past two years. The one loss was by Cathedral, 17-13, last season to Center Grove. Their combined average winning margin against everyone else the past two years is 29.8.
The playoffs will then start the fourth Friday of October for the IHSAA, otherwise known as Indianapolis High Schools Always Advancing. All six state champions last fall came from the area and five of the six current No. 1-ranked teams could be easily reached in a drive around Interstate 465. But the rest of the state will still be invited.
Major League Baseball
The long, dreary baseball season will end mercifully for the legions of Cubs fans in Indiana. For them, the glory days came and went like a Halley's Comet, and what seemed like a budding dynasty filled with young players winning the World Series five years ago is now deader than the Roman Empire. At last check, they were 24-1/2 games out of first place.
But on the south side of Chicago, the White Sox will be thinking World Series when the playoffs start. Their manager, Tony La Russa, turns 77 years old in October.
The Los Angeles Dodgers could meet the San Francisco Giants in a postseason series. The ancient rivals haven't done anything like that since a three-game playoff to decide the National League pennant in 1962.
The Milwaukee Brewers could be in their first World Series since 1982, managed by South Bend native and former Notre Damer Craig Counsell.
The New York Yankees could well miss the playoffs again. That would make 12 years since their last World Series appearance, their second-longest drought since before Babe Ruth.
The Tampa Bay Rays could win the World Series for the first time, this after the football Bucs took the Super Bowl and the hockey Lightning captured the Stanley Cup. No metropolitan area has ever produced three champions in the major professional sports in the same calendar year. While the Rays are rolling on, down the road Tom Brady already has thrown nine touchdown passes for the Bucs at the age of 44, which is older than 13 current NFL head coaches.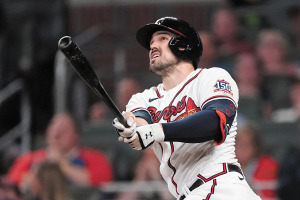 We'll find out if current leader Adam Duvall of the Atlanta Braves wins the National League RBI title and Trea Turner of the Dodgers wins the batting crown. Why that would be unusual is, two months ago, Duvall was a Miami Marlin and Turner a Washington National. If Turner isn't the NL batting champion, Cincinnati's Nick Castellanos might be. The sizable population of Reds fans in this area could be forgiven if they can't remember the last Cincinnati hitter to do that. It was 48 years ago. His name was Pete Rose.
Should be some month, then. And after all that will come Halloween. Let's just hope by then, the Colts line has gelled, and Carson Wentz isn't dressing up as a tackling dummy.•
__________
Lopresti is a lifelong resident of Richmond and a graduate of Ball State University. He was a columnist for USA Today and Gannett newspapers for 31 years; he covered 34 Final Fours, 30 Super Bowls, 32 World Series and 16 Olympics. His column appears weekly. He can be reached at mjl5853@aol.com.
Please enable JavaScript to view this content.