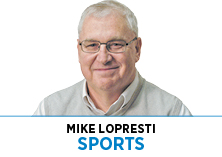 So, which resident of Victory Field this summer should we talk about?
How about the Indianapolis Indians pitcher who needed Tommy John surgery at the age of 17, but first played his entire senior season in high school with a torn ligament in his elbow?
Or maybe the troubled young man who lost four people close to him in the same school year and was so distraught he temporarily gave up the game?
The undrafted free agent who signed his first professional contract after taking a Navy Seals written test in a coffee shop in Sacramento?
Wait a second. This is all the same guy. And he's only 24. One of baseball's more unique journeys has found its way to Indianapolis, and you wonder what baseball means after where he's been.
"I wouldn't say it's everything, but I would say at this point it consumes most of my life," Nick Mears was saying in the Victory Field dugout.
Start at the beginning. There's little Nick in Rocklin, California, just north of Sacramento, loving baseball because his dad, Jim Jr., and grandfather, Jim Sr., loved it, too. The family changed school districts so Nick could start T-ball at the age of 3. Jim Jr. was a massive Boston Red Sox fan. Nick had just turned 8 when the Red Sox came from 3-0 down in games to shock the New York Yankees in the 2004 American League Championship Series. Nearly a national holiday in New England. "I remember him jumping up and down on our coffee table screaming," Nick said, "I'll never forget that."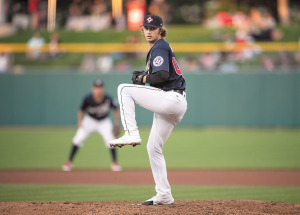 There's Nick Mears in high school, looking forward to a big senior season after pitching only one inning as a junior. His fastball had turned into a weapon, zooming past 90 miles an hour. But three weeks after turning 17, he was pitching in a college showcase tournament when he threw a change-up that went 30 feet. Suddenly, "it was like I had dipped my arm in gas and set it on fire for about three hours."
Torn elbow ligament. The doctor suggested Tommy John surgery but mentioned there was so much scar tissue in Mears' elbow, it was acting as a temporary ligament. Mears could pitch the season if he was willing to put up with the injury. He did.
"I think it was worth it," he said. "Senior year when you're in high school, that's everything to you."
There's Nick Mears at Sacramento City College. Missed all the first year recovering from his surgery. Missed all his second season after fracturing his collarbone in a dirt-bike accident. Two years, not one pitch. P.S. That's the last time he was ever on a dirt bike.
Mears had a solid third season and was starting to draw attention from major league scouts. He thrived in the Northwoods League, a collegiate development league in the upper Midwest. A good fourth year in 2018 would carry him to draft day.
"And then," he said, "life kind of hit me in the teeth."
His uncle took his own life. Two weeks later, so did a former teammate. A month after that, a man who was a grandfather figure suffered a fatal heart attack. Three weeks later, the unkindest cut of all: His grandfather Jim Sr., who was always there to watch Mears pitch, went in for routine surgery and never woke up.
"I didn't know how to handle those emotions and acknowledge them," Mears said. "It felt like I was going everywhere with a 100-pound backpack."
Sacramento City pitching coach Deskaheh Bomberry and head coach Derek Sullivan saw a struggling kid whose world had caved in. They called in his parents. Everyone was on the same page that something had to be done.
"It was the suggestion of my coaches to step away from baseball and figure out who Nick Mears is as a person and a man," Mears said. "I didn't want anything to do with baseball, really. The last game that I pitched at Sac City, my grandpa was at. Baseball was always associated with my dad and my grandpa, so it was really hard for me even to go out to the field."
He could always come back, and given time, he pieced his world together. "They probably know they helped me out a little bit, but I don't think they know the magnitude of it," he said of his coaches. By the summer of 2018, he was back in the Northwoods League as a Willmar Stinger, with baseball fun again. He struck out nine Mankato MoonDogs in three innings. The next day, the phone started ringing from major league scouts. One was the Pirates.
Pittsburgh area scout Mike Sansoe met Mears at a coffee shop in Sacramento. For an hour, Mears spilled his soul about what had happened. Then Sansoe handed him a thick stack of paper—a Navy Seals IQ test on deductive reasoning. Sansoe said he was going out for a walk and Mears should text when he was finished. The next night, the Pirates called Mears with a contract offer. Now, Sansoe and Mears sometimes go hunting together.
Two years later, there's Nick Mears at PNC Park in Pittsburgh. He had pitched his way through the minors—his fastball hit 101 mph in 2019—bypassing Indianapolis on the way to the big leagues. On Aug. 8, 2020, he was called into the game to face the Detroit Tigers. First batter: 11-time all-star Miguel Cabrera. Welcome to the bigs, kid.
Cabrera popped up a fastball to foul territory, which led to a collision between right fielder Gregory Polanco and first baseman Phillip Evans. Polanco made the catch; Evans broke his jaw. "That's on my first batter ever in the big leagues," Mears said.
Still, it was his first out, and he gave the ball to his dad.
Oh, and about Jim Jr. …
Since no fans were allowed in the ballpark during the COVID summer of 2020, he was standing on the Roberto Clemente Bridge beyond the outfield wall that night in Pittsburgh, just to be part of it. Then he heard his son's name announced and he had to see that, so he found a fence to climb. Worked fine until a policeman came along.
"My son's debuting right now," the father pleaded. "He's pitching."
Didn't matter to the officer. Jim Jr. was told to get down or face the consequences.
"He almost got arrested my first game," Nick said.
Mears made four appearances for the Pirates, striking out seven in five innings. And now here he is in Victory Field in 2021, working to get back. As of last weekend, he had struck out 19 in 11 innings. The Pirates called him up for a few days in May, but he never got out of the bullpen. Maybe next time.
"You'll hear it around the league: It's one thing to get there; it's another thing to stay there," Mears said. "I want to prove myself as a big leaguer."
Jim Jr. has been planning to visit Indianapolis this summer to share in his son's continuing long and winding road. This time, he won't have to climb a fence.•
__________
Lopresti is a lifelong resident of Richmond and a graduate of Ball State University. He was a columnist for USA Today and Gannett newspapers for 31 years; he covered 34 Final Fours, 30 Super Bowls, 32 World Series and 16 Olympics. His column appears weekly. He can be reached at mjl5853@aol.com.
Please enable JavaScript to view this content.