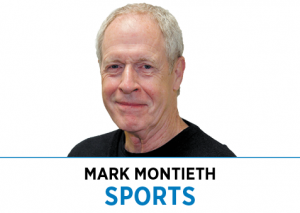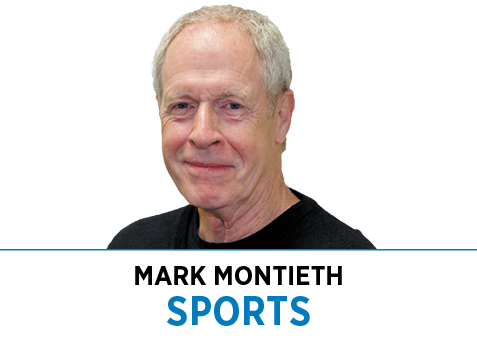 You remember Reggie Miller for his playoff heroics, for becoming the Pacers' all-time leading scorer and for being inducted into the Naismith Hall of Fame.
But do you also remember his offseason of discontent? That time in his career when the media and Pacers fans turned against him and he became—for a few months, anyway—nearly as vilified as he is lionized today?
All these years later, this forgotten chapter in Miller's fabled career is a reminder of how fragile reputations can be. No matter how glorious your past, one misstep, or even one misunderstanding, can unravel years of hard-earned goodwill. But it's also a reminder that reputations can be repaired, and that bygones can indeed become bygones.
A recent PBS documentary on Muhammad Ali explored his reputation's transition from narcissistic radical Muslim and draft dodger to courageous, sympathetic and loving man, one who was idolized throughout the world. Many athletes—and non-athletes—have experienced similar, albeit less dramatic, makeovers of their reputations among the fickle public.
Fact is, there's always a bustling market for redemption. Athletes want it for their own egos and reputations. Fans want it so they can have pleasant memories of the past. The media wants it because it makes for a good story. Many once-derided athletes have been cleaned up and placed back on their pedestals, and Indianapolis has its share.
Nobody careened from one extreme to the other as drastically and quickly as Miller, though.
Twenty-five years ago today, on Oct. 1, 1996, he joined his Pacers teammates for the start of training camp at the University of North Carolina in Chapel Hill. It marked a fresh start, one he needed. The previous evening, he had signed a contract to conclude a three-month stretch of conflict and criticism that stands today as the exception in an otherwise renowned 18-year run with the only franchise that employed him.
First mistake
Miller, 30, was riding high entering the summer of 1996. He had just completed his seventh consecutive season as the Pacers' leading scorer and had made his third appearance in the NBA's all-star game. He was a member of the U.S. Olympic team, the first to do so having already worn a Pacers uniform. Two years earlier, he had scored 25 points in the fourth quarter of a playoff victory over New York in Madison Square Garden, punctuating each shot by staring down the Knicks' celebrated front-row fan, Spike Lee, not to mention flashing the choke sign and throwing in a crotch grab for good measure. One year earlier, he had delivered his iconic eight-points-in-8.7-seconds spree to lead another playoff victory in the Garden.
And now, he just happened to be a free agent. Perfect timing.
Miller, represented by power agent Arn Tellem, made it clear early on that his intention was to remain with the Pacers, but as time and negotiations dragged on and national media members peppered him with questions following the practices leading up to the start of the Olympics, he stuck his toe in the hardball waters. By late June, he was expressing frustration over the lack of progress in the negotiations. Then, on July 1, he tossed a grenade into the proceedings.
He said he wouldn't mind playing for the Knicks.
"Ultimately, Indiana has the last say-so, but I'd love to talk to New York," he said. "That would be a franchise that could win a championship in the next three or four years."
He went on to talk at length about the prospect of playing for the Knicks, saying at one point, "I just want a chance to compete and win a title, and they are definitely a team you can win a title with."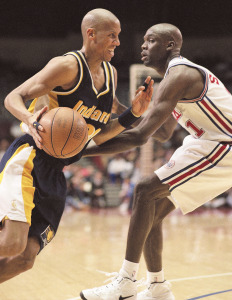 Predictably, that did not land softly among Pacers fans. From that point until he signed his contract and hurriedly joined his teammates for the flight to Chapel Hill to begin training camp on Oct. 1, Miller came under severe, unprecedented and never-again-equaled criticism around the proverbial watercoolers, on local radio airwaves and in the pages of The Indianapolis Star. He was bid a literal "Adios" in one reader's letter to the newspaper, in which it was suggested he drive around the state and take back the No. 31 jerseys "from the children that used to be proud to wear them." He was cited for a lack of "scruples" in another letter.
Second mistake
It wasn't all negative. Miller drew about 5,000 adoring fans to an autograph signing at Tom Wood Ford on Aug. 6 following his participation with the gold-medal-winning Olympic team, and some letters to the Star were supportive. But he reignited controversy by bobbling a question from Chris Myers on the ESPN show "Up Close." Asked if he would accept a contract averaging $10 million per season, Miller said yes. Asked later the minimum offer he would accept, he smiled and said, "I think I'm gonna stick with $10 million."
Miller immediately followed by saying, "There is no minimum," but that addendum tended to get lost in translation. All media hell broke loose after that. He was deemed to be arrogant by Star columnist Bill Benner, who also offered to take up a collection to buy him "a nice, fat, feather-filled comfy cushion," in case he decided to sit out the season. Miller also was depicted as greedy in a cartoon on the Star's editorial page.
The Star even conducted a telephone poll of the sort popular in the pre-internet era, asking readers to punch in a number on their touch-tone phones to vote whether Miller should be paid the $10 million annual salary he reportedly was seeking. A total of 1,929 respondents replied with "no" and 591 went with "yes."
One reader comment in the Star's Let it Out feature summarized the sentiment: "Excuse me, but do you save lives? Do you perform organ transplants? Do you work with kids or teach a class? If you are not doing that, how are you worth $10 million?"
It all worked out in the end, of course. Miller signed his contract on the eve of training camp, a four-year deal for $36 million—an average of $9 million annually. He said it had never been about the money but about the length of the deal and out clauses.
He led the Pacers in scoring again that season, but injuries to Rik Smits and Derrick McKey prevented the Pacers from qualifying for the playoffs. The following season, 1997-1998, Larry Bird took over as coach and reignited the team, Miller especially.
Miller went on to have several more memorable playoff moments and become a revered elder statesman by remaining a vital element of the team and community until he was 39 years old. After his final regular-season home game in 2005, he was bid a public goodbye with a standing ovation and tears from the fans and a shiny new Bentley from owners Herb and Mel Simon.
He remains beloved today, the most popular player in franchise history. Those three months in 1996 are a nearly forgotten footnote to his career.
Other comebacks
Miller was bound to win back the public with his performance, but the market for redemption remains brisk even for lesser athletes.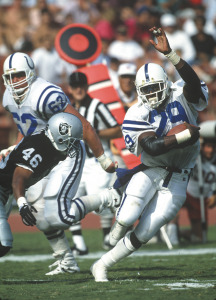 Running back Eric Dickerson, following two productive seasons with the Colts, was suspended for multiple games in both the 1990 and 1991 seasons for transgressions that included skipping training camp, demanding a trade, and blasting ownership and his offensive line. He even publicly called General Manager Jim Irsay "Daffy Duck." He was booed lustily when he did play (except when he managed long gains) and was traded for fourth- and eighth-round draft picks in 1992. A pittance for a future Hall of Famer.
He was cheered lustily, however, when he was brought back to be added to the team's Ring of Honor at Lucas Oil Stadium in 2013. When Irsay called to tell him of the honor, he broke the ice by identifying himself as Daffy Duck.
The former Ron Artest, now legally named Metta Sandiford-Artest, was harshly maligned after asking for a trade in 2005, a stunning act given the loyalty the team and fan base had shown him over the two previous tumultuous seasons, including his role in the brawl at the Palace of Auburn Hills in 2004. Artest, not unreasonably, said at the time, "I still think my past haunts me here. I think somewhere else I'm starting fresh … I think they will be a better team without me."
Star columnist Bob Kravitz unloaded, writing Artest was "an incorrigible bum who should have been set free long ago," and encouraging the Pacers to trade Artest immediately. "Get a bent rim. And a slug to be named later," he wrote.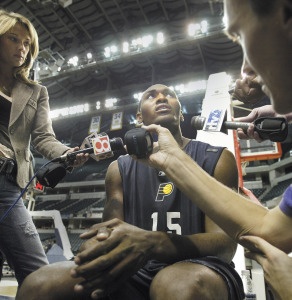 The Pacers suspended Artest and finally found a suitable trade for him with Sacramento after a tortuous six-week wait. Artest was booed angrily on his first trip back to Indianapolis but went on to play 10 more seasons in the NBA and started on the Lakers' championship team in 2010.
He publicly apologized to the Pacers after the title-clinching victory and appears to have won back the respect of most Pacers fans since then with consistent displays of regret as well as his support of mental health initiatives. He now is widely and routinely praised by Pacers fans on social media and was cheered when he showed up in the stands for a home playoff game about 10 years ago.
Jury's still out
All of which makes one wonder about the future public sentiment toward Paul George and Victor Oladipo, currently the two least popular ex-Pacers, as well as Colts quarterback Andrew Luck. George, via his agent, asked for a trade in the summer of 2017, a request President of Basketball Operations Kevin Pritchard called a "gut punch." Oladipo, one of the players acquired in the trade for George, was rumored to have wanted out a year ago after two injury-prone seasons. That was never confirmed, but he was traded early last season when the Pacers received an offer they couldn't refuse. Luck, just 29, abruptly retired from the Colts during the preseason on Aug. 24, 2019, and left them standing open-mouthed and empty-handed.
George is routinely booed when he returns to Indianapolis for games, and odds are Oladipo will get a negative reaction whenever he returns in another uniform. Luck has largely disappeared from public view but was booed when he walked off the field after the preseason game when word of his retirement plan circulated throughout the stands.
History tells us, however, that all three will be welcomed back someday, or at least be remembered for their highlights unless they maintain a public stance against their former teams or city. Time has a way of filtering out negative memories, and doghouses are long-term residences only for those who refuse to be housebroken.
Take, for example, the author of the letter to the Star that bid Miller a stern "Adios." His name is John Rojowski. He was 40 years old at the time he aired his thoughts. He says now he did it on behalf of his son, Nick, who was 14 at the time.
"Part of our bonding time was watching Pacers games," Rojowski said. "He was a huge Reggie fan."
John and Nick were among those who waited in line for two hours to get an autograph from Miller at the Ford dealership. So, when Miller floated the idea of playing for the Knicks, it stung. But when Miller signed with the Pacers and joined his teammates in training camp, all was forgotten.
"As soon as he said I'm going to stay in Indiana, the switch was flipped," Rojowski said. "He was staying here, and everything was back to normal. Whatever anger was in that letter, it was more to appease my son. He was getting devastated by it. He couldn't imagine Reggie playing for the Knicks."
Flipping switches will forever be a fan's prerogative. Ultimately, however, they tend to want to leave them set to On.•
__________
Montieth, an Indianapolis native, is a longtime newspaper reporter and freelance writer. He is the author of three books: "Passion Play: Coach Gene Keady and the Purdue Boilermakers," "Reborn: The Pacers and the Return of Pro Basketball to Indianapolis," and "Extra Innings: My Life in Baseball," with former Indianapolis Indians president Max Schumacher.
Please enable JavaScript to view this content.