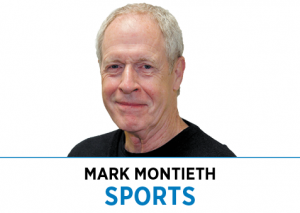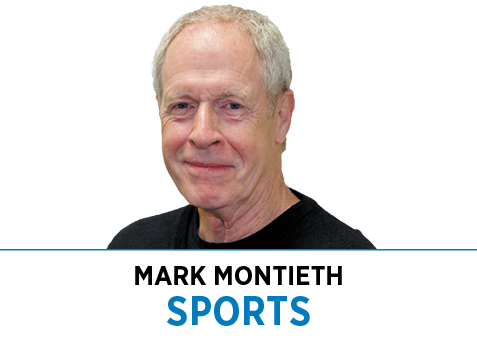 The Indiana Pacers introduced two first-round draft picks last week, with the traditional backdrop of verbal bouquets and boundless optimism.
Chris Duarte, selected 13th, was praised for his skill as a shot creator and shot maker, his maturity, his competitive spirit and his defense. At 24, he appears ready-made to plug and play next season. Isaiah Jackson, chosen 22nd with a pick acquired in a trade, was acknowledged for his length, athleticism and hustle. At 19, he's more plug and wait but brings the valued asset of upside.
Kevin Pritchard, the man who will take the credit and/or blame for these choices, praised them as "two fantastic kids" and promised they would "get better and better." This is as it should be, of course. The next NBA executive who says, "We didn't get the guys we really wanted, so we'll have to roll with the ones we got," will be the first. Draft day brings hope for every team. For some, it even brings improvement.
History, though, tends to dash cold reality on any company's warm-and-fuzzy hires. It's especially cruel in the NBA, where executives not only have to evaluate a worldwide assortment of young talent but predict their future as well. A review of any NBA team's draft history, Pacers included, is rather sobering. Delve deeper, and it's no wonder.
The best employees in any company are likely those who first proved themselves somewhere else. The kids hired right out of college might turn out OK, too, but they come with risks. Many, if not most, will drift away. Perhaps they weren't good enough. Perhaps they were but found a better opportunity elsewhere. Truth is, corporations are built primarily on known quantities.
That's especially true for NBA franchises, who are required not only to give some young whippersnapper a job with their first-round selection but to tack on a guaranteed contract as well, even though the guy probably can't legally buy a bottle of champagne to celebrate his good fortune. That can lead to all kind of interesting developments—some maddening, some exhilarating and all expensive.
Selecting the right player high in the first round of the draft can be difficult enough. It's not unusual for even the No. 1 pick to disappoint. Finding one toward the bottom end of the round requires as great a knack for luck as an eye for talent.
Oh, the irony
The Pacers are no exception. Since joining the NBA in 1976, they have drafted 33 players in the first round, excluding those who were traded away on draft night as part of a prearranged deal or were acquired in a trade for another team's pick. Each of those 33 came to Indianapolis full of ambition and brought some degree of optimism to the franchise. Only a small percentage panned out as hoped.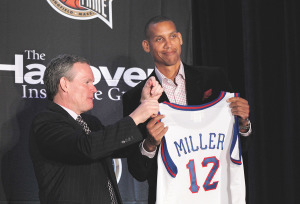 It turns out the draft-night vows of gratitude and commitment between team and player are much like wedding vows. Many dissolve, some of them quickly. Only 11 of the Pacers' 33 first-round picks have lasted five or more seasons with the franchise. Only three lasted 10 or more, and none since Reggie Miller retired in 2005. Myles Turner is the longest-tenured Pacer, with six seasons behind him, and he happens to be the player most involved in trade rumors this summer.
Only one Pacers first-round pick has made it to the Naismith Hall of Fame. That would be Miller again. Only five have played in an NBA All-Star game: Miller, Rik Smits, Dale Davis, Danny Granger and Paul George.
Along with reality, drafts can bring heavy doses of irony, too.
The most popular first-round selection by the Pacers? That would be Wayman Tisdale, the second overall pick in 1985. He was the first player to become a three-time first-team All-America at Oklahoma and was a member of the 1984 Olympic team coached by Bob Knight. He scored and rebounded in bulk quantity and had a beautiful smile. When his name was announced at a draft party at Market Square Arena, the crowd of 6,500 erupted in cheers that lasted 45 seconds, a band broke into "Oklahoma," and confetti fell from the ceiling.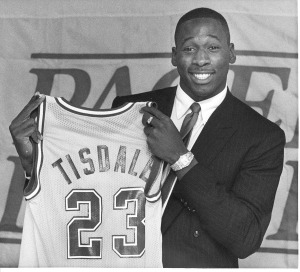 Tisdale wound up playing 3-1/2 solid but unspectacular seasons for the Pacers before he was traded for two backups, Randy Wittman and Lasalle Thompson.
The most unpopular first-round selection by the Pacers? That would be Miller, who was chosen 11th in 1987. General Manager Donnie Walsh was booed roundly by a crowd of 5,000 at MSA because fans wanted him to take Steve Alford, the Indiana University All-American who had led his team to the NCAA championship that year.
Miller went on to play 18 seasons, all for the Pacers; Alford played three seasons in Dallas and one in Golden State before sliding into his coaching career.
Tyler Hansbrough, who had received All-America recognition all four of his seasons at North Carolina, generated plenty of excitement when he was drafted 13th in 2009. He lasted four seasons, starting just 38 of his 246 games, and was let go.
The following year, Paul George, who was merely a second-team all-Western Athletic Conference player as a sophomore at Fresno State, generated mostly quizzical looks at a draft party at Bankers Life Fieldhouse when he was drafted 10th in 2010. He was named to four all-star teams in seven seasons with the Pacers and was headed toward becoming one of the elite players in franchise history when he asked for a trade in 2017.
That's another problem with draft picks. Just because you want them to come live in your city doesn't mean they won't want to live somewhere else when the opportunity arises.
A crapshoot
Know what else can't be assumed? That they won't get hurt. First-round picks Clark Kellogg (1982), Steve Stipanovich (1983) and Scott Haskin (1993) all had careers severely cut short by injury, leaving fans to wonder what if.
It's telling that of the Pacers' five starters last season—at least those intended to be starters when all were healthy—only one was homegrown. Turner was chosen 11th in 2015. The others were acquired in a trade. In fact, only four players on the Pacers roster last season had been drafted by the franchise and only two were first-round selections: Turner and Aaron Holiday.
Oh, yeah, Holiday. Drafted with the 23rd pick in 2018, he was traded on draft day last week in the deal that brought the pick for Jackson. The first-round pick of 2017, T.J. Leaf, was traded last summer.
That's not unusual, though. NBA teams, like most major corporations, are built on the known quantities of trade and free-agent acquisitions rather than draft fliers. That was never more evident than in the championship series between Milwaukee and Phoenix last month. Of the 10 starters, only four—two on each side—had been drafted by their respective team.
Despite all the money spent on scouting and evaluating draft choices and all the hoopla surrounding draft picks' arrival, the odds of their having a lasting impact on the franchise are slim. They're nearly as likely to suffer a career-ending injury as to last several seasons with their first employer.
The Pacers have a happier history with the players they acquired in draft-night trades, which perhaps bodes well for Jackson. Jeff Foster, Mark Jackson, Jamaal Tinsley, George Hill and Thad Young are among them, and all had a positive impact. All but Young started on teams that reached the conference finals, and Young was a highly regarded starter in all three of his seasons with the franchise.
Still, the draft isn't a waste. Teams are obligated to select someone unless they trade the pick away, and sometimes the player they choose helps bring significant success. Players, meanwhile, have to start their careers somewhere so the weeding-out process can begin.
The draft's greatest value is that it brings an annual jolt of optimism and excitement to teams and their fans, just as Christmas does for kids. Just remember, Christmas gifts often break, go out of style or are outgrown. It's what happens the other 364 days of the year that matters most.•
__________
Montieth, an Indianapolis native, is a longtime newspaper reporter and freelance writer. He is the author of three books: "Passion Play: Coach Gene Keady and the Purdue Boilermakers," "Reborn: The Pacers and the Return of Pro Basketball to Indianapolis," and "Extra Innings: My Life in Baseball," with former Indianapolis Indians president Max Schumacher.
Please enable JavaScript to view this content.