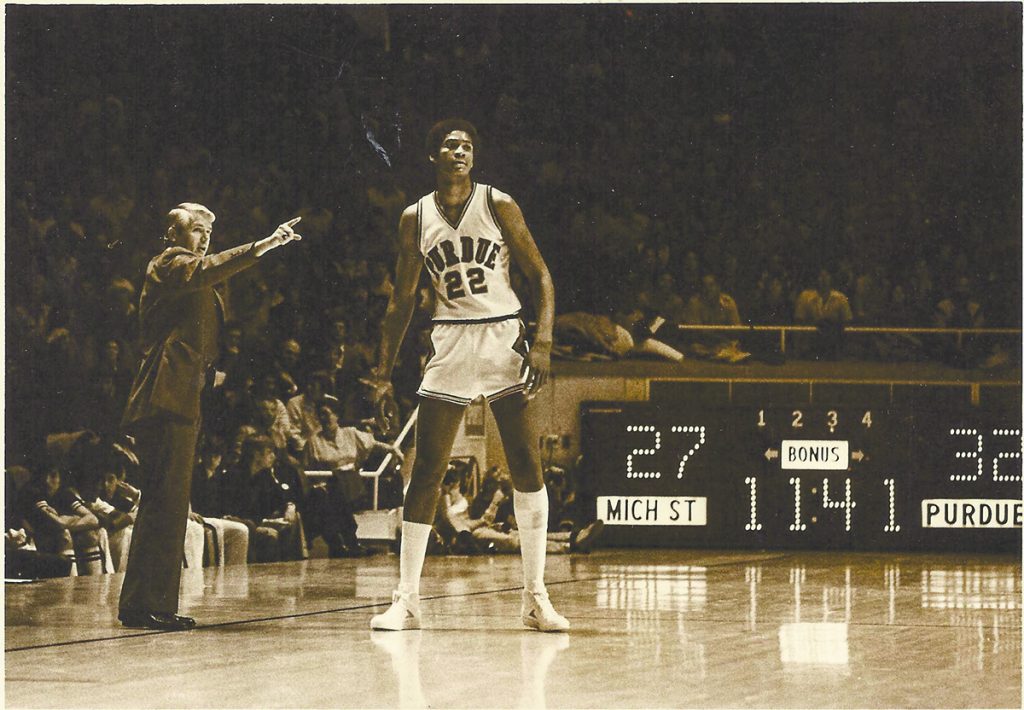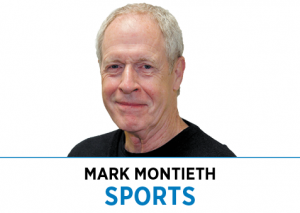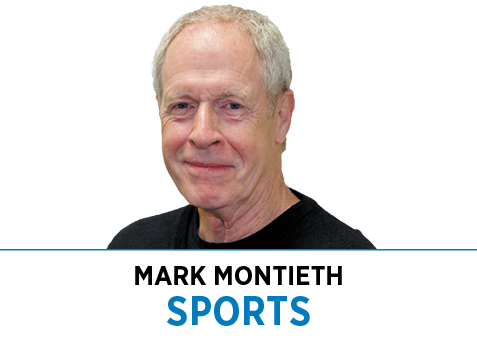 The Final Four would have played out in Atlanta this weekend if not for the shutdown forced by the pandemic. Its absence has only made sporting hearts grow fonder for college basketball's premier event and redirected the affection toward nostalgia.
In Indianapolis, that brings to mind the one at Market Square Arena in 1980. It was the first of seven the city has hosted, with two more (2021 and 2026) on the docket. At that time, it stood as the biggest sporting event ever conducted in these parts that didn't take place on a 2-1/2-mile oval.
That Final Four will be remembered for the championship won by Louisville and the runner-up run of the UCLA team coached by future Pacers mentor Larry Brown, and, for some, the sensation caused by the scantily clad UCLA song girls. But, thanks to Purdue, it also stands as a reminder of the immense challenges that go into building and sustaining a winning organization.
The Boilermakers of that season provide a case study in both sports and corporate-world issues, including executive leadership, middle management conduct and hiring practices. Even if an organization (athletic department) does manage to pull off the difficult task of landing a manager (coach) with exceptional skill to guide a group of talented employees (players), obstacles remain. Chemistry across all levels, funding and unpredictable factors (such as health and personal problems) are always a threat.
So many things can go wrong, in fact, that sometimes it seems the only reason any team ever wins a national championship is that the tournament format requires that one do it.
Making a great run
Purdue lost nine regular-season games that season and finished third in the Big Ten behind Indiana and Ohio State. It got into the NCAA tournament only because the field had just been expanded to 48 teams and more than two teams from each conference could be admitted. Its 1980 tournament run was propelled by playing its first two games on its home court in Mackey Arena. Those victories led it to the Mideast Regional in Lexington, where it eliminated Indiana and then Duke, which had defeated the No. 1 seed, Kentucky.
So, there it was, just two victories short of a national championship. It was a six-seed and therefore a logical long shot, but it had legitimate reasons for optimism. Center Joe Barry Carroll would become the first pick of that year's NBA draft and Keith Edmonson would be the 10th overall pick two years later. Two other starters, Drake Morris and Brian Walker, were all-state selections out of Indiana high schools and the fifth, Arnette Hallman, was a physically gifted role-playing junior college transfer.
The dream ended with a five-point semifinal loss to UCLA on Saturday, a game in which Purdue was competitive throughout. Final Four defeats are one thing when you feel like you play your best and lose to a better team. They are quite another when you feel you didn't perform near a peak level.
"I feel like we lost today and not like we were beaten by a better team," Walker said in the postgame press conference. "This is a game I'll remember for the rest of my life."
"We played like it was the third or fourth game of the season," Hallman added. "We played so poorly."
The 17-point consolation victory over Iowa provided something like the hint of a happy ending but felt more like being damned with faint praise. Consolation games had once been regarded as a nice way to keep everyone occupied after so many people had bothered to attend a tournament but by then were becoming meaningless relics. The one in 1981 would be the last.
Some possible factors in the Boilermakers' fate were no fault of their own. They were coming off a regional that looked and felt more like a Final Four than the actual Final Four did. Beating in-state rival Indiana after the Hoosiers had won the Big Ten title was huge, as was eliminating another blueblood program, Duke, two days later. Strange as it seems, they could have suffered a bit of an emotional letdown. It didn't help that they were coming off a week of final exams, which disrupted practice schedules and focus.
Playing an hour's bus ride from campus in an arena where some of the players had already competed in high school took some shine off the event. Also, Hallman was carrying an emotional burden that might have contributed to his 1-of-7 shooting performance against UCLA; his father had died the previous weekend.
Dig deeper, though, and you'll find more fundamental factors that might have been preventable.
Trouble brewing
Purdue's season ended under the cloud cover of rumors that its coach, Lee Rose, might leave. An article in the Tampa Tribune on Feb. 27 reported that the University of South Florida's athletic director had asked for and received permission to interview Rose for its head coaching position, which only confirmed the buzz around the Lafayette community.
Superficially, it made no sense. His coaching resume was to envy and only getting better. Before arriving at Purdue, he had won 74% of his games over eight seasons at Division II Transylvania and 80% of his games over three seasons at North Carolina-Charlotte. UNCC won its conference and reached the final game of the NIT in his first season. It followed up by shocking the college basketball world by advancing to the 1977 Final Four, where it lost to eventual champion Marquette by two points in the Saturday semifinals.
He had kept it rolling at Purdue, leading Purdue to the championship game of the NIT his first season, where it lost to Indiana by one point in the final game, then to the Final Four. The impression was that things were progressing smoothly, but they weren't. And it's easy to see in hindsight that Rose's tenure at Purdue was perhaps destined to be brief.
In short, he was a brilliant tactician who didn't fit Purdue's culture, a point that could be taken as an indictment of either side. He was, in particular, a mismatch with Athletic Director George King. Rose stated in a recent self-published book, "Coach Lee Rose: On Family and Basketball,"—which was produced with help from his wife, Eleanor, and Carroll—that he had interviewed for the job with Fred Schaus, his coaching predecessor and newly named assistant athletic director, rather than King, who was recovering from a surgery. When he finally met King after reaching an agreement with Schaus, he says the first words out of King's mouth were—quite seriously—"You'll never make more money than I do."
Rose also was irritated by an array of relatively minor but perhaps unnecessary issues, similar to those that other Purdue coaches complained about before Big Ten Network money began rolling in. Alan Karpick, a sophomore student manager on the Final Four team and now publisher of the primary website for Purdue fans, GoldandBlack.com, recalls Rose often lamenting the athletic department's tightly drawn purse strings.
The disconnect ran both ways, however. Rose, a native of Kentucky, was a prim and proper Southern gentleman who could be prickly at times. That made him a round peg in the square hole of Purdue's athletic culture, a three-piece suit amid good ol' boys. Although he made some close friends in Lafayette, he didn't particularly enjoy mixing at alumni functions and was struggling to get a foothold with high school coaches.
He wasn't a screamer and didn't swear, but he had a harsh, sarcastic manner that tended to build resentment among players. There was the time in practice he berated a starter for allowing a walk-on (John Anthrop) to score on him, which insulted both players. On another occasion, he punished backup guard (and future coach) Kevin Stallings for a transgression by making him sit in a chair and watch practice from courtside.
Rose's unique scoring system for evaluating players caused further friction. Statistics were recorded of every practice scrimmage and the results were posted daily. Some areas were weighted more heavily than others. It kept pressure on the players to perform but gave power to the student managers who compiled the stats. Karpick recalls players coming to him to plead their cases.
They likely wouldn't have felt comfortable taking questions or complaints to Rose. He once said in a radio interview he told his players, "If you can't improve on silence, I don't want to hear from you." He never seemed at ease with the media, either.
Perhaps it shouldn't be all that surprising then that, when Rose gathered his coaching staff and players a day after their season had ended to tell them he was seriously considering the South Florida offer, feelings were mixed. A few people mumbled a desire for him to stay, but Morris, the starting forward who was sitting just a few seats to the left of Rose, leaned over to Assistant Coach Bill Keller and said, loudly enough to be overheard, "I hope he leaves."
That sentiment wasn't Morris' alone, but also wasn't unanimous. Winning helped dampen doubts and the star players were given little to complain about. Future NBA guard and coach Jerry Sichting, who played three seasons for Schaus before playing out his senior season with Rose, credits Rose with bringing structure and discipline to Purdue's program.
"He was an unbelievable college coach," Sichting once said in a radio interview. "I wish I had him all four years."
No Purdue player would ever have that experience. Three days after Purdue's Final Four appearance, two days after a pep rally in Mackey Arena that drew more than 5,000 fans and one day after the team banquet, Rose's rumored departure became official. Then 43, he accepted a financial package from USF that was roughly double his $41,000 salary at Purdue. King told reporters he had offered Rose a generous raise and accepted the resignation "with reluctance."
Life moved on, of course. Rose coached for six seasons at South Florida, compiling a 106-99 record. His teams never reached the NCAA tournament, settling for three brief NIT appearances. He wound up being disappointed with his administration there, too. Budgets were cut, promises weren't kept and tension mounted. His exit from USF left hard feelings all around. While rumors about his future flew throughout Tampa after the 1985-1986 season, he didn't announce he was leaving until July, after the NBA San Antonio Spurs offered an assistant coaching position. He went quietly, via a press release, and nobody seemed sorry about it.
Purdue moved on as well. Exactly one week after Rose's departure was announced, Gene Keady was introduced as its next coach. He proved to be a better fit, with both King and the Purdue community. He was practically the opposite of Rose—far from genteel and a screamer on the court, but one who made better connections. "He can chew your ass and make you like it," was how some of them put it.
None of Keady's teams ever reached the Final Four, but they won six Big Ten titles in his 25 seasons. He's a beloved icon now. The Mackey Arena court bears his name and he returns often from his home in Myrtle Beach, South Carolina, for football and basketball games.
'It just wasn't a fit'
It's practically unprecedented in the history of college basketball that a second-year coach of a Big Ten team that just played in the Final Four would leave so abruptly for a mid-major program with no tradition. It also seems wrong that a coach as talented as Rose would wind down his career in virtual anonymity, working off and on as an assistant for five teams from 1986 to 2008, as well as for the league office. But it happened.
It's a woulda-coulda-shoulda story of the kind that occurs in sports and in business when the pieces don't quite fall into place. Nobody deserves all the blame for this one. Everyone surely could have done something a little differently, a little better, to prevent the breakup. Or maybe the situation could have been avoided in the first place with more vetting and communication before the hire that might have warned all parties of the mismatch.
Rose for one never second-guessed himself, at least publicly. Thirty years after leaving Purdue, he summarized it simply: "I've wished many times that it worked out. But it just wasn't a fit."
Forty years later, most of the rough edges have been smoothed by the sands falling through the hourglass. Rose stayed in touch with some friends in the Lafayette area and was back in Mackey Arena for a game in the 2011-2012 season. He received a standing ovation when he was introduced. Eight players from the 1980 Final Four team, Carroll excluded, were back for a "Legends of Mackey" celebration in the 2017-2018 season, but no coaches. Rose, now 83 and living in North Carolina, is afflicted with Alzheimer's disease and was unable to attend.
The informal gatherings that weekend produced plenty of laughs and pleasant memories for the players from one of Purdue's greatest teams. But the virus of regret can't be canceled.•
__________
Indianapolis native Mark Montieth is a longtime newspaper reporter and freelance writer. He is the author of three books: "Passion Play: Coach Gene Keady and the Purdue Boilermakers," "Reborn: The Pacers and the Return of Pro Basketball to Indianapolis," and "Extra Innings: My Life in Baseball" with former Indianapolis Indians president Max Schumacher.
Please enable JavaScript to view this content.