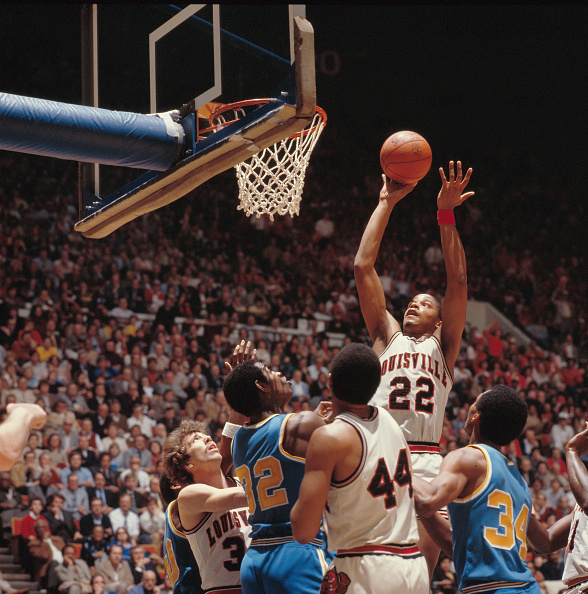 Getting his championship ring back was nice and all, but David "Poncho" Wright would regain something more important several years later: his life.
Wright was a sophomore forward on the Louisville team that won the NCAA championship at Market Square Arena in 1980, a valuable reserve who averaged 6.5 points. He was more famous for his prophetic slogan, however, than his playing.
Wright, a graduate of the former John Marshall High School in Indianapolis, had been so impressed with how the Cardinals played against an amateur team of older players in a preseason exhibition game that he declared in the postgame locker room: "The 'Ville is going to the Nap!"
"Ville" meaning Louisville and "Nap" meaning Indianapolis. Toward the end of the season, the hip prediction began making headlines.
"I just knew we were getting ready to take this home," Wright said from his home in Los Angeles. "Our team was so dominant.
"I should have trademarked that Ville thing; I'd be real rich right now. That's all over Louisville now. They've got 'The Ville' on the scoreboard now, for football and basketball. That's what they call it, 'The Ville.'"
Wright was a solid contributor in Louisville's 59-54 victory over UCLA in the title game, with four points, four rebounds and two steals in 14 minutes. He completed his college career two years later with a six-point scoring average.
The tournament's "One Shining Momen" theme song would not be introduced for six more years, but that's exactly what the championship was for Wright. He celebrated on the court with hometown family and friends, then celebrated some more back at the team's downtown hotel, the Hyatt Regency.
"People were coming over to the hotel and coming up to the room," he recalled. "It was kind of wide open back then. You couldn't do that today.
"It was straight bananas. We partied all night."
They partied on the bus ride back to Louisville, as well. He recalled about 10 team members sharing a bottle of brandy along the way as music blared while the seemingly oblivious coaches celebrated in their own way at the front of the bus.
Fans lined the street as they neared campus. A rowdy pep rally was conducted, classes were canceled, and it seemed for a while as if the party would never end.
It did, of course. It always does.
For Wright, it ended most emphatically in 2004, when his sister died of brain cancer. His mother had passed away a few years earlier and some things had built up in his personal life, so this one hit him hard.
He said he became severely depressed and turned to drugs to numb the pain.
"If I had courage, I would have ended my life," he said. "I went deep. My mind was so jacked up, it was crazy."
He lost his marriage and lived in his Jeep for two years, but the birth of his granddaughter 12 years ago snapped him out of it. He has since reunited with his wife, and that granddaughter, Layla Wright, is a promising young player in the L.A. area who has refueled his love for the game.
"She's going to be the next big thing," he said. "I know she's in the top five players in the country right now. She's going to surpass anything I ever did. I'll be a distant memory when she comes around. She's going to be legendary."
"Her dedication is way beyond what mine was. If mine was like hers at that age, I'd be a multi-millionaire right now."
Wright is the director of security for a hospital in Los Angeles, working the night shift from 11 p.m. to 7 a.m. It's a drab, difficult job, with duties that include escorting coroners to the morgue to examine dead bodies and helping wheel the gurneys containing dead patients to funeral home hearses.
"Once you smell death," he said, "that's something you'll never forget."
Wright, 60, plans to retire in a few years and move back to Indianapolis, where he won't have to pay $1,500 a month for a one-bedroom apartment. He has two grandchildren and other relatives here, and it has been the scene of most of the best memories of his life.
Oh, yes. The ring.
Wright lost his championship ring in 1986. He had taken it off while washing his hands in the bathroom at a nightclub on the west side of Indianapolis and then left it in his car. Someone broke into the car overnight and stole the ring, along with other valuables.
After six or seven years passed and it hadn't turned up in a pawn shop or anywhere else, he was ready to check into the possibility of having a duplicate made. Then out of nowhere, a woman contacted his sister-in-law in Indianapolis and said her mother had found it sitting next to the curb at the corner of Northwestern Avenue and 38th Street near Crown Hill Cemetery.
Her mother had kept it for a few years, not knowing what to do with it. When her mother died, the woman inherited it and took the time to track down a family member. She wound up reaching Wright's sister-in-law. The woman sent it to Wright via FedEx and refused money for her good deed.
"It wasn't damaged or nothing," Wright said. "It looked as pristine as the day I got it."
Wright guards the ring carefully now, rarely bringing it out of safekeeping in his house. It represents too many good memories to let it get away again. All these years later, especially all these years later, the glow hasn't dimmed from that magical night at Market Square Arena when the 'Ville went to the Nap and won it all.
"It had a big impact," Wright says. "I'm pretty much known all over the country. I can go to any state and, if I tell them my name, they're like, 'Yeah, I remember you!'"
It smells like life, and Wright will never forget it.•
Please enable JavaScript to view this content.