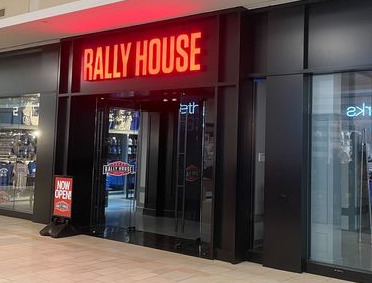 Sports apparel retail chain Rally House has opened its first Indiana store at Greenwood Park Mall and is planning to add three additional stores in the Indianapolis-area market by the end of the year.
Rally House is a family-owned retailer that sells college and professional sports team apparel and other merchandise, along with locally inspired apparel, gifts, novelties and food. Based in the Kansas City suburb of Lenexa, Kansas, the company operates 86 stores, with another four preparing to open.
The 32-year-old chain operates in 10 other states: Illinois, Kansas, Kentucky, Michigan, Missouri, New Jersey, Ohio, Oklahoma, Pennsylvania, and Texas.
The Greenwood store opened June 12 and occupies a 6,100-square-foot space adjacent to Express, just north of anchor stores Von Maur and J.C. Penney.
"We think Indianapolis is a great market," Rally House District Manager Teri Hauenschild told IBJ in an email. "We are planning on opening three more locations in the fall."
Hauenschild declined to say where the other area stores might be located.
Rally House customizes its in-store merchandise mix in each market. The Greenwood store and others in the central Indiana market will carry apparel for the Indianapolis Colts, the Indiana Pacers, Indiana University, Purdue University, Indiana State University and the University of Notre Dame, among others.
Tim and Mabel "Peg" Liebert started their company in 1989 as Mabel's Kitchen, a catalog business that sold gift boxes filled with locally made artisanal products. The company next opened brick-and-mortar stores under the name Kansas Sampler. It began to expand into new markets in 2008 and changed its name to Rally House, to reflect the fact that licensed sports apparel had become a bigger part of the stores' merchandise mix.
"With locations in Chicago, Dayton and Cincinnati, Indianapolis is a natural fit for our expansion," said Rally House CEO Aaron Liebert, son of the founders, in written remarks. "Indiana has sports in the DNA with so many teams and events hosted here annually."
The retailer said its website, www.rallyhouse.com, sells merchandise from all of its stores, and all online orders are packed and shipped from a local store.
Please enable JavaScript to view this content.