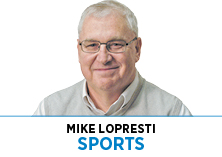 They're coming soon to Indianapolis, two college football teams with their eyes on the prize. We just don't know who yet, but we're starting to get an idea. The first rankings from the College Football Playoff committee had the contenders lined up, so now we look at the top names and try to figure out why each would be a good fit for Indy in January.
Georgia
They would bring along Uga the Bulldog mascot, of course. Wonder if he'd like to have dinner with Butler's Blue? There's a surefire photo op. Georgia's last national title was 41 years ago, back when Herschel Walker set the NCAA freshman rushing record. Now he's running for the U.S. Senate.
In the four decades since, the Bulldog faithful have grown a tad impatient watching SEC cousins Alabama, Auburn, Florida, LSU and Tennessee all hold up championship trophies, so no fan base would arrive hungrier in Indianapolis. If you like defense, this is the team you want. Georgia has given up five touchdowns. All season.
Fun Bulldog fact: Walker's freshman rushing record stood 37 years, until it was bettered by—this name might ring a Colts bell—Jonathan Taylor of Wisconsin.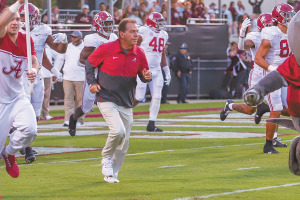 Alabama
Yeah, the Tide back in the championship game would be like the swallows returning to Capistrano. There have been seven CFP title games—two without Alabama. Six of the past 12 national championships ended up in Tuscaloosa, and no recruiting class has ever graduated in the Nick Saban-era without at least one ring. The Tide hasn't been rated lower than No. 17 in the Associated Press poll since 2008 and has been ranked No. 1 in 105 different weeks. Next best is Clemson, at 23.
We could go on, but you get the idea. Since Saban's golden coaching reign is the closest thing college football has ever had to John Wooden, he'd be coming to the right state.
Fun Tide fact: Alabama has played in 73 bowl or playoff games in its history. IU and Purdue combined have played in 32.
Michigan State
In the ESPN preseason power index, the Spartans were rated 12th … in the Big Ten, they were No. 56 in the nation, way below Indiana at No. 25—well, let's not even go there.
Anyway, Michigan State is getting a lot of love from the committee now, but the Spartans still have Ohio State and Penn State to play, not to mention eager-for-recognition Purdue in West Lafayette this weekend. Then there'd be the Big Ten title game and a CFP semifinal. Michigan State would have to win them all to get here, so don't count on it. But if the Spartans do, it'd be a miraculous journey from nowhere.
Fun Spartan fact: Not sure how much this will help in football, but Michigan State has good national championship karma in basketball with Indianapolis. This is where the Spartan men won the title in 2000 and the women advanced to the final game in 2005.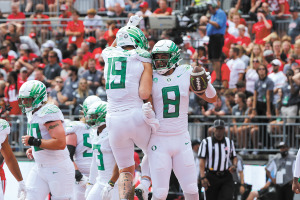 Oregon
Think green, think gold, think ducks walking the sidewalks of downtown Indianapolis. If Oregon wins out, it could hand the committee quite a dilemma. The Ducks' loss to a 3-5 Stanford team was truly ugly, and that might argue against them in the playoffs. Then again, you going to hand their spot to Ohio State, after Oregon went into Columbus and whacked the Buckeyes? Ever seen an enraged duck?
Fun Duck fact: The last time a Pac-12 team won the national basketball championship was Arizona in 1997—in Indianapolis. The last time a Pac-12 team played in the national championship game in basketball was UCLA in 2006—in Indianapolis. Just pointing that out.
Ohio State
Once upon a time—Sept. 11, to be exact—the Buckeyes lost at home to Oregon. Kiss the playoffs goodbye already? No. They're 6-0 since, averaging 50.8 points a game.
If they keep that roll going and if they get a playoff spot from the committee and if they would happen to be playing in Indianapolis, the restaurants and bars of downtown would have hit the jackpot. Nooooobody takes bigger crowds to postseason games than Ohio State, and Columbus is less than three hours away.
Imagine an RV convoy on I-70. When the Buckeyes once played for the title in the Fiesta Bowl, thousands of scarlet and gray enthusiasts packed the streets outside the stadium without tickets. They just wanted to be a part. Imagine that on Georgia Street. Then again, Indianapolis in January is not Tempe, Arizona.
Fun Buckeye fact: Ohio State must love Lucas Oil Stadium. The Buckeyes are 5-1 there in Big Ten championship games, including five victories in a row. The Colts—1-3 at home so far this season—should be so lucky.
Cincinnati
Remember when George Mason showed up in the Final Four in Indianapolis in 2006? Or when Butler pushed Duke to the wall for the national championship here in 2010? Indy-staged Cinderella stories, both. This would be another.
No team outside the power leagues or Notre Dame has ever been named to the playoffs, and that would be history enough for the Bearcats. Should they knock off a big boy in the semifinal and make it here, it'd truly shake the ground of college football. But first, they have to get invited. The first CFP rankings—putting Cincinnati No. 6—suggests that is iffy. The Bearcats are no fluke; they're the only team in the nation in the top 10 in both scoring offense and scoring defense.
For Indianapolis, a Cincinnati team would be a mixed blessing. It would give the game a unique flavor, and the fan base is just down I-74. But the Bearcats don't travel with vast armies of money-spending fans the way the bluebloods do.
Fun Bearcat fact: Whatever Indianapolis hotel would host the Bearcats, it'd have to give coach Luke Fickell a big room. He has six kids.
Oklahoma
So where in downtown could they park the Sooner Schooner? Oklahoma has made the playoffs four times but is 0-4 in the semifinals, so a trip to Indianapolis would be particularly satisfying.
The Sooners would come to town with one of the more fascinating quarterback tales in modern football history, since it's not every season you see a Heisman front-runner lose his job to a freshman. That's what happened at the Oklahoma quarterback position. Spencer Rattler started the season widely considered one of the prime Heisman favorites. Now, Caleb Williams runs the offense.
Fun Sooner fact: You probably have owned your car for a shorter time than Oklahoma has owned the Big 12. The Sooners have won six league titles in a row, and this Saturday will be their 2,171st consecutive day as reigning conference champions.
Indy's dream game: Georgia vs. Alabama. Lots of history and big, free-spending SEC crowds. Or Ohio State vs. Cincinnati. A novelty act between neighbors that would likely never be repeated.•
__________
Lopresti is a lifelong resident of Richmond and a graduate of Ball State University. He was a columnist for USA Today and Gannett newspapers for 31 years; he covered 34 Final Fours, 30 Super Bowls, 32 World Series and 16 Olympics. His column appears weekly. He can be reached at mjl5853@aol.com.
Please enable JavaScript to view this content.