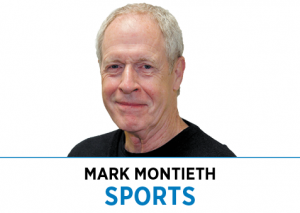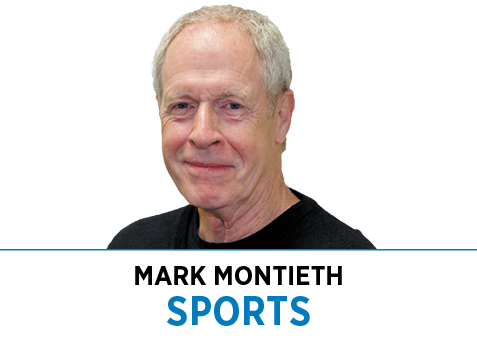 Draft day always feels like Christmas for NBA fans. A team picks out a player, brings him home with great anticipation, unwraps him and then hopes he doesn't fall apart in the first year or two. After all, he's non-returnable and comes without a warranty.
It's Halloween for front office executives, however, because their shopping expedition is as frightening as it is exhausting. The general manager who whiffs on a high draft pick likely will be out of a job within a few years and investing in too many bland selections makes that cushy office chair grow awfully hot.
Whatever holiday you want to link to it, the NBA draft arrives July 29. That's a month later than usual because of delays forced by the pandemic but is eagerly anticipated just the same. The possibility of adding a great player to a roster titillates fans. The threat of grabbing a lemon when you need a plum haunts entire front offices.
The Pacers have the 13th overall selection this year, a middling first-round selection for a team coming off a middling season. Some players taken in that spot have become major stars, such as Phoenix's Devin Booker, Utah's Donovan Mitchell and legendary Laker Kobe Bryant. But they are exceptions.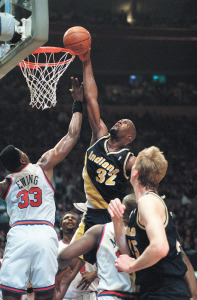 The Pacers have been here before and know how it goes. Dudley Bradley was the No. 13 pick in 1979 and turned out to be an average player. But he came out of a weak draft and lasted nine seasons, so he doesn't qualify as a bust. Dale Davis was No. 13 in 1991 and was a valuable role player for teams that reached the conference finals five times. Tyler Hansbrough was No. 13 in 2009 but the three-time first-team All-America failed to live up to expectations.
It's always hit and miss in purgatory.
Fans often criticize first-round selections that don't pan out as hoped, but they would be wise to think of all the bad hires they witnessed at their various places of employment, whether due to politics, seniority, quotas or simple bad judgment. Imagine being a corporate executive charged with filling a crucial position and having just one shot at it, as in a draft. Not only that, but having to make that hire in inverse order of how the company had performed the previous year. If it had done well financially, it would have to wait until the less successful companies had taken their turn. It's no wonder teams occasionally miss on a draft pick.
There's no formula for successful drafting, obviously, but history provides guidelines for making the experience feel more like a gift presentation than a scary encounter:
1 Talent trumps need.
If there's a lesson to be learned from drafts that can be applied to all businesses, it is that talent takes precedence over all else. An organization's positional needs must be filled one way or another and character figures into the equation as well. But if you have the opportunity to hire someone you believe has the potential to become a star performer, do it, even if you have someone already working in a similar role. You can sort things out later if you're overstocked at that position.
As obvious as that sounds, every professional sports franchise probably can admit to draft mistakes committed in the name of need-filling. The Pacers, for example, did it in 2011 when they traded the 15th overall pick to San Antonio for point guard George Hill. The Spurs selected small forward Kawhi Leonard, who—to the frustration of Pacers fans—has gone on to a career that likely will deposit him in the Naismith Hall of Fame. It made sense at the time. The Pacers had drafted a promising small forward named Paul George the previous draft, so why take another? They had a greater need for a point guard, and Hill had shown promise in his three seasons with the Spurs. He was local, too, having played high school (Broad Ripple) and college basketball (IUPUI) in Indianapolis.
Hill became the starter on two Pacers teams that reached the conference finals and has now played 13 NBA seasons for eight teams, so it wasn't a horrible idea. Having both Leonard and George, however, and then figuring how to play them together (as they have done for the Los Angeles Clippers the past two seasons) could have become the basis of a championship team if the right talent had been placed around them. And if it didn't work, one of them could have been traded for an elite player.
The Pacers also went for need in 1996 when they had the 10th overall pick. Their center, Rik Smits, was battling foot issues that threatened his career and ultimately forced him to miss the first 30 games of the following season. So, they logically drafted 6-foot-11 Erick Dampier. Among the players bypassed was a high school kid named Kobe Bryant, who went 13th to Charlotte and was immediately sent to the Lakers in a pre-arranged trade.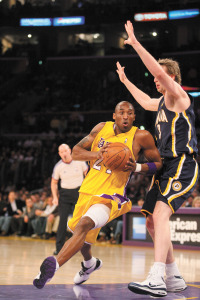 Sounds bad on the surface, but there are caveats galore for that one. Bryant was just 17 years old at the time. A handful of players had made the leap from high school to the NBA before him but none were guards, so he was without precedent. Besides, the Pacers had a capable shooting guard near the peak of his career in Reggie Miller at the time. Again, why take another? Furthermore, Bryant had made it known through his agent he only wanted to play for the Lakers, an obvious deterrent. And who could have guessed then he would become one of the game's all-time greats?
Still, you can't help but wonder how history would have been changed if the Pacers had drafted him, signed him, ignored his threats to sit out, helped him develop and then decided what to do with their overstock of shooting guards. Play them together? Trade one? Those would have been good problems to have.
Again, go with talent. If you can spot it.
2 Look for originals, not pale imitations.
Some players might be reminiscent of other great players but drafting one solely for that reason is the equivalent of marrying someone who reminds you of a movie star.
NBA teams went searching for the next Michael Jordan in the draft for two decades, it seemed, but always came up empty. The most notable target was Harold Miner, the college Player of the Year for USC in 1992. Tagged (burdened) with the nickname "Baby Jordan" because his size and athleticism were similar to Jordan's, he was the 12th pick of the '92 draft. He played just four seasons and had a career scoring average of nine points in 200 games—not very Jordan-like.
The Pacers were guilty of a similar attempt in 1989 when they drafted George McCloud with the seventh overall pick. They didn't take advantage of it and haven't had that high of a pick since then. McCloud was listed at 6-foot-8 and had played some point guard in college, so he reminded a lot of people of Magic Johnson, who had been voted the NBA's Most Valuable Player for the previous season and was at the peak of his career.
The comparison inevitably came up at McCloud's introductory press conference with the Pacers, and he didn't reject it.
"He is a player I idolize and try to pattern my game after," McCloud said.
McCloud averaged 2.7 points as a rookie, then 4.6 the next season. Tragedy struck shortly after his second season when his father shot himself inside the family home, with George in the next room. McCloud's father was depressed over the loss of his wife, who had died on Valentine's Day.
He played two more seasons for the Pacers—rarely at point guard—and was not re-signed when he became a free agent in 1993. He played in Italy for a season, then returned to the NBA. Revitalized, he played eight more seasons, peaking in 1995-96 when he averaged 18.9 points for Dallas and set a league record with 678 three-pointers.
His career turned out well in the long run, but not for the Pacers. It also turned out that McCloud wasn't a point guard. He wasn't even a shooting guard, really; he played mostly at small forward. No what else he wasn't? Six-foot-8. He's now listed officially as having played at 6-6.
3 Ignore temptations to shop local.
NBA teams often feel pressure to draft a player from a local college—local meaning in-state—under the false impression doing so could boost ticket sales. There's only one tried-and-true formula for accomplishing that, however: winning.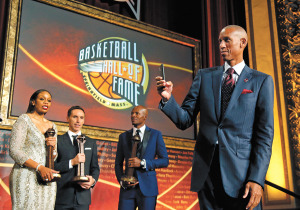 The Pacers famously avoided that trap with their historic decision in 1987 to draft UCLA's Reggie Miller instead of Indiana's Steve Alford. It might seem a no-brainer now, Miller having gone on to an 18-season Hall of Fame career and Alford having settled for four forgettable seasons, but it wasn't at the time. Alford had just led IU to the national championship and earned consensus All-America honors. UCLA had not fared so well, and Miller had been merely an honorable mention All-American, failing to be mentioned on any of the major first, second or third teams.
Pacers general manager Donnie Walsh was booed lustily at the draft party after announcing Miller as his draft pick but held firm throughout the process.
'I'm not out to disappoint anybody," he said, "but I can't recapture the splendor in the grass for everybody here. I've got to build a franchise."
The booing fans got over it eventually. They always do. Ultimately, fans don't care where anyone went to college. It's a nice bonus if a kid went to their favorite school, all things being equal, but they rarely are. Safe to say, Miller drew more fans to Pacers games over his 18 seasons than Alford would have in the four he played in the NBA.
4 Get lucky now and then.
Luck always plays a role in hiring talent, particularly young talent. Predicting how someone will handle a sudden influx of free time and money is about as dicey as coming up with a weather forecast three years down the road.
Luck is an even greater factor in the NBA because a lottery determines draft position. The Pacers have had their share of bad luck in it, losing a coin flip for the pick that could have landed Ralph Sampson in 1983 and finishing second to New York for the draft rights to Patrick Ewing in 1985 when commissioner David Stern drew envelopes out of a well-spun hopper. The only year in which they drafted significantly higher than they deserved was 1988, when they tied for the eighth-worst record but wound up with the second pick thanks to Stern's fortunate envelope pull.
The Pacers selected Smits, who played 12 seasons and remains the franchise's second all-time leading scorer. Had they gotten what they "deserved" in that draft, who knows? Those five trips to the conference finals from 1994 to 2000 might never have happened.
Jobs and championships are won and lost on such whimsy.
The Pacers will be drafting from where they deserve next week unless they trade the 13th pick. Wish them luck but wish them some common sense, too. If everything goes well, it might wind up being Valentine's Day, too.•
__________
Montieth, an Indianapolis native, is a longtime newspaper reporter and freelance writer. He is the author of three books: "Passion Play: Coach Gene Keady and the Purdue Boilermakers," "Reborn: The Pacers and the Return of Pro Basketball to Indianapolis," and "Extra Innings: My Life in Baseball," with former Indianapolis Indians president Max Schumacher.
Please enable JavaScript to view this content.