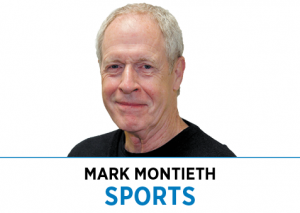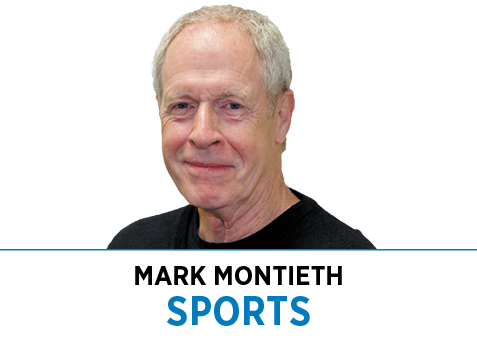 Have you heard about the green bagels? How about Victor, the wrestling bear? Ever see the lady who squeezed herself into a box and blew it up? Or the guy who shagged fly balls in a Jeep?
Back in the day, a professional sports franchise could try just about anything to attract fans. Hardly anything was too wacky or too dangerous, as long as it wasn't too expensive and it put another butt or two in the seats.
Now that sports leagues, along with the rest of corporate America, have become more self-conscious about image and operate in a more litigious age, promotions have become … what? More professional? Less ridiculous? It's all a matter of taste.
For the local professional teams, the Pacers and Indians, the promotions have become tamer and more refined as the venues became more modern and the culture less tolerant of rowdiness. At Pacers games, you have Vegas-quality acts such as Red Panda flipping plates from her foot to the top of her head while balancing herself on a unicycle. You have balancing and juggling artists. Even the Frisbee dogs put on an expert show—no pooper scooper required. You have tie-ins with movie companies such as the Hickory Nights of recent seasons and Star Wars Night this season. Over at Victory Field, the Indians bring in established touring acts such as ZOOperstars! and Marvel Comics heroes to entertain the masses.
Slick is in. Wacky is out. It's not better, it's not worse, it's just different. But veterans of the more freewheeling decades can be forgiven for their nostalgia.
"The whole business was more fun back in the old days," said Max Schumacher, who ran the Indians' front office as general manager and president from 1961 to 2016.
Schumacher got into the fun even before becoming the Indians' GM. He twice convinced the Purdue marching band—complete with Golden Girls, majorettes and the world's largest bass drum—to perform at games. The group performed on the field between games of a doubleheader on May 25, 1958, and came back the following year on April 19 for a repeat performance. A steady rain forced cancellation of the second game of the doubleheader that day, but that didn't stop the band members from shivering their way through their obligation on a soggy field.
The Charleston, the pie fight
The Indians for several years put on a three-inning exhibition featuring local newspaper, radio and TV personalities before the final home game of the regular season. In 1958, Sara Ann Cooper, daughter of team manager Walker Cooper, provided an added touch by dancing the Charleston on top of a dugout between innings. She had won the talent competition in the previous year's Miss America contest and acquitted herself well, according to the newspaper accounts.
The Pacers twice put on exhibition games between local media reps and race drivers to raise money for a paralyzed driver, Bob Hurt. The first one, before a preseason game in 1968, ended with a shaving cream pie fight. They had media members playing at halftime of a real game as late as the mid-'80s.
The Indians sometimes sent in the clowns to find humor. Jackie Price was a borderline major leaguer in the '40s who turned to comedy to make a living in baseball. He took batting practice while hanging upside down, threw three balls in three different directions all at once and shagged fly balls shot out of a bazooka while speeding across the outfield in a Jeep. He appeared twice, in July 1958 and August 1959.
Max Patkin wore a sideways hat and an old, baggy, dirty uniform with a question mark on the back instead of a number. His antics included standing in the first-base coaching box and imitating batters and umpires, or just rolling around in the dirt. Schumacher didn't much care for his act but brought him in five times from September 1956 to 1974 because the fans approved.
Red, white and boom
The most unusual entertainer to perform for the Indians might well have been Allison Bly, who appeared after a game on June 17, 1994. Billed as "The Dynamite Lady," her bit was as memorable as it was brief. Wearing a revealing but patriotic red, white and blue outfit of stars and stripes, she strapped on a helmet, climbed into a box made of plywood and Styrofoam, lit sticks of dynamite by touching wires together and "blew herself up," as the advertisements promised.
Boom baby, indeed.
She performed more than 1,100 times at minor league games, motor speedways, monster truck rallies and such for an average of $1,500 a pop before retiring in 2001. The trick was to construct the box to break apart easily and to have the explosives pointed outward, although that didn't prevent her from suffering burns and the occasional broken bone.
The Pacers, being confined to indoor arenas, settled for more genteel attendance-boosters, such as postgame concerts. Trumpet player Al Hirt, sax player Boots Randolph, and singers such as Lou Rawls and the Staple Singers appeared in the '70s.
Giveaways could draw a crowd, too. Today, fans will dive over three rows of seats to retrieve a plastic ball or T-shirt shot out of a bazooka. Bobbleheads have had a long life as well. Back in the day, however, the freebies were more creative.
Bagel bombs, blondes
The Pacers gave away green bagels at a game on St. Patrick's Day in March 1976, but the promotion didn't come off as planned. The ushers and other Market Square Arena personnel were supposed to hand out the bagels as fans headed for the exits, but some did so before the game ended. Turns out bagels are perfect for a food fight, and it wasn't long before they were sailing through the arena.
It also wasn't long before Marketing Director Sandy Knapp rushed into the stands to confiscate as many as possible and shut down the fun before someone got hurt. You can't blame the fans for being ornery, though. The Pacers had built a lead that reached 20 points in the second quarter and was still at 15 early in the fourth, but they frittered it away in a 111-108 loss to Denver.
Fortunately, nobody threw the ceramic ashtrays bearing color photos of Bill Keller and George McGinnis. The Pacers made them available to fans in the mid-'70s.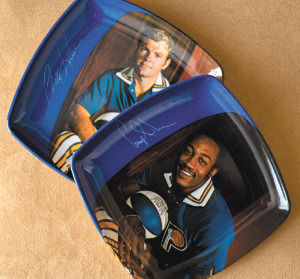 Why would a professional basketball team pass out ashtrays to fans when smoking can kill people? What about the children? Hey, back then, people could light up cigarettes at games, not to mention in restaurants, on airplanes and anywhere else they pleased. Players smoked, too, even in the halftime locker room. So, why not ashtrays?
And if you have a difficult time imagining ashtrays as a promotion, you should have been there the night the Pacers offered a dinner date with Playboy Magazine's Miss April 1978, Pamela Jean Bryant, an Indianapolis native and former Indiana University student. Ironically enough, she was brought in on "family night," when an entire family could sit in $5 seats for $15, $4 seats for $12 and $3 seats for $9. The drawing for the dinner date, however, was open only to those 18 and over. Family values, you know.
Knapp still has a copy of the magazine Bryant autographed for her. The inscription reads, "To Sandy; Blondes really do have more fun, don't they? If you've got it, flaunt it. Thanks for everything."
Used cars, udder nonsense
The Indians came up with the best giveaway of all with Win a Car Night, an annual promotion during the late '80s and early '90s. Ten local auto dealers contributed a car said to be worth $2,500, and in later years $3,000. A drawing was conducted for all ticket holders and the winners were given the keys and title on the spot so they could drive the prize home. Over time, however, some dealers began donating cars of lesser value to get the junkers off their lots, so Schumacher canceled the event.
"There were some promotions that were popular that just ran their course," he said.
Animal acts, for example. The Pacers brought in Victor the wrestling bear in the '70s. Muzzled, he took on local media members at halftime. He never lost.
Not to be outdone, a cow offered a hands-on experience at halftime of a game against Denver on Dec. 28, 1975. Pacers guard Keller was a spokesman for the American Dairy Association at the time, and he and the ADA wanted to try a milking exhibition. Keller was given permission to skip out on coach Bob Leonard's halftime talk—imagine such a thing happening today—to try his luck. It didn't seem to affect his performance, as he scored 28 points that night.
"It must have given me soft hands," he says now.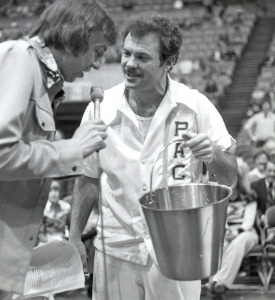 As proof that today's NBA isn't overly stodgy, the Pacers brought out a pig at halftime of a game as recently as five years ago as part of a promotion for American Diabetes Night. Local companies competed to raise money for the charity and a representative from the winning firm was allowed to plant a kiss on the sow.
"There are rules on what we can and can't do, but they're pretty flexible," said Dean Heaviland, the Pacers' vice president of game operations. "They'll allow you to try things, but they are strict as far as ridiculing and mocking someone."
The Sacramento Kings, for example, were reprimanded by the NBA office in January when they played a sound bite from the Foreigner song "Cold as Ice" whenever Lakers guard Russell Westbrook missed a shot.
Swapping hexes
The ABA had no such concerns. The Pacers marketed a Wild West "Hang 'em High" theme, in reference to a 1968 Clint Eastwood movie, when they played San Antonio in a playoff series in 1975. Media members and some fans were deputized with badges, and front-office and stat-crew members wore cowboy hats.
For good luck, four-leaf clovers and rabbit feet were passed out to fans, who also were encouraged to bring their own good luck charms. For bad luck, a ladder was hung from the arena ceiling for the Spurs to walk under. And for a finishing touch, the Pacers brought in Dancing Harry, aka Marvin Cooper, who had made a name for himself by coming out of the stands to perform for the Baltimore Bullets and New York Knicks during timeouts and putting a whammy on the huddled opposing team. Wearing a cap and floppy hat, he danced to the Leo Sayer song "Long Tall Glasses" at Market Square Arena, working the crowd into a frenzy.
The Pacers won that series, and Harry continued to perform in the next one against Denver. Nuggets management responded by bringing out a woman dressed as a witch they called Robota to put a hex on the Pacers in Game 7 in Denver, but it didn't help. The Pacers won 104-96, a reminder that talent is the bottom line and the best promotion of all is winning.
Trotting out Dancing Harry and Robota was pretty tame compared with the time in the early days of the ABA when the wives of some stat-crew mermbers constructed a dummy to look like referee Gene Moyers and it was hung in effigy from a goal support at the Coliseum, but I digress.
"Oh, my God, would we get killed for doing something like that today," Knapp said.
Turkeys, trees, franks
The Pacers were in endless pursuit of gimmicks to draw fans to watch their struggling teams in the late '70s and early '80s. Turkeys were given away before Thanksgiving and pine tree saplings before Christmas. Kroger once brought in the world's tallest man for one of its promotions, so the Pacers paired him with Shelbyville's Sandy Allen—who, at 7-feet, 4-1/2 inches—was the world's tallest woman, for an autograph session before a game. One season in the '70s, when the Pacers adopted Leonard's catchphrase, "Baby, we're due," as their motto, they teamed up with a maternity store at Lafayette Square Mall. Pregnant women got into a game for free and were offered the opportunity to register for prizes.
And then there was the night in the '80s when 10,000 hot dogs were given away. Anybody named Frank got in free, and anyone with mustard on his tie or who was from Frankfort was offered a discounted ticket.
Maybe you had to be there to appreciate nights like that. But that was the point. Being there. And perhaps there's a lesson to be learned from the silliness.
"I hope we're not getting to the point where we take ourselves too seriously," said Bruce Schumacher, Max Schumacher's son who is the Indians' CEO and chairman of the board.•
__________
Montieth, an Indianapolis native, is a longtime newspaper reporter and freelance writer.
Please enable JavaScript to view this content.