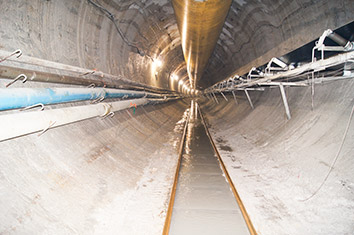 The state of Indiana is getting a $436 million loan from the U.S. Environmental Protection Agency to help finance wastewater and drinking water projects in 20 communities, Gov. Eric Holcomb announced Wednesday.
Between the EPA loan and funding from the Indiana State Revolving Fund, more than $900 million will be invested in 28 projects that improve water treatment plants, storage tanks, distribution system components and pump stations, and increase the capacity of wastewater treatment plants, tunnels that capture combined sewer overflows and collection systems.
Indianapolis is the biggest beneficiary of the federal and state loans—which have to be paid back—with a $547.5 million loan going toward the $2 billion tunnel-system project known as DigIndy.
The 28-mile network of tunnels is being built 250 feet below ground to eliminate sewer overflows into area waterways by 2025. The tunnels are 18 feet in diameter. When complete in 2025, DigIndy should prevent up to 99 percent of sewer overflows now affecting area waterways when the city receives as little as a quarter-inch of rain, according to Citizens Energy Group.
Citizens took over the city's water and sewer utilities in 2011.
Also in the central Indiana region, Greenwood will receive a $62.7 million loan for new sewer pipeline and Lawrence will receive $10.5 million for a new water treatment plant and improvements to the existing water plant.
The federal loan, made possible by the Water Infrastructure Finance and Innovation Act of 2014, has a lower interest rate and is expected to save the Indiana Finance Authority $20 million when compared to traditional bond financing.
This is the first time the state has received a Water Infrastructure Finance and Innovation loan.
"Delivering clean water and protecting public health are top priorities, and I am grateful that our partnership with the EPA will help empower communities across Indiana to take our water systems to the Next Level," Holcomb said in a written statement.
Please enable JavaScript to view this content.