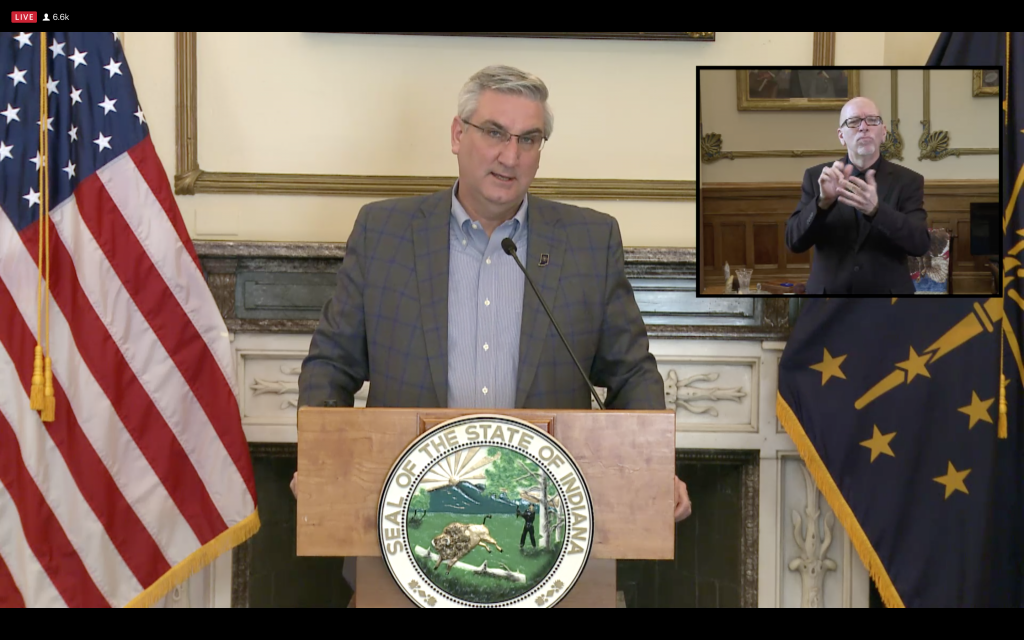 State health officials said Monday that Indiana hospitals are working to double the number of critical care beds statewide and equipment such as ventilators as they prepare for a COVID-19 surge that is expected to occur between mid-April and mid-May.
Indiana started the coronavirus outbreak with 1,432 critical or intensive care beds, and initial planning efforts have already raised that number to 1,940, a 35% increase, with plans to add more, officials said.
Dr. Kris Box, Indiana state health commissioner, said 40% of the state's ICU beds are now unoccupied and available for patients.
That effort includes clearing out space in other areas of hospitals and could involve adding field hospitals in other locations.
In addition, the state has identified 1,177 ventilators, which are used to help the most serious patients with breathing, with plans to double that number before the surge. Hospitals are buying ventilators when possible and collecting them from medical clinics, National Guard units or locations where they would otherwise have been used in non-hospital situations.
But one key, officials said, is having enough people to care for patients.
During the weekend, state regulators began surveying licensed health care workers from across the state about their availability to help during a surge. They are looking for doctors, nurses and others who are retired or have been idled by delays in elective surgeries or other procedures.
Already, more than 5,300 health care workers not working at hospitals now have said they are willing to help. Many of those people will be used to free up health care workers who have experience with more critical care, officials said.
"This is reflective of who we are," Gov. Eric Holcomb said during a virtual press conference on Monday. "If you're contemplating pitching in, there's more room in the inn."
The state also said it would use fourth-year medical and nursing students, who have essentially completed all their studies and can pitch in under the direction of other physicians and nurses.
Holcomb said he is requesting a major disaster declaration from President Trump to start the release of federal funds for Indiana.
Unlike Holcomb's earlier press conferences, this was the first one held on interactive technology, with reporters asking questions from remote locations. Holcomb said Friday he wanted to shift to remote technology to lessen the number of people attending the daily gatherings in person and potentially passing the virus.
Family and Social Services Administration Secretary Jennifer Sullivan said the state is preparing the capability to add field hospitals or alternative care centers that could be "stood up in as little as 72 hours." She did not say where those field hospitals might be located.
State officials say they have received three shipments of personal protective equipment from the National Strategic Stockpile for health care workers, and have begun distributing the items to more than 200 hospitals. The shipments include thousands of surgical gowns, respirators, face shields and gloves.
Other businesses around the state have offered to help, including several hotels, who say they can cook meals in their kitchens or house Indiana state troopers or National Guardsmen.
Holcomb gave no clue as to when he might relax his orders for Hoosiers to stay at home or for schools and businesses to reopen. Those orders initially were set to run through April 7.
"We'll adjust, based on the facts on the ground on a day-in, day-out basis," Holcomb said.
Holcomb said he had signed executive orders to remove all regulatory barriers to prepare for the state's expected surge capacity, but he did not enumerate those regulatory barriers.
His order also gives temporary authorization for retired doctors and medical students to practice, and to direct the state health department to open additional hospitals if needed.
Dr. Chris Weaver, an emergency physician and senior vice president for clinical effectiveness at Indiana University Health, said his system, which runs 16 hospitals around the state, could move pediatric cases to Riley Hospital for Children, using the opened space for adult patients with COVID.
Hospitals could also repurpose anesthesia machines into ventilators if needed, he said.
Sullivan said the state's surge plan calls for moving less-critical patients to alternative facilities, possibly including neighborhood hospitals and state-owned hospitals, such as the unopened floors at the Neuro Diagnostic Institute, a psychiatric hospital on the grounds of Community Hospital East.
The state could also order recently closed hospitals in northern Indiana, such as St. Anthony's Hospital in Michigan City, to be reopened.
"My sincere desire is that much of this (surge plan) will go unused, as all of you continue Gov. Holcomb's directive to hunker down Hoosiers," Sullivan said.
She added: "However, there is absolutely a possibility that the best surge plans and social distancing measures will still require us to find alternative resources to care for large numbers of patients. And we are planning those levels of surge as well."
Please enable JavaScript to view this content.