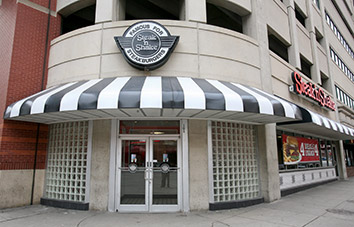 Indianapolis-based Steak n Shake drastically slowed the pace of "temporary" restaurant closures in the third quarter, but showed little progress in its plan to turn company-owned eateries into franchises.
Meanwhile, the hamburger chain suffered its 12th straight period of declining same-store sales, according to a third-quarter earnings report released Friday by parent Biglari Holdings.
Steak n Shake last year launched an ambitious franchise partnership strategy, saying it wanted to convert all of its 400-plus company-owned restaurants to that model over three years while continuing to expand under its traditional franchising model.
The chain closed 103 restaurants "temporarily" under the strategy in this year's first two quarters, with a plan to reopen them as franchises. Just three more restaurants were added to the closure list in the third quarter, the company said.
Steak n Shake, however, has reopened only four restaurants under the franchise partnership program since the beginning of the year, all of them in the third quarter.
As of Sept. 30, the chain had 519 total restaurants (302 company-owned), down from 626 (413 company-owned) at the end of 2018.
Steak n Shake revenues have fallen dramatically because of the closures, from $191.2 million in the third quarter of 2018 to $141.4 million in the latest quarter.
The chain lost $861,000 in the third quarter, an improvement over the $3.2 million it lost in the same period of 2018.
Same-store sales declined 6.5% in the period, the 13th decline in the past 14 quarters. Same-store sales represent company-owned restaurants open for at least 18 months.
Same-store customer traffic fell 13.3% in the third quarter, worse than the 8.1 percent decline seen in the first two quarters of the year.
Under the franchise partnership program, Steak n Shake offers would-be entrepreneurs the opportunity to operate a single unit for $10,000. That's far less than a traditional franchisee would pay, but the single-unit operators have to split profits with Steak n Shake.
Under the company's traditional model, a franchisee pays a franchise fee ranging from $25,000 to $40,000 as part of an initial investment that varies from about $672,000 to more than $1.8 million per unit, depending on the size and location of the restaurant.
Steak n Shake's struggles took a toll on Biglari Holding's third-quarter performance.
San Antonio-based Biglari reported revenue of $160.2 million, down from $203.6 million a year ago.
Revenue from restaurant operations sank to $145.1 million, compared with $195 million last year.
Biglari reported a loss of $17,000, or 5 cents per share, compared with a loss of $13.7 million, or 39.5 cents per share, in the same quarter of 2018.
The company benefitted from $1.5 million in investment partnership gains in the period after losing $19 million in that category a year ago.
In addition to owning Steak n Shake, Biglari Holdings holds a big stake in Cracker Barrel Old Country Store Inc. and owns the steakhouse-franchising firm Western Sizzlin, an insurance company and Maxim men's magazine.
Biglari shares closed Friday at $86.67 each, a 24% decrease since the beginning of the year.
Please enable JavaScript to view this content.