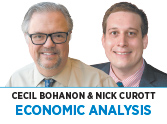 Unless you have been living under a rock, you cannot help but notice the proliferation of "Help Wanted" signs at workplaces. Jobs are plentiful. Wages and benefits are rising. There are many explanations for this turn of events and questions about how long the seller's market will last, but let's focus on some positive unintended consequences of a strong labor market.
A strong labor market encourages employers to get creative in attracting workers. A casual drive down the main strip of Muncie reveals the following pitches: "Start Today, Flexible Hours, Bonus on Signing, Daily Pay, Fun Atmosphere, Join our Family, $13 an hour."
We are not surprised that fast-food restaurants are offering starting wages much higher than the legal minimum. What is very interesting is whether the other advertised benefits are appealing to potential applicants. We don't know and we suspect the employers don't know, either. A market process is a discovery process, and it is often this discovery mode that leads to the most productive innovations.
Another benefit of a robust labor market is that it gives employees, even those with few skills, the luxury of moving from one job to another, picking up new skills along the way and likely enhancing their lifetime productivity. Henry Hazlitt was a legendary economic journalist of the 20th century. He came from a family quite interested in education but struck by tragic poverty. His father died when Henry was a child, and his stepfather died just after Henry enrolled in college in 1913. Henry had to quit college to support his family. A biographical sketch indicates:
"The only work for which Henry was then qualified was as an office boy at $5 a week (about $140 in today's money). He was fired from his first job after only two days. But that didn't faze him." Given the bustling and unregulated labor market of the time, "He simply went out and got another job. … If a job arrangement didn't work out, the employer could let the employee go without penalty (to the employer). Or the employee could leave, confident that he could easily find other employment. Henry had a succession of jobs at $5 per week—he hadn't yet found his niche."
Hazlitt finally landed a job as an editorial assistant at The Wall Street Journal and, as they say, the rest is history. Let's hope our current hot job market gives us lots of people whose experience adds to their productivity.•
__________
Bohanon and Curott are professors of economics at Ball State University. Send comments to ibjedit@ibj.com.
Please enable JavaScript to view this content.