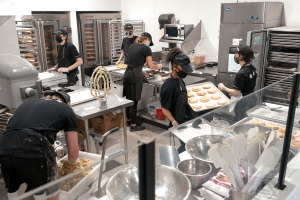 Supply chain issues and struggles to hire employees are affecting how small businesses are operating—including the hours they are open and the services or products they can provide, according to a survey released this week by the National Federation of Independent Business.
The survey of the association's membership, conducted June 26-30, found that supply chain issues are having a significant impact for about one third of companies that responded, with another third saying that supply chain issues are having a moderate impact on their companies.
"The latest problem our small business owners are facing is supply chain disruptions," said Barbara Quandt, NFIB senior state director in Indiana, in a statement.
And small business owners don't expect the problem to go away quickly. Looking down the road, about two-thirds of NFIB's survey respondents said they expect supply chain disruptions to impact their companies for the next five or more months
"Add on the challenge of job openings and trouble finding qualified workers to fill those positions, and it is clear that small business owners are still grappling with the COVID-19 pandemic," Quandt said.
About one in five companies that responded to the national survey said they were experiencing a "significant staffing shortage" while another 18% were experiencing a moderate staffing shortage.
In addition, about half of the companies surveyed said they are receiving fewer applications for jobs than they were a month ago.
To combat staffing issues, about two-thirds of companies said they had increased wages to attract new employees, while 15% had increased paid time off and 13% had offered or enhanced hiring bonuses.
Despite the problems, about a third of respondents said their business was back to or nearly back to pre-pandemic levels.•
Please enable JavaScript to view this content.