A growing Indiana-based business that sells breaded pork tenderloins at pop-up events throughout Indiana plans to open its first restaurant this fall in Westfield.
Swayzee Loinz Inc., maker of the Original Swayzee Indiana Hand Breaded Tenderloin, is set to open a 2,700-square-foot restaurant at Spring Mill Station, which is under construction at the southwest corner of West 161st Street and Spring Mill Road.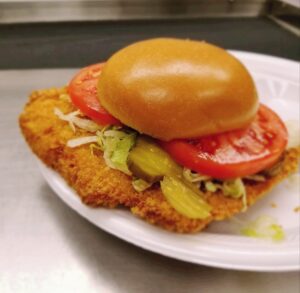 Swayzee Loinz owner Jim Cruea told IBJ the Westfield restaurant is the first of 15 locations that he plans to open in the next five years. The first five restaurants will all be in Hamilton County, with the next eatery planned near East 146th Street and Allisonville Road.
Customers will be able to dine at the restaurant, order carryout or have food delivered. The eatery will also sell 10-packs of frozen tenderloins that can be prepared at home.
Cruea hopes to open the Westfield restaurant in August or September. The location is good for the first restaurant, he said, due to the large population of people who live within a 10-minute delivery area in growing Hamilton County.
"When this location came up [in Westfield], it was in our hotspot area that we wanted to look at," Cruea said.
Swayzee Loinz customers will choose from four tenderloin sizes (sliders, 1/4 pound, 1/3 pound and 10 ounces) and three flavors (regular, spicy and Italian).
"Spicy is my favorite," Cruea said.
Menu options will include a traditional pork tenderloin sandwich, salad and pizza. The pizza is made from a 10-ounce tenderloin with marinara sauce, toppings and cheese. Sides on the menu include baked beans, macaroni and cheese, and coleslaw.
The path to opening a restaurant began in 2012 when Cruea purchased a century-old meat market out of foreclosure in Swayzee, a Grant County town with roughly 910 residents about 60 miles north of Indianapolis. While Cruea initially struggled to regain sales, he realized over time the breaded pork tenderloin with its 130-year-old recipe was by far his most popular item.
So, in 2016, he converted the meat market to Swayzee Tenderloins and began shipping and delivering tenderloins to customers throughout Indiana, including to restaurants, markets and not-for-profits that prepare and sell them at fundraising events.
"Half the guys thought I was crazy, which you have to be," Cruea said. "The other half thought, 'What do you got to lose?'"
The company now has a USDA federally inspected production and distribution facility in Swayzee where 5,000 tenderloins are produced each day. For distribution, Cruea also partnered with Indianapolis-based Piazza Produce Inc.
In spring 2020, after the company shut down during the beginning of the pandemic, Cruea began hosting pop-up events in parking lots throughout the state that would be advertised on social media.
"People were still blowing up our Facebook page about where are we going to get our tenderloins, we can't get these tenderloins, so we came up with this idea to do pop-ups," Cruea said. "A lot of places we went, we would show up and it would be 35 people in line standing there, and they're just waiting to buy a 10-pack of frozen tenderloins."
Also at Spring Mill Station
Swayzee Loinz will join several other restaurants and businesses at Spring Mill Station when the first phase of construction is completed this fall on a 15,000-square-foot retail center. Indianapolis-based KennMar LLC is developing the project.
Two more similarly sized retail centers are planned in future phases, along with a 37,000-square-foot Ace Hardware store.
Detroit-based Buddy's Pizza will open its first restaurant outside its home state in Westfield. The restaurant sells Detroit-style pizza, which is square with a thick crust. It currently has 19 full-service restaurants and six carryout-only restaurants in Michigan.
Fundae's Ice Cream & Sweets will offer ice cream, cookies, banana splits, edible cookie dough and other treats. Fundae's already has locations at 1515 N. Main St. in Speedway and 7165 Whitestown Parkway in Zionsville.
Minneapolis-based Face Foundrie, an all-inclusive facial bar, will also open its first Indiana location.
Sherman Oaks, California-based My Gym will open its third Indiana location. The gym for children has more than 700 locations nationwide, including in Fishers and Lafayette.
Two other businesses—CHI Nails and Wild Orchid Veterinary Care of Westfield—will also open at Spring Mill Station.
Please enable JavaScript to view this content.