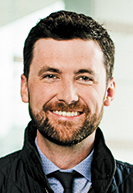 TechPoint President and CEO Mike Langellier plans to leave his job this spring after nine years in the job, TechPoint announced Tuesday.
Langellier, 40, plans to remain at TechPoint through mid-May. The Indianapolis-based organization is launching a national search for his successor.
TechPoint, a not-for-profit organization associated with the Central Indiana Corporate Partnership, exists to promote and support the state's technology industry. Langellier joined the organization as its top executive in 2012, inspired by the idea that he could help develop Indianapolis' up-and-coming technology industry.
Langellier has not publicly announced what he plans to do after leaving TechPoint.
"I haven't locked in future plans," Langellier said in a video announcement. "Carrie, my wife, and I are for sure going to enjoy some time traveling with our three boys, recharging and getting re-inspired."
TechPoint was formed in 2003 through the merger of two industry organizations: the Indiana Software Association and the Indiana Information Technology Association. In 2006, TechPoint became affiliated with CICP.
"TechPoint has blossomed and boomed under Mike's entrepreneurial leadership to become an expertly staffed, deeply and broadly funded, and highly respected authority on technology innovation, talent and growth for an entire state," CICP President and CEO David Johnson said in a prepared statement. "He has energized and focused all of us, throughout the community and across the CICP organization, and we will miss him greatly."
Langellier grew up in Milford, Illinois and graduated from DePauw University. He came to Indianapolis through the Orr Fellowship, a two-year postgraduate program that places fellows in full-time paid jobs at Indianapolis-area companies and organizations. Langellier spent his fellowship at Baker Hill, a Carmel-based financial technology company. After that, he cofounded a personal finance software company, MyJibe LLC, which was later sold to Utah-based MoneyDesktop.
Please enable JavaScript to view this content.