The Indiana Supreme Court is launching a new mediation program to help stem an anticipated flood of evictions by facilitating settlement agreements between tenants in that situation and landlords trying to collect rent.
State courts are facing a backlog of eviction and foreclosure cases, according to the Indiana Supreme Court. When the COVID-19 pandemic closed much of Indiana's business activity in March, Gov. Eric Holcomb put a moratorium on evictions and foreclosures. The eviction moratorium ended Aug. 14, leaving courts, legal aid attorneys and housing advocates worried that many Hoosiers are going to lose their homes.
The Supreme Court's Landlord and Tenant Settlement Conference Program will work with tenants and landlords for free to help them try to find a resolution and avoid an eviction.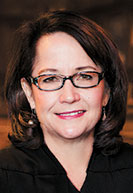 "This program is a no-cost opportunity for landlords and tenants to resolve their dispute outside of court with a neutral facilitator," Indiana Chief Justice Loretta Rush said in a written statement. "Possibilities include negotiated payment plans, back payments, or move-out dates—without the legal costs and stigma of an eviction. In the best of outcomes, more tenants will stay in their homes and more landlords will receive rent. That's a win for the parties and the community."
Rush spoke Wednesday at Holcomb's COVID-19 press conference.
Joe Heerens, the general counsel for the governor, gave a preview of the initiative during the Aug. 5 COVID-19 press conference.
Heerens said having the parties sit down and talk through the issues "can be an effective and frankly less onerous way to resolve disputes … ."
Facilitators, who are registered mediators, attorneys and senior judges, will meet with the landlords and tenants to discuss the situation to try to find an alternative to eviction. The Supreme Court noted some tenants may still have to vacate their homes but they might avoid having an eviction on their record by either reaching a settlement before a court case is filed or before a judge makes a decision.
Landlords and tenants wanting to request a facilitation should use the Supreme Court's Fast-Track Facilitation application.
The Indiana Supreme Court through its Office of Judicial Administration is launching the program with support from the Indiana Bar Foundation and Office of the Governor.
Launch of the new settlement program comes as the state's Rental Assistance Program is set to expire Wednesday. Democrats in the Statehouse are calling on Holcomb to appropriate more funding to help Hoosiers pay their landlords.
The governor already infused another $15 million, bringing the total amount available to renters to $40 million.
Senate Democratic Leader Tim Lanane sent a letter asking Holcomb to draw from the more than $1 billion the state still has in the federal Coronavirus Relief Fund to help renters and landlords. The Anderson Democrat cited data from Prosperity Indiana that concluded 40% of white renters in Indiana are "cost-burdened by housing" while almost 45% of Latino households and more than 50% of Black households are cost-burdened.
"One of Indiana's most important slogans is 'A State that Works,'" Lanane wrote in his letter. "Unfortunately, we can't have a state that works if hundreds of thousands of Hoosiers are at risk of losing their homes and being out on the street. In the middle of a pandemic where we encourage Hoosiers to hunker down and stay home to protect their health, we must do everything we can to make sure that they have homes in which to stay safe."
Please enable JavaScript to view this content.