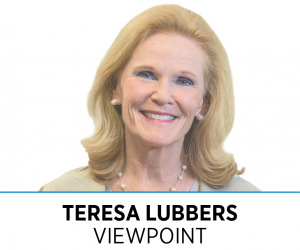 The answer to that question was my reason for joining Sagamore Institute as its newly named president.
After serving three decades in state government as a senator and then as commissioner for higher education and having worked in our nation's capital, I appreciate the complexity of issues we face and the challenge of making a positive difference. I value my tenure with these organizations, and I'm convinced Sagamore Institute is uniquely focused on tackling problems that prevent people from living their most meaningful lives.
More than ever, Hoosiers—Americans—are looking for hopeful leadership that embraces economic mobility and personal opportunity. At the same time, income disparities and social stratification have grown, and perspectives and issues divide us. Washington-based solutions are limited at best and often miss the mark completely. When Sagamore Institute was established in 2004 as a heartland-based think tank, it sought to admire solutions, not problems. And the track record shows it has been doing that for nearly two decades.
Now I'm privileged to work with Sagamore founder Jay Hein in his new role as CEO to deepen Sagamore's commitment to Indiana's well-being and advance human flourishing in all the places we operate.
Certainly, a necessary ingredient to personal prosperity is quality education and workforce preparation. I've labored in this arena most of my career, and I'm excited about continuing these efforts as we start an Education and Workforce Center at Sagamore. There are other big challenges that Sagamore is committed to working on alongside valued partners, including improving health, raising personal income and encouraging entrepreneurship and innovation.
It's fair to ask why I believe Sagamore can cut through the noise and rancor coming from our nation's capital to make a difference. First, I have seen what has already been accomplished. Sagamore's efforts to close America's wealth gap is a great example. That includes its support of Fort Wayne native and NFL star linebacker Jaylon Smith's call to invest in minority business owners. So far, Sagamore has made a dozen investments totaling $1.3 million, and work continues to level the playing field for these inspiring entrepreneurs.
I am inspired by Sagamore's "future focus" on new hills we need to take. Sagamore operates the Indiana Mental Health Roundtable, co-chaired by Lt. Gov. Suzanne Crouch and former Eli Lilly and Co. CEO John Lechleiter. With at least one in five Hoosiers suffering from a mental health challenge, the roundtable works to reduce stigma, grow and diversify the mental health workforce, and enhance affordable access to professional services.
And I also witness Sagamore using good business practices and financial services to expand economic opportunities through Commonwealth, its impact investing platform. Taken together, Sagamore and Commonwealth advance game-changing ideas and have invested $30 million in projects from affordable housing to health care access and more.
In the months ahead, I'll be learning more about the good work that is being led by Sagamore's 50 fellows. They engage in cutting-edge and applied research to improve lives, and it's making a difference.
So why do I think Sagamore can fix what's broken in American politics and bring some healing to our communities? Because Sagamore believes each of us bears a duty to get this done. Our think tank will serve the policymaker who wants to move power to communities, the entrepreneurs whose innovation will uplift lives, and the citizen who desires to be well-informed and dynamically engaged in the task of creating a more perfect union.•
__________
Lubbers is president of Sagamore Institute. She served as Indiana higher education commissioner for nearly 13 years.
Please enable JavaScript to view this content.