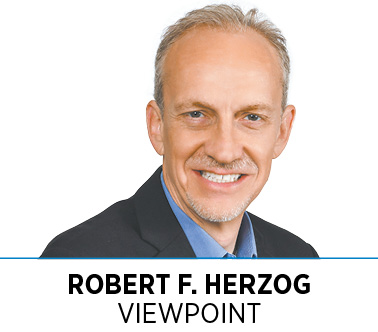 Hoosiers and Americans might soon be facing the largest economic disaster since the Great Depression. COVID-19 has just begun to bring massive disruption to our businesses, state and municipal governments, and philanthropic and arts institutions.
Service-industry businesses of all sizes are going to see their revenue fall to virtually zero in the next week due to Americans self-isolating. To respond, businesses have already begun laying off workers. Some national economists estimate that, in the coming months, our national unemployment rate could rise to 15% or even 20%, an unprecedented number.
In order to ensure that a depression of the size our country faced in the late 1920s and 1930s doesn't occur, our representatives in Washington, D.C., need to address key factors of the economy immediately. Yet as of this writing, Congress has yet to pass the kind of solution that will tackle the problem.
As a financial executive with deep experience across various for-profit and not-for-profit entities, I know the usual solution in times of massive revenue reduction is to cut expenses—exactly what is happening now.
But how families, corporations and even state governments must deal with difficult times is very different from what our federal government must do.
If someone in our family experiences a job loss and income is reduced by half, expenses have to be cut. Savings, if they exist, are quickly tapped. State governments are required to pass balanced budgets, ensuring that, in times of decreased revenue, expenses must also be cut.
The federal government must take the opposite approach, but it hasn't always done so.
Congress and central bankers around the globe responded similarly to the financial meltdown in 2007, with either no stimulus, stimulus focused on tax cuts, or packages that ultimately bailed out the wrong portions of the economy.
As an issuer of the currency, however, and with interest rates at nearly zero, the federal government has the ability to ensure the economy survives difficult times. In other words, the federal budget isn't like our family budget. In our businesses or family budget, we can't spend more if our incomes reduce significantly. The federal government, however, can legislate and then spend funds directly into the economy to ensure we survive this massive shakeup. Congress should focus on these immediate priorities:
◗ Paid monthly stipends to all Americans,
◗ Small-business loan forgiveness tied to continued employment for employees,
◗ National rental and mortgage payment cessation for 90 days,
◗ Paid sick leave for employees for a minimum of 90 days,
◗ Expansion of unemployment insurance for state governments.
These priorities ensure that health impacts of COVID-19 can be addressed with economic solutions that reinforce self-isolation. With most Americans stuck at home working and taking care of their children, payments directly to them will mean rent and mortgages can be paid and groceries can be purchased during this economic crisis.
These solutions also focus first on the American people directly, not on specific industries. The time will come where we'll need the airlines, large hotel chains, national retailers and others to be buttressed as well. At that time, in exchange for cash infusions, Congress should take equity positions in these companies to ensure employees continue to be employed while the virus is being contained by the public health community.
By managing the national checkbook and with the long-term financial health of our broad, diverse economy in mind, Congress can invest the necessary funds now to ensure future generations don't remember this time as one filled with bread lines, mass unemployment and a degradation in quality of life.•
__________
Herzog is chief financial officer of 16Tech Community Corp.
Please enable JavaScript to view this content.