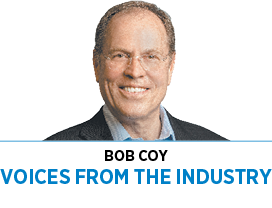 Real estate development that includes multiple property types—such as retail, residential, parking and office space in a walkable, dense urban or suburban area—is referred to as mixed-use.
Development with a cluster of office buildings, shared parking and access to nearby retail and amenities in suburban areas is often called an office park.
A project designed to connect corporations, institutions and talent from a variety of industries in an innovation ecosystem is called an innovation district. In Indianapolis, that's the 16 Tech innovation district.
16 Tech is one of about 100 innovation districts established or emerging across the world. It recently was recognized as an up-and-coming district in "The Evolution of Innovation Districts: The New Geography of Global Innovation," the first significant research released by the newly launched Global Institute on Innovation Districts.
According to Brookings Institution research, innovation districts are physically compact places, often in urban areas adjacent to universities and research institutions, where corporations and universities connect with startups in an environment that provides services, including business incubators and accelerators. Districts are transit-accessible and offer housing, office and retail.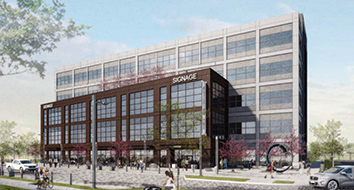 Innovation districts are built to leverage a region's existing assets and to create an environment to help organizations attract the talent necessary to develop new products and processes, spur economic activity, and create opportunities for nearby residents.
16 Tech is this place for central Indiana. It runs from West 10th to West 16th streets, nestled between the White River and its Fall Creek tributary. It's within walking distance of many of the city's academic, medical and research institutions, including the largest medical school in the county, and advanced industries, whose leaders helped envision 16 Tech.
16 Tech and its partners broke ground on the innovation district in December 2018, and construction of the first office and lab building, in addition to public infrastructure, is well underway. The district will have 15 acres of green space, with multiple parks and miles of walking and biking paths. And the district will create experiences—along its streets, parks, plazas, restaurants and cafes—where people will not only work but also live, play and learn. The physical space is designed with one goal in mind: Foster connection, collaboration and innovation.
Over the next 10 years, the district will grow to include 3 million square feet of office, lab, retail and living space and will employ close to 3,000 people of all skill levels.
The 16 Tech Community Corp., a not-for-profit dedicated to fostering economic growth and innovation in central Indiana, is developing 16 Tech. In partnership with industry, civic, philanthropic and community leaders, 16 Tech Community Corp. is responsible for not only the physical development of the district, but also for fostering economic and entrepreneurial growth through programming, skills training, and mentoring and investing in nearby neighborhoods through its community investment fund.
Experts predict the continued growth of innovation districts as cities and regions identify and leverage their unique industry, research and economic strengths. Indianapolis, with its history of successful public-private partnerships, its global advanced industry sectors and recognized research universities, is already part of the global evolution.•
__________
Coy is CEO and president of the 16 Tech Community Corp.
Please enable JavaScript to view this content.