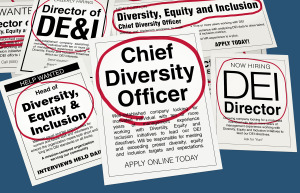 The number of employees dedicated solely to diversity, equity and inclusion  work has been growing for years in the United States, but has taken off since a racial-equity movement escalated in spring 2020 with the police murder of George Floyd.
That's despite the financial strain many organizations have faced since the onset of the pandemic. At first, job listings related to diversity, equity and inclusion fell nearly 60%, from March to early June 2020, according to careers site Glassdoor. But by the end of June, postings had surged 50%. By early December, they were 245% higher than the early June low.
Now, LinkedIn lists more than 50,000 open U.S.-based positions with the keyword "diversity, equity and inclusion" in the job title or description. About 400 are in Indiana, with 250 in Indianapolis alone.
Why? Employers and employees alike want people in such positions to create changes in workplace culture and policy. That's easier said than done. It requires a lot of listening, customized goals, and the authority to make the changes needed to meet those objectives, Indianapolis-area DEI officers said.
Listening is key
Some Indianapolis-area employers have had organization-wide DEI officers for more than a decade, while others have launched their positions within the last year. All are unique.
Karen Dace has been IUPUI's vice chancellor for diversity, equity and inclusion since 2013 but has worked in the higher education DEI space since 1999.
"I've done this on three different campuses, and each one is very different, although they've all been in large cities," said Dace, who previously led DEI work at universities in Kansas City and Salt Lake City. "They're all so very different—they have different histories and, as a result, different [campus] climates and cultures."
That's why, she said, "my goal was to do what [IUPUI] needed to get where it said it wanted to be."
Listening, therefore, is key. It's how Dace started her work at IUPUI eight years ago, and how Warren Dukes, the United Way of Central Indiana's first dedicated DEI leader, started his new role just a few weeks ago.
"I understand that the first principle of DE&I is the work of listening to the narratives of people who are in the organization, who understand the organization from their experiences, as well as individually, where their goals are," said Dukes, who joined United Way in mid-May. "So, within the first 30 days or so, the goal has been to listen to as many narratives as I could find and people who were willing to speak."
That's how Carmel-based CNO Financial Group even got its first DEI officer.
Aaron Mapp became the company's senior director of diversity, equity and inclusion last July, but the position's roots go back years. Mapp described how CNO began holding focus groups, and developed affinity groups based on that feedback. Then, the company began sending its business resource group leaders to workshops and summits, including one in fall 2018, where they learned about a new best practice: a dedicated DEI position. Mapp was then a financial transactions manager and the leader of SOUL, CNO's Black business resource group.
"We came back and we brought some of those best practices back. … One of those inventory items was a full-time, dedicated DE&I resource," Mapp said. "That person could drive the strategy for the entire organization, because employees knew they could not do it and maintain their normal day jobs. That is the reason why we pushed for this role."
Finding the power
A clear organizational vision is one key to success.
CNO Financial Group leaders were focused on DEI in employee education and awareness, career development and talent attraction, Mapp said.
At IUPUI, a primary goal, evident in the job description and during the interview process, was to establish an overarching, university-wide diversity plan, Dace said. Another, broader aim was to build on the foundation established by her predecessor. IUPUI has had a cabinet-level position dedicated solely to DEI since 2008, according to university archives.
Executives at the Health & Hospital Corporation of Marion County wanted a DEI leader to centralize activity across the organization's headquarters and numerous subsidiaries, Angela Smith Jones said. She joined the public hospital system last September as its first vice president of diversity and inclusion.
Another key? The power to change.
"It's one thing to create the role, but what if it doesn't have legitimacy?" asked Dukes. "… I want to ask persons in DE&I roles in these organizations to examine their legitimacy. Are you given the autonomy to truly speak to the need of being a more responsive organization to your people internally, as well as to the communities which you are a part of?"
One Indiana University researcher found that, at universities, top diversity officers gained internal legitimacy when they were part of the organization's structure and had support from leaders, enough resources and credibility with faculty.
"Literature shows it is not enough for a college or university to have a [chief diversity officer] position; the position needs the campus to provide legitimacy to carry out the work," wrote Megan J. Bottoms in her 2020 doctoral dissertation.
Indy-area DEI officers typically report directly to CEOs or top human-resources and talent-management officers. All identified support as necessary to doing the job well.
"Leadership was ready to be more intentional about the DE&I space, and how they began to define DE&I work, and the mission of United Way," said Dukes, who chose his new job over two others. "… There was an authentic purpose to this position—not one of smoke and mirrors."
"The recipe you need for sure is, you need a CEO that cares about [DEI], that wants to build it and that prioritizes it," said Lisa Gutierrez, Indiana University Health's chief diversity and inclusion officer since late 2018. That, she said, should come with a similarly motivated leadership team, human resources chief and talent management head.
Dukes is technically a one-man team, with help from Chief Talent and Culture Officer MeChelle Callen. United Way of Central Indiana has about 100 staff members, said Ann Murtlow, president and CEO, but "the nature of his job is to leverage every group within the organization for this work."
Similarly, Gutierrez has a team of six employees, but said IU Health's 250 human resources professionals, chief nursing officers and chief medical officers were among her main partners.
Health & Hospital's Jones estimated she serves 56,000 employees. She has only a recently added executive assistant on her team, but planned to hire several project managers, communications specialists and potentially someone to handle supplier diversity.
IUPUI's Dace has 21 other staff members on her team, with several open positions. They serve the university's thousands of faculty and staff, along with 30,000 students enrolled this fall.
Making change
As more organizations get on board with hiring DEI professionals, longtime advocates are pushing for informed, thought-out positions and hiring decisions.
In designing these roles, Dace said, organizations should "understand what it means. It's not about creating the position, increasing representation, and you're done. It can't be 'Come join us, but be quiet.' That fails to take advantage of the full diversity of perspective."
At IUPUI, Dace has spearheaded a program aimed at helping white colleagues learn to talk about race, which she said enabled university leaders to bring in more speakers, read more anti-racist books together and have more productive conversations. Implicit-bias training, once required only for executive search committees, has been opened to anyone who wants to take it.
Dace said the pandemic and racial-equity movement presented "an opportunity to look at the work we were doing" and "acknowledge the loss of the past year" by introducing more programming to support employees and students. Moving forward, she plans to tailor some initiatives to Asian American students, staff and faculty hurt by the recent surge in anti-Asian racism.
At Health & Hospital, Jones is leveraging the connections she formed as Indy's deputy mayor of economic development to directly spread the word of new executive-level positions and connect the hospital corporation's purchasing team to businesses owned by women, racial and ethnic minorities, veterans, and disabled people.
CNO's Mapp has helped introduce a category of paid time off that allows employees to attend DEI workshops and events or work on business resource group activities. The company has also implemented a more supportive gender transition policy, including health care benefits for surgeries, he said.
Dukes is just getting started at the United Way. He's been focused on listening sessions, internal messaging and programming for Juneteenth and Pride month, and wants to gradually expand the educational component of his work while developing a strategy.
The not-for-profit's leader, Murtlow, said she and the 13-member operating committee considered a DEI officer "essential" to success as an organization aimed at eradicating poverty.
"We believe that doing this well, really incorporating it in our thinking and everything we do, will help us hire the best talent, help us attract wonderful donors and volunteers that bring more experience, and that our impact work will be even more effective," she said.•
Please enable JavaScript to view this content.