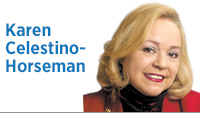 No Hoosier needs to privately own an assault rifle or a high-capacity magazine.
The National Rifle Association argues that assault weapons are used in a small percentage of crimes, but those percentages fly out the window if it is your loved one who is killed or injured. The shooter in Dayton, Ohio, used a 100-round drum and shot 26 people in 32 seconds. In El Paso, Texas, the shooter used an AK-47 to kill 22 people and injure 24 others. In Gilroy, California, the shooter used an AK-47 to kill three people and wound 13 others.
Indiana has the Jake Laird law, otherwise known as a red flag law, that allows law enforcement to remove a weapon from gun owners who present an imminent risk of personal injury to themselves or others. Application can be made to a court to seize the firearm or, if law enforcement seizes the weapon before a warrant can be secured, a court then reviews the circumstances to determine if the weapon should be returned or retained. The due process rights of the gun owner are protected. If you are aware of a gun owner who presents a threat, you can ask law enforcement to step in.
But what about those instances where no one seeks the assistance of law enforcement?
One obvious fix is to ban assault rifles and high-capacity magazines. Indianapolis City-County Councilor Duke Oliver introduced a resolution asking the Indiana Legislature to do just that. The NRA came out against the resolution, claiming it sought to "drum up unnecessary fear." Considering recent events, Oliver was right and the NRA, unfortunately, was dead wrong. Nevertheless, in a vote along party lines, the non-binding resolution was voted down.
In the last session of the Legislature, bills that would remove firearms from those involved in domestic violence cases, beef up our system of background checks, and require parents to secure their firearms went nowhere.
The NRA and gun enthusiasts opposing a ban on assault rifles claim that proponents of such a ban have no idea what constitutes an assault rifle. The NRA Institute for Legislative Action defines an assault rifle as follows: "By U.S. Army definition, a selective-fire rifle chambered for a cartridge of intermediate power" and if "applied to any semi-automatic firearm regardless of its cosmetic similarity to a true assault rifle, the term is incorrect." In other words, the NRA-ILA conveniently sidesteps the issue of defining an assault rifle.
If the NRA refuses to define assault rifle to avoid legislation, our legislators need to legislate a definition. Gun ownership must be limited to guns that fire one bullet per trigger pull and eject the cartridge. Guns that fire multiple bullets with one trigger pull fit the NRA-ILA's definition of a semi-automatic gun.
The next step is to then limit how fast the trigger can be pulled. The NRA-ILA defines high-capacity magazine as "an inexact, non-technical term indicating a magazine holding more rounds than might be considered 'average.'" Let's make the term exact. Start with limiting a magazine owned by private citizens to holding no more than 10 rounds.
If the NRA wants to play semantics, then let's play. It is time for the Legislature to draw the line in the sand before we and our loved ones pay the price for inaction. The time for action is now.•
__________
Celestino-Horseman is an attorney and represents the Indiana Latino Democratic Caucus on the Democratic State Central Committee. Send comments to ibjedit@ibj.com.

Click here for more Forefront columns.
Please enable JavaScript to view this content.