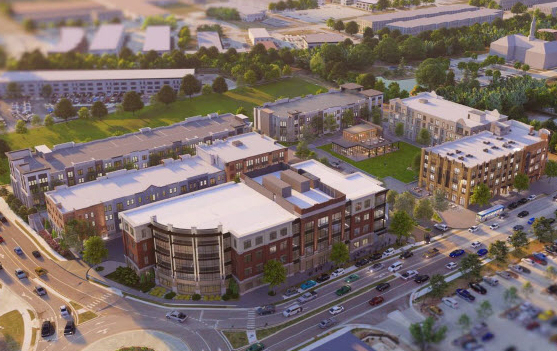 Three well-known local companies plan to move their headquarters to the new Proscenium development in Carmel, creating 140 jobs, the city of Carmel announced Tuesday morning.
The Proscenium, developed by Novo Development Group, is under construction at the northwest corner of Carmel Drive and Rangeline Road. The companies will move into a four-story, 100,000-square-foot office building called the Agora at the Proscenium. Restaurant chain Wahlburgers previously announced plans to locate in the Proscenium.
Construction of the Agora is expected to be complete next summer.
— Commercial real estate firm Lauth Group, which is developing the building, is planning to move its headquarters from 111 Congressional Blvd. in Carmel to the second floor of the Agora. The company will occupy about 14,000 square feet.
— Indianapolis-based Schwarz Partners LP will relocate its headquarters from Woodview Trace in Indianapolis to the third floor of the Agora, where it will occupy 25,000 square feet. The corporate holding company will move 70 employees to Carmel as a result of the move.
— Valeo Financial Advisors will relocate its office operations from 9450 N. Meridian St. in Indianapolis to the fourth floor of the Agora, where it will lease 25,000 square feet of space. Seventy employees are expected to work out of the space.
In choosing a new location for its corporate headquarters, Schwarz officials said they focused on the quality of the overall development along with access to quality-of-life amenities.
"We are excited to partner with Lauth in building our new corporate office headquarters," Jack Schwarz, Schwarz general partner, said in written comments.
CBRE's John Vandenbark represented Schwarz Partners and Lauth Group, Inc. during lease negotiations.
Valeo was represented by Matt Waggoner and Adam Broderick of JLL during lease negotiations.
"This new workspace, in the heart of Carmel's growth plans, will improve the experience for our people and clients alike," John Trott of Valeo Financial Advisors said in written remarks. "We look forward to moving in next summer."
The Agora will feature direct, secured access from an underground parking garage, terraces on the three upper floors, walkability to onsite amenities, and nearby access to the Monon Trail.
Mike Jones, president and CEO of Lauth Group, said the proximity of amenities within the development and downtown make the office space highly desirable. The building was more than 60% preleased before construction began, according to a news release.
The Proscenium is $85 million mixed-use development being constructed on land that formerly housed an Arby's and a Party Time Rental. The city of Carmel in 2015 sold the Party Time Rental property to Tony Birkla of Novo Development Group for $50,000 and agreed to use tax increment funds to pay back an $8 million developer-owned bond. Later, the city sold Birkla the Arby's property for $100.
"We are thrilled to see that our investment into the redevelopment of this once under-performing property is now producing results in the way of private investment and new jobs for Carmel," Mayor Jim Brainard said in written comments. "We welcome these companies to our growing number of corporate headquarters, and we look forward to sharing in their growth and success."
Novo Development Group announced last month that Indiana's first Wahlburgers will open at the Proscenium.
Please enable JavaScript to view this content.