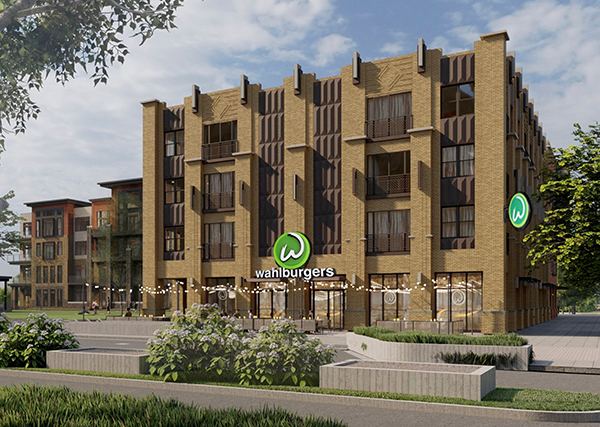 Wahlburgers will open its first Indiana restaurant in the Proscenium development at the northwest corner of Carmel Drive and Range Line Road in Carmel, the company announced Wednesday.
Speculation about where the first local Wahlburgers would open has been circulating since last August, when IBJ first reported that Wahlburgers, the restaurant concept by actors Mark and Donnie Wahlberg and their brother Paul, was planning to open an Indianapolis-area location.
The 4,000 square-foot restaurant will anchor the $85 million development by Novo Development Group that is currently under construction. The Proscenium replaces a building that formerly housed a Party Time rentals. The development includes nearly 200 upscale apartments, 26 high-end condominiums, 20,000 square feet of retail, 100,000 square feet of office space, underground parking garage and a two-acre public green space.
Wahlburgers is the development's first restaurant tenant to be announced. It is expected to open sometime next year.
Tony Birkla, founder of Novo Development, said he began talking to Wahlburgers representatives about locating in the Proscenium after hearing the news the company was planning an Indianapolis location. The Proscenium offers Wahlburgers a restaurant in Carmel's central core.
At the time, IBJ reported that Michigan-based development group Alrig USA—which has a development on West Carmel Drive in Carmel—was partnering with Wahlburgers on a local project. Alrig said a location had been selected but declined to identify it. Alrig also has developments in Avon, Greenwood and on Emerson Avenue in Indianapolis.
Last week, the Daily Journal in Franklin reported that Alrig might locate a Wahlburgers in its Greenwood development at 1133 N. Emerson Ave. The property is anchored by a Walmart. Greenwood Mayor Mark Myers told the Daily Journal that other cities could be in the running to land the first location.
Alrig representatives could not immediately be reached for comment.
"This is the type of anchor tenant a developer dreams of," Novo's Birkla said in written comments. "Wahlburgers will make the Proscenium an even more desirable location."
Massachusetts-based Wahlburgers currently has 26 locations across the country after opening its first restaurant in 2011 in the Boston suburb of Hingham. The chain's menu includes specialty burgers, sandwiches, salads, ice cream floats and other items.
Wahlburgers' claim to fame include its two famous co-owners and its reality television series of the same name, which is now in its 10th and final season on the A&E channel.
Mark Wahlberg shot to fame as frontman for Marky Mark and the Funky Bunch in the early 1990s before becoming a movie star. Donnie Wahlberg was an original member of the boy band New Kids on the Block.
Their older brother, Paul, is a trained chef, and co-owns another Hingham restaurant, Alma Nove, with his brothers.
Nino Cutraro, the franchisee for the Carmel Wahlburgers and others in the Midwest, visited Carmel for the first time after opening a Wahlburgers location in London, and said the Indiana city reminded him of a European city.
"It is a beautiful place and we can't wait to be part of the community," Cutraro said in written remarks.
Please enable JavaScript to view this content.