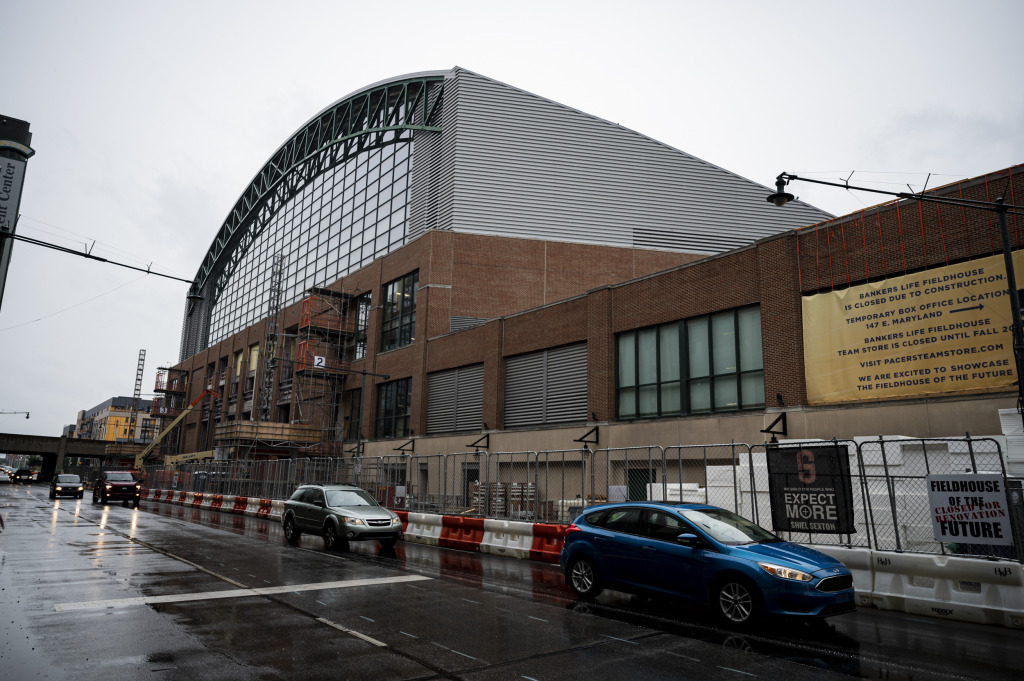 Demand for tickets to the NCAA Men's Basketball Tournament first-round games today in Indianapolis is high—especially given the proximity of two big schools, the universities of Kentucky and Michigan, on the court—but brokers say that hasn't driven up ticket prices on the secondary market.
The games, which will be played Thursday afternoon and evening and on Saturday, are expected to attract up to 40,000 people to the city.
"Certainly, as much as Hoosiers tend to dislike Kentucky, they're very good for business when they come to town and buy tickets," said Renny Harrison, owner of Fanfare Tickets in Carmel. "Having Kentucky here is good for business overall."
He said while there's significant demand for tickets—there's still several hundred available both through the NCAA and on the secondary market, mostly in the upper sections of Gainbridge Fieldhouse—the prices have dropped below what's found in a typical year. Fans can buy tickets starting at $25 to $35, with the average ticket selling for more than $100. In fact, Harrison said, resale ticket prices are about as low as they ever have been for first-round games.
"Prices have come way down, far below what I ever expected them to fall to," he said, noting that Thursday afternoon games are often the most challenging sales-wise. "The day game during the week is tough—but we've seen it before. It's hard for us to buy and sell the upper-level seats for the early sessions, so we don't really get involved too much."
On Ticketmaster, the cheapest ticket for the afternoon session is about $10, with games including 6th-seeded Colorado State University versus No. 11 Michigan and No. 3 Tennessee versus No. 14 Longwood University. As of press time, SeatGeek had $4 tickets for the Thursday session.
The price on Ticketmaster jumps to about $20 for the evening session, featuring No. 2-seed Kentucky versus 15-seed Saint Peter and No. 7 Murray State versus No. 10 San Francisco.
Prices for Saturday's second round session are markedly higher, starting around $115 per ticket, still lower than the average price of about $150 in recent years. Those tickets go as high as $1,600 on Ticketmaster—not including fees—and some tickets on FanFare are listed for about $5,000 each. A few all-session tickets are also out on the secondary market, starting around $95 each.
Chris Gahl, vice president of Visit Indy, said that the success of the teams closer to Indianapolis could go a long way in boosting the city.
"We were predicting, based on the fact that we're the Midwest region, that we would draw a couple of teams within driving distance and that a handful of the teams would have a fan base that travels well," he said. "We're ecstatic about having Kentucky and Michigan as two of the teams, then having University of Tennessee—a welcome addition with a fan base we're seeing really rallying around coming to visit the city to support their team."
Gahl said there's also likely to be additional engagement for some of the fans in town for the game because of several activities occurring downtown throughout the weekend. With Thursday being St. Patrick's Day, it's expected many fans will partake in pre- or post-game festivities at downtown restaurants and bars.
Additionally, Gahl said, some fans also may have interest in attending SuperCross at Lucas Oil Stadium on Saturday night, depending on the tip-time for the basketball games.
"It has all the right ingredients for an extremely healthy tourism weekend," he said.
Please enable JavaScript to view this content.