The NCAA on Friday opened registration for fans wanting to watch the Final Four teams' practices at Lucas Oil Stadium on April 2.
Tickets for Reese's Final Four Friday are free, but must be acquired in advance. The tickets allow fans to view what's typically the team's final practice on the court where the national semifinal games will be played—this year, that's the court on the south end of Lucas Oil.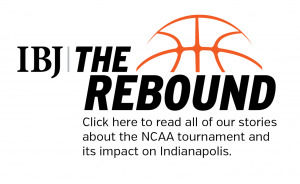 The teams playing in the Final Four will be determined Monday and Tuesday, with winners of the Elite Eight games advancing to the semifinals, scheduled for April 3.
The tickets will be available in groups of two or four, with capacity limited to 8,500, just like games played on the court throughout this year's tournament.
Final Four Friday has become something of a tradition on college basketball's final weekend. In years past, the event has allowed for some interaction between fans and teams, but it's likely that won't be a possibility this year because of extensive restrictions in place to protect participants from exposure to COVID-19.
Tickets may be obtained through Ticketmaster. Each entrant must have a ticket, regardless of age.
Please enable JavaScript to view this content.