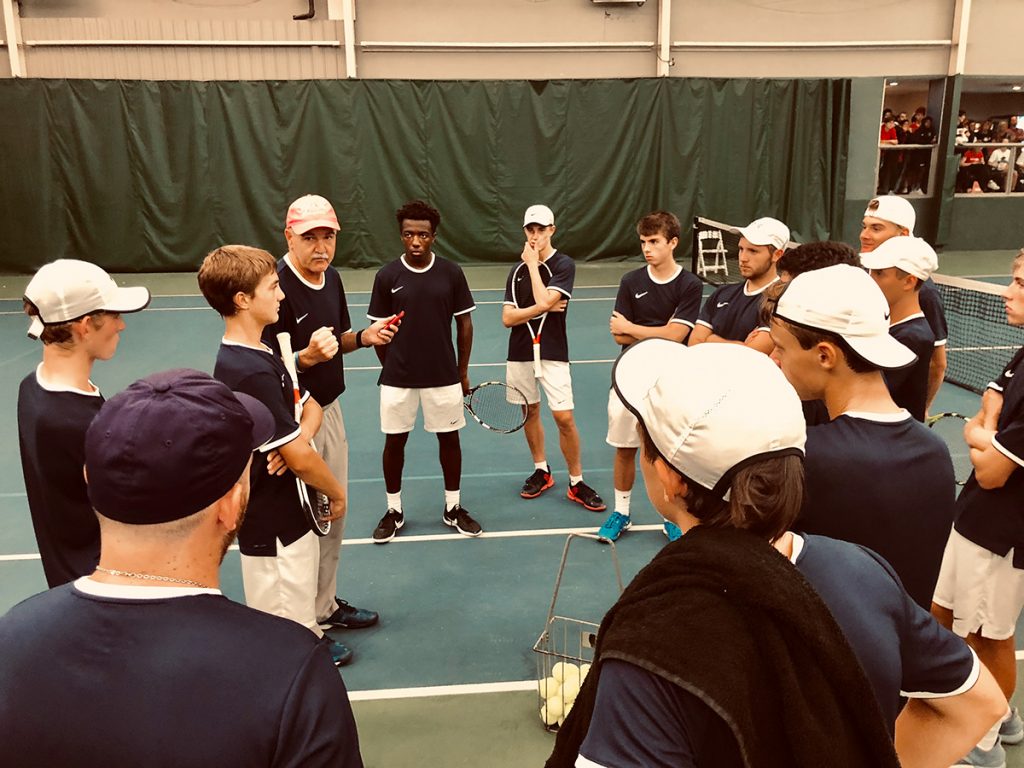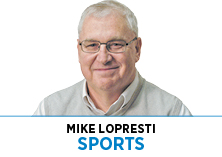 We need only a couple of fingers for this count. Active high school coaches in Indiana who have crossed the thousand-victory border in their sport: Two.
In the whole state, from Lake Michigan to the Ohio River. Five have done it ever, for that matter. Funny thing is, these two work 9.6 miles from each other, which is why we're spending a recent afternoon in Delaware County.
First stop, Ball Gymnasium on the campus of Ball State University, home court for Muncie Burris Laboratory School. Note all the blue and gold state championship banners for Burris' girls volleyball team: 22 of 'em, including 14 in a row when the IHSAA went to class sports and the Owls owned 2A.
Here comes the man who put together this juggernaut, but what's with the U-shaped contraption around his neck?
"Spasmodic torticollis," Steve Shondell said. "It took me a month to remember what it was even called."
That's a nerve ailment that results in non-stop twitching and spasms in his neck, which started for Shondell in the middle of this decade. He thinks maybe all the years of twisting his neck doing volleyball drills might have led to it. Anyway, he wears a neck massager and takes Botox treatments, and it seems to have helped. "At least I can watch a volleyball match, and still coach."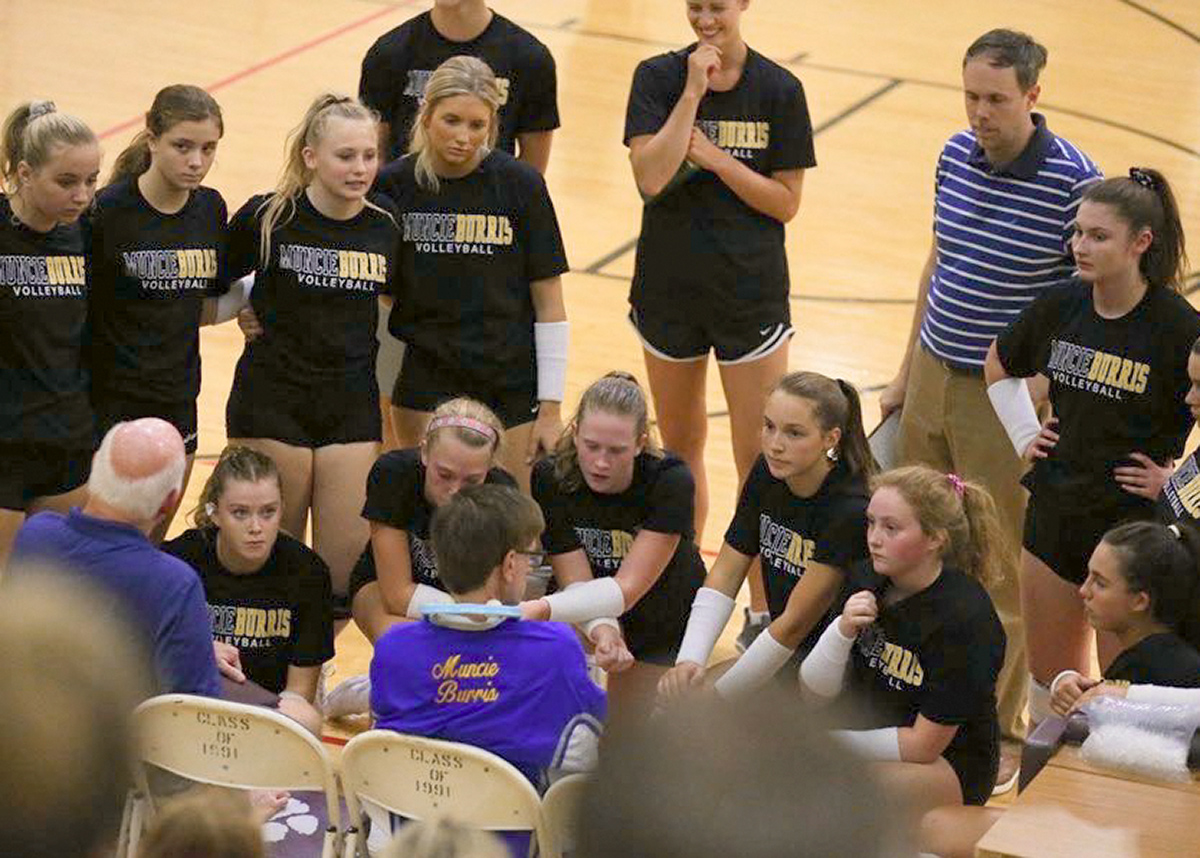 As of last weekend, his Burris record was 1,203-100, plus 21 state titles and constant high national rankings. "We won eight championships in single class with half the enrollment of Milan (less than 200). We did what Milan did eight different times," he said.
Quick scan of his career: He's part of the Shondell volleyball dynasty—father Don a legendary coach at Ball State, brothers Dave and John successful high school coaches before they moved on to coach at Purdue.
"When I was growing up, my dad's office was in this building, when it was the only gym on campus," Steve said. "I grew up watching Burris playing basketball, and I would be so heartbroken when Burris got beat in the sectional. All I wanted to do was win the sectional. Win one sectional, because they always got beat in the sectional in basketball, and volleyball. But once we got that first sectional, the team started believing."
Early on, Shondell helped start Munciana Volleyball Club, a developmental program that has turned out a vast army of players, many of whom ended up at Burris. The Owls' title binge began in 1982, and never stopped in Shondell's 34 seasons. He had few real rivals, but one was Muncie Central, coached by—uh-oh—brother Dave. Meanwhile, John was at New Castle. Christmas family gatherings could be a little tense.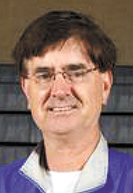 "And Thanksgiving," Steve said. "The best thing that ever happened to our family was when Dave and John went to Purdue. All of a sudden we had a really nice close-knit family again." He mentioned the story about the time Dave coached at Daleville and lost a tough match to Burris, which included a controversial line call by the official—Don Shondell. "He still hasn't forgiven my dad for that."
Steve's era at Burris appeared to have ended in 2009, when he took the Ball State job and had a good run. But by 2015, the torti-whatever was beginning to be a problem, and he decided to retire to private lessons. Would have stayed there, too, but Burris needed a coach this season and the program's glory had become yesterday's news.
"I loved retirement, just loved it, and not having to worry about any stress anymore. You can't lose, and I hate to lose. I remember all my losses and I forget all my victories. Those losses, I remember every one of them," he said. "My heart brought me back here, and I try to listen to my heart."
At last check, Burris was 20-5, and a strong threat in 3A.
"I don't need any more championships. I just want to see the girls have fun, become all they can be and take some pride in who they're playing for, and remember who they're playing for, because there are hundreds and hundreds of girls out there that played here in the past that keep track of us."
But know this. At 65, he does not have it easy. "What's really made the job tough this year more the anything else is this," he said, pointing to the thing around his neck, and the ailment it represents. "It's taken a lot of the fun out of it. But I can still see, and I can still talk and I can still set up drills."
He's thinking, maybe three seasons. "I just want to bring the pride back."
Want more pride? Drive 15 minutes to the farmlands outside Muncie, and Delta High School. There, Tim Cleland sits by the tennis courts he calls home. In 1988, he was a former all-state player and Muncie sportswriter covering the tennis sectional, and mentioned to the parents of Delta's best player that should the kid need anyone to hit with over the winter, he'd be happy to help. Cleland became a hitting partner, and when Delta coach Kim Ervin had to go on maternity leave in 1989, the school asked Cleland to coach.
Three decades later, he's still there. The baby Kim was carrying back then would be named Zack, and later became Cleland's best all-time player. The great circle of tennis life. "Lots of things happen that you can't necessarily plan for," Cleland said. "We teach that to the kids from time to time."
His boys team just won its 27th consecutive sectional and 29th overall, to go with 23 regionals and 12 trips to the final eight. His girls teams have won 28 sectionals and 17 regionals. His record is 1,045 victories against 174 losses (as of Oct. 9).
The biggest obstacle to any state championship hardware has always been tennis' one-class system, meaning Delta bumps heads with the Indianapolis-area superpowers. A much more interesting number to Cleland, anyway, is how many kids he's reached through tennis. "I know we're making a difference in some people's lives. It's beyond the wins." He noted that in a school of 850 or so, he has 28 boys and 40 girls on the roster. That means roughly one of every 13 Delta students plays on the tennis team.
And Cleland cuts nobody. "I did the very first year I coached. I cut three kids and I couldn't handle it. These kids just want to learn a life-long sport. We have seven courts and we make it work."
The connection to his players lasts. Cleland is qualified to officiate weddings and funerals. "I just hope I don't ever get them confused." He's conducted weddings for two past players—and the funeral for a family member of another.
He's only 56, so the win total figures to climb. Delta is his life. He even runs the scoreboard at basketball and football games.
"I don't ever get burned out, or tired of it. I love what I do. I think people have kind of a calling for what they do. I see this as my calling. What would I chase if I went somewhere else? I'm not into chasing. This is where I do my business, right here."
"I go around and pick up trash and weed the flowers and do everything I can. Then my own yard, the neighbors don't want to look at it."
Family members helped landscape the courts. Cleland still remembers what one said, as they were moving around plants.
"Leave this spot open. This is where we can bury coach."
Two historical winners, separated by only a few miles of eastern Indiana pavement.
Shondell on Cleland: "I'd love to see him win a state title one year because he deserves it. We both coach in similar ways. It's all about building relationships. I guarantee you he's never screamed at or chewed out a player, and I don't either."
Cleland on Shondell: "I don't consider myself in the same class, to be honest. He's got 20 or more state championship banners, and I have zero. But we have both sustained long-term success with our programs, so any mention of my name in the same sentence with Steve Shondell is an honor to me.
"We're both single and have been and are pretty focused on what our little niche is in the world. Steve, I'm sure, feels the same way; what we're trying to do is take that little four-year window in somebody's life and help them do athletics, and learn something about work ethic and leadership and accountability and teamwork.
"We also understand you can't be afraid to lose."
Well, neither does that very often.•
__________
Lopresti is a lifelong resident of Richmond and a graduate of Ball State University. He was a columnist for USA Today and Gannett newspapers for 31 years; he covered 34 Final Fours, 30 Super Bowls, 32 World Series and 16 Olympics. His column appears weekly. He can be reached at mjl5853@aol.com.
Please enable JavaScript to view this content.