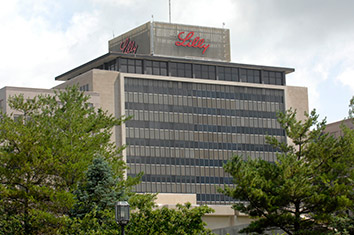 Eli Lilly and Co. said Wednesday the U.S. government has agreed to buy $330 million worth of additional doses of its antibody treatment for COVID-19 to help meet the soaring national demand to treat people who have been infected with the virus.
Lilly's therapy is cocktail of two antibodies, bamlanivimab and etesevimab. Under the purchase agreement, Lilly will supply 388,000 doses of etesevimab to complement doses of bamlanivimab previously purchased by the U.S. government,
The news comes about three weeks after the U.S. Food and Drug Administration lifted a two-month suspension on the Indianapolis-based drugmaker's antibody therapy over concerns that it didn't work well against the beta and gamma variants.
But Lilly's cocktail has been shown to be highly effective against the delta variant, which is now the dominant strain of the coronavirus in the United States.
National demand for antibody treatments is skyrocketing. Across the country, several governors are boosting the antibodies as a primary treatment for people—including the unvaccinated—who have tested positive for COVID-19.
Federal shipments of the drugs—primarily supplied by drugmaker Regeneron Pharmaceuticals—increased fivefold in August to nearly 110,000 doses, with the majority going to states with low vaccination rates, the Associated Press reported.
In recent weeks, governors of Southern states that have been deluged with COVID-19 outbreaks have pushed the antibody treatments. Demand has soared in Florida, Texas and Louisiana, which have seen a spike in infections, and where hospitals are overwhelmed with unvaccinated patients.
The treatments are not vaccines, and do not prevent people from getting infected. However, they can keep many infected patients from getting sicker and needing hospitalization.
Please enable JavaScript to view this content.