What role does Congress have in dealing with inflation and the nation's economy?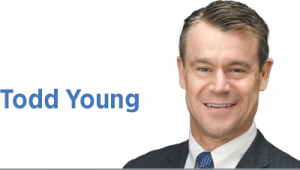 I hear constantly from Hoosier families and businesses struggling because of inflation.
It's getting harder to put groceries on the table. Gas is more expensive to put in the tank. Small-business owners can barely make payroll. Mortgage rates are the highest since the financial crisis of 2008.
One of my top priorities in the Senate is getting inflation under control.
While no single government policy is completely to blame for the cost-of-living crisis, it's undeniable that the policies of President Biden and Washington Democrats have made it much worse.
When inflation started to increase in early 2021, I sat in the Oval Office and warned the president against unnecessary stimulus spending.
He didn't listen.
Instead, Democrats voted to inject trillions of dollars in one-time, inflationary government spending into an economy already running red hot. At the same time, they throttled domestic energy production with overbearing regulations and by canceling projects like the Keystone XL pipeline.
We're living with the results today. It doesn't have to be this way.
Responsible fiscal policy—and a change in leadership—are necessary for a course correction to get our country and economy back on track.
The recent past offers a clear model for success. With Republican control of the Senate, we passed the largest tax cuts in American history and delivered an economy that worked for all Americans, with record levels of employment and strong growth.
That's the choice voters face this fall, and I hope they choose to return Republican majorities to the House and Senate.
I also hope to work for more deals like my CHIPS & Science Act, which became law with broad, bipartisan support this year. It's the largest anti-China bill ever and makes generational investments in American innovation and our national security to out-compete the Chinese Communist Party in the 21st century.
Indiana is already seeing its effects, including a $1.8 billion investment by SkyWater Technology for a semiconductor manufacturing plant in West Lafayette.
There is a proper and targeted role for the government in our 21st century economy. Any public investments should be focused on leveraging private-sector involvement and creating long-term economic growth—not on policies that will crowd out the private sector and drive up prices with inflationary stimulus spending.
I'm proud of the results I've brought home for Hoosiers. But there's more work to be done to get our economy growing again and put our nation back on track.
On Nov. 8, I hope to earn your vote and to continue having the honor of representing you in the U.S. Senate.•
__________
Young, a Republican, was first elected to the U.S. Senate in 2016. Send comments to ibjedit@ibj.com.

Click here for more Forefront columns.
Please enable JavaScript to view this content.