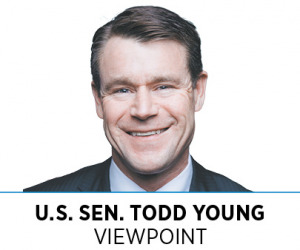 On the east side of Indianapolis, Shepherd Community Center is upping its game. It has to. The low-income families the not-for-profit serves are being pummeled by higher prices on the essentials. Any pay increases area families received have been wiped away.
Welcome to America in 2022. A quick trip to the grocery store induces sticker shock. Filling up the car breaks the bank. With supply low and costs high, it is difficult to buy a home or even rent an apartment. Heating either one is more expensive than ever, too.
The cost of living is climbing all across the country, but until very recently, President Joe Biden and Washington Democrats denied it was on the rise. Then, changing tactics during a desperate push to pass a $3.5 trillion deficit-spending package, the president claimed inflation was fleeting.
Two months later, inflation is at a 40-year high. A new economic report released this month found the average American household is spending an additional $276 a month because of inflation.
I hear constantly from Hoosiers who are straining their budgets to buy the basics: The prices of meat, milk and produce are at record levels. The cost of a trip to the grocery store increased 6.5% over the last year. By comparison, the yearly increase over the prior decade was 1.5%.
A gallon of gas costs nearly a dollar more than this time in 2021. The average mortgage has jumped $200 just since November. And half of America's families are projected to spend an additional 30% heating their homes this winter. Overall, these costs tacked on an extra $3,500 to family budgets in 2021.
We are in the middle of an affordability crisis. As I travel across our state, Hoosiers want to know what Congress is doing to bring relief. They are frustrated by the priorities of the Biden administration and Democrats in Washington—more spending, more taxes, an attempted federal takeover of our elections, electric cars and green new deals. They think these priorities are simply out of touch with the concerns of rank-and-file Americans. They're right.
The reasons for rising prices are many. The economy, roaring right until March 2020, was distorted by the pandemic. Demand for goods is outpacing available inventory, while supply chains are twisted and slowed. And there is a shortage of workers because many Americans have not returned to the workforce, a trend made worse by government benefits that incentivized staying home. The uptick in jobs in January is welcome news, but the accompanying wages will be swallowed by rising costs for food, gas and housing.
The solution is not to throw more money at the problem. I voted against the Democrats' first multitrillion-dollar spending spree last year, the partisan American Rescue Plan, which—unlike the bipartisan relief deals passed in 2020—did little to fight COVID but did slosh trillions of dollars into the economy, fueling rising costs. I oppose the president's signature spending package, Build Back Better, which would do more of the same.
I've introduced the Inflation Prevention Act, which would prohibit the Senate from passing any laws that would further increase inflation any time it spirals out of control. The first step to rein in runaway inflation is to stop runaway spending. And we need trade and deregulation policies that lower prices, not more Washington regulations and spending.
If my colleagues across the aisle want to join me in finding additional ways to stop inflation, I am happy to work with them. But Hoosiers need to know this: I will fight any actions of this president or Congress that add to our already high cost of living.
The cost-of-living crisis is not the exclusive fault of a single government policy or politician, but Washington Democrats seem determined to worsen it. They are succeeding, and Hoosiers are paying the rising price.•
__________
Young is a Republican member of the U.S. Senate representing Indiana.
Please enable JavaScript to view this content.