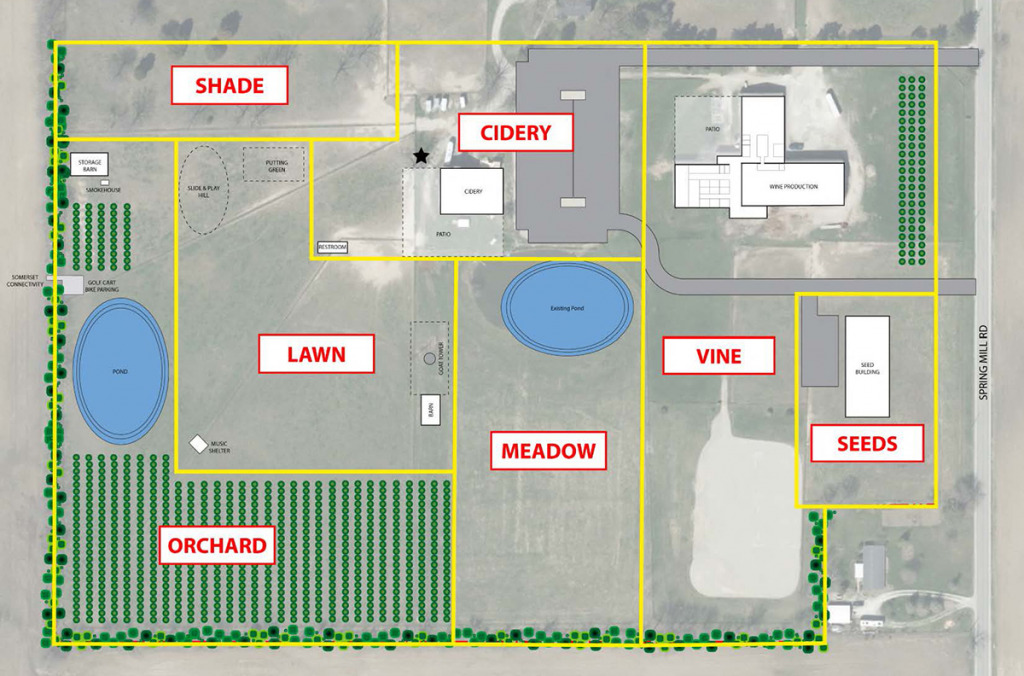 The owner of Urban Vines Winery and Urban Farmer Seeds is eliminating some components of a previously planned agritourism project near Grand Park in Westfield and switching to a family-oriented concept focusing on apples.
Noah Herron, who owns both the Westfield-based businesses, announced plans in May 2020 to redevelop the 35-acre Affinity Equestrian property near West 186th Street and Spring Mill Road. The $3 million project was to include a production facility for the winery and a physical retail location for the online garden supply store, as well as rustic-themed group lodging and self-storage facilities.
The new concept, to be named Urban Apples, drops the lodging and storage elements and would include an apple orchard, a cidery for alcoholic and non-alcoholic beverages and other agricultural-focused amenities. Its estimated cost of development is $3 million to $4 million.
Herron introduced the concept to the Westfield City Council on Monday night. The property is currently zoned for agricultural and single-family development with an approved use variance for a wine-processing facility. Herron Holdings LLC still needs council approval for a planned unit development, which establishes zoning specific to Urban Apples' activities.
Herron's pitch to the council previously included plans for 66 for-sale, climate-controlled, electric-outfitted self-storage units near the Sundown Gardens landscaping center on the north side of the property.
"We just wanted to focus on agritourism and cidery at this time. We thought the lodging and storage units weren't the best fit for us and this property," Herron said.
Several city council members had voiced concerns about the previous project's non-agricultural uses.
"I'm a little concerned that we're mixing so many businesses in a relatively small area," Westfield City Council President Mike Johns said back in May 2020. "As we move forward on this, I would like to have some better clarifications for how those businesses are going to work together and how the roads will be outlined in that acreage."
A roughly 9-acre portion of the former 35-acre property dedicated to self-storage was recently purchased by Sundown Gardens, according to Herron.
"We are not sure of their plans but believe it will have an agritourism aspect like ours and will have a good synergy between the two," Herron said.
Now, Herron is now working with Urban Vines' winemaker Marc Rupenthal and Mike Hayner, who together with Herron would be owners of Urban Apples, to launch the new concept.
As proposed, the tourism destination would offer tastings, food, picnic and play areas, a lawn area for live music performances and interactive spaces for children to encounter small farm animals, like goats and potbellied pigs. The previously planned wine production facility and seed store would remain.
If the new plan is approved by the council at its Sept. 13 meeting, Herron is hoping Urban Apples will be completed by spring 2023.
Please enable JavaScript to view this content.