Venture capital investments in Indiana companies hit an all-time high of $1.4 billion in 2021, nearly triple the amount of investment seen the previous year—and 2022 is shaping up to be just as strong.
That's according to Indianapolis-based Elevate Ventures' 2021 Indiana Venture Report, released Monday. The report looks at venture activity within Indiana relative to other Midwestern states and the United States.
Indianapolis-based Elevate Ventures is a not-for-profit organization that serves as a venture capital firm for the Indiana Economic Development Corp., the state's public-private job-creation agency.
Indiana companies—those either based here or with a significant presence here—landed 159 deals last year, essentially flat from the 160 deals recorded in 2020. But the amount invested soared from $498 million in 2020 to $1.4 billion in 2021, largely because of a handful of very large deals.
Those big deals included Fishers-based Formstack, which late last year landed a $425 million investment that was the largest by far in Indiana's history. And five other companies each raised between $90 million and $208 million: Indianapolis-based companies Greenlight Guru and Passageways; Terminus, which has dual offices in Indianapolis and Atlanta, Georgia; Bloomington-based Advise Insurance; and Inari Agriculture, which is based in Cambridge, Massachusetts but has most of its operations in West Lafayette.
Last year, 19% of deals were valued at $5 million or more, up from 14% in 2020.
That increase is a good thing because it shows that Indiana's venture-backed companies are continuing to grow and attract investor interest, said Ting Gootee, the chief investment officer at Elevate Ventures. "That's very comforting for this community and is very encouraging."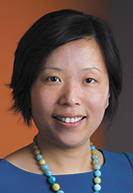 However, only a small percentage of U.S. venture capital investments go into Indiana companies, the Elevate Ventures report says. In the first half of last year, Indiana captured 0.4% of total investments, up from 0.3% in 2020. Most of the investment dollars went to just three states: California, with 47.4%, New York, with 14.5%; and Massachusetts, with 10.6%.
To date, Gootee said, the momentum from 2021 hasn't yet slowed down. "We remain optimistic that 2022 will be yet another record-breaking year."
A few other insights from the report:
Among the Midwestern states of Illlinois, Indiana, Michigan, Minnesota, Ohio and Wisconsin, Illinois had the most deals in 2021, with 223. Indiana was next, with 159 deals. Ohio had 74, Michigan had 71, Minnesota had 68 and Wisconsin had 45.
Most of Indiana's dealmaking happened in the business-to-business tech sector, which saw 88 deals worth a combined $932 million. Life science and agricultural science companies landed another 34 deals worth $343 million, while business-to-consumer companies landed 32 deals worth $128 million. Advanced manufacturing companies landed five deals worth $25.7 million.
Investments were concentrated in central Indiana, with companies in Marion, Hamilton, Boone and Hendricks counties landing 87 deals worth a combined $888 million last year. Those numbers represent 55% of the total deal count and 62% of the total value of all deals. Other strong spots around the state were west-central Indiana, with 12 deals worth a combined $376 million; south-central Indiana, with 17 deals worth $107 million; and north-central Indiana, with 23 deals worth $35 million. This, the report noted, is likely because these three regions are home to the state's major research universities: Purdue University, Indiana University and the University of Notre Dame.
The full report is available here.
The report is based on data from various sources including the data-analysis firm Pitchbook; information from Indiana sources including fund managers and industry groups AgriNovus, BioCrossroads and TechPoint; and from Elevate Ventures' own investments.
Please enable JavaScript to view this content.