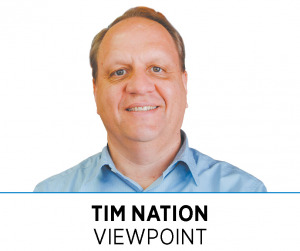 The line "All men are created equal" from our Declaration of Independence is a principle Americans hold true in their hearts and minds. Rooted in equality is the value of fairness.
What if we learned that some Americans are not being treated fairly and equally? What if we discovered that some of our citizens who trace their ancestry back 200 or even 400 years have only 14 cents of wealth for every dollar an average American possesses? How could this be?
Throughout the 1990s, we built new and improved systems to collect data and gauge our society. This included "No Child Left Behind" and Indiana's ISTEP testing, plus new standards for hospitals, justice and youth-serving groups—to judge if those organizations had worth and impact.
Thirty-plus years later, the data is in. Many in government, philanthropy, business and faith have been doing an analysis. What have we found?
Unfortunately, the data shows our society leaves Black people and other people of color way behind. Worse than that, many of the institutions designed to help people out of poverty and despair only multiply their problems. This happens when kids are suspended, expelled and taken from their homes while their parents work three jobs, are in prison, and/or are stuck in a cycle of self-medicating to deal with mental and physical health challenges because conventional health care is out of reach.
We must understand that these disparities are one of the main drivers behind Indianapolis' and our country's homicide crisis. Too many of our young people are being kicked and pushed out of school. This leaves thousands of unconnected people creating a shadow economy with its own rules and negative outcomes for most.
Black students in Indiana are nearly four times as likely to get an out-of-school suspension as their white peers, ranking our state fourth-highest in the country. Nearly a quarter of Black middle and high school students in Indiana have been suspended at least once. Approximately 82% of the adult prison population is high-school dropouts.
Yes, there is a focus on race throughout our schools and society because we know societal systems are unfair and must change. Peace Learning Center works with our community to help our youth learn peacemaking skills, and we help schools implement initiatives to reduce suspensions and expulsions, address inequities and help students succeed.
Some school districts focus on teaching teachers about their own hidden biases, how to understand students who grow up differently than they did, and how to have "equity literacy" using teaching techniques that do not exclude kids from other cultures.
This is not only in schools. Businesses as well as faith and community organizations are hiring diversity, equity and inclusion officers; holding trainings; changing policies and hiring practices; and investing in Black- and other minority-owned businesses for contracts and partners.
All are working to eliminate racism, which is more than an individual problem. Racism is the systemic denial of power and resources to a group of people based on their race.
Current efforts to vilify critical race theory obscure its legal theories and are being used to brand all initiatives and programs to address racial disparities as un-American. Some parents complain that focusing on race makes their children uncomfortable. But most people are uncomfortable talking about race because they never have talked about race—especially with someone from a different race.
We must have conversations about race to understand each other and work together to end racism and its harmful consequences. We must bring light and knowledge to these issues to be able to end the darkness of racism. The future of our state and country depends on it.•
__________
Nation is executive director and co-founder of the Peace Learning Center.
Please enable JavaScript to view this content.