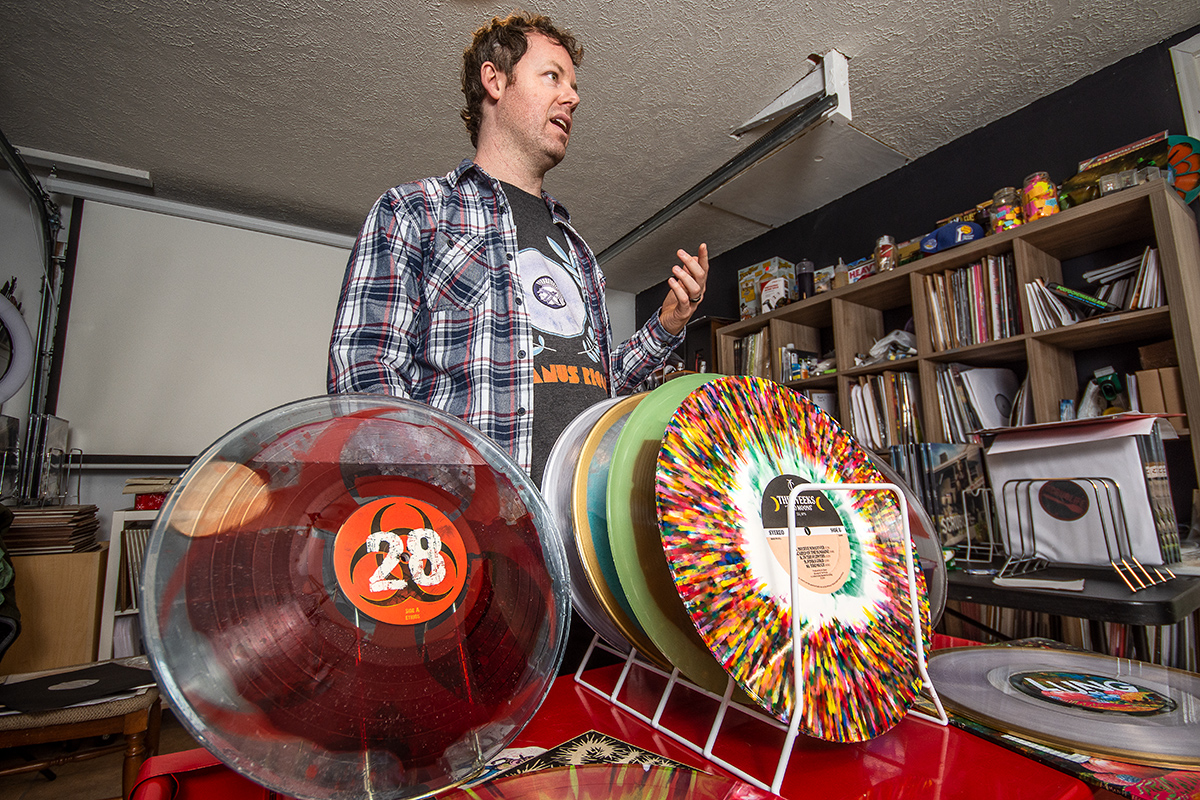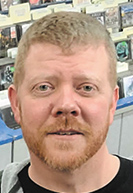 The Karma Records store at East Washington Street and Post Road didn't encounter a shortage of vinyl records during 2021's holiday shopping season, but co-owner Jim Ector said the shop wasn't able to offer some iconic titles to customers.
New pressings of Michael Jackson's "Thriller" and Prince's "Purple Rain" were unavailable to Karma, an Indianapolis brand that's done business with record companies for more than 50 years. Albums by Guns N' Roses and Kiss also were no-shows in December.
Although online streaming accounts for most music-industry revenue, it's also true that vinyl pressing plants can't keep up with the demand for records—the format considered obsolete after the rise of compact discs in the late 1980s.
Sales of vinyl albums have increased for 15 consecutive years. MRC Data, formerly Nielsen SoundScan, published 2021's year-end statistics on Jan. 6, and the vinyl results surely turned heads among industry observers. More than 40 million records were purchased last year, nearly doubling the number sold in 2020 and an exponential spike when compared to the 900,000 units reported in 2006. And for the second year in a row, vinyl outsold CDs.
Ector said Karma had a great December 2020, when pandemic stay-at-home orders translated into many consumers' having disposable income and fewer places to spend money. December 2021 proved to be even better for sales.
But the east-side store, one of three Karma locations in Indianapolis owned by Ector and Jeff Wicks, didn't have the latest release by Iron Maiden, "Senjutsu," in stock. That recording's vinyl edition arrived in September, sold out quickly and hasn't been available since.
Fleetwood Mac's "Rumours," the smash hit of 1977 and a titan of record store inventory, finally showed up the Monday after Christmas at Karma, Ector said. "You can only look at it as, 'Man, what would have been if we did have all the titles?'"
Beyond record stores, the current logjam in vinyl production is affecting independent record labels and musicians in central Indiana.
Franklin resident Chris Banta owns Romanus Records, a label known for not restricting its vinyl releases to standard black discs. Romanus specializes in bold color variants and splatter designs.
Because of the production crunch, Romanus will issue five to seven albums this year instead of its customary 10 to 12.
"A lot of plants right now are quoting 10 to 12 months to press a record," said Banta, who had been accustomed to waiting three to six months in the past. "For most mid-level artists, that's not sustainable. It's difficult to plot out your next move."
While Banta said he's anticipated a leveling-off of vinyl's resurgent popularity, more and more fans are hooked on the analog appeal of records, phonograph playback and memories associated with certain music.
"There's something great and warm and nostalgic about, 'Oh, let's put a record on,'" he said. "It's not convenient. You're involved in it. The artwork is huge. It's a big piece of plastic. You put it on, you drop the needle. It's kind of dusty? Clean the dust off. The inconvenience of it is what makes the experience so rewarding."
Complicating factors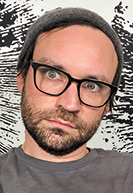 Banta and Karl Hofstetter, founder of Indianapolis label Joyful Noise Recordings, pinpointed the following demands on vinyl pressing plants, which number around 30 in the United States.
◗ Chain retail stores such as Walmart and Target are selling vinyl. "If you think about it, Walmart can almost overnight become the biggest distributor of physical music in the United States," Banta said.
◗ Major labels are pressing sizable quantities of modern records. In 2021, top-selling albums by Adele, Taylor Swift, Olivia Rodrigo, Billie Eilish, Ed Sheeran and Morgan Wallen received vinyl releases. Sony Music reportedly placed a staggering order of 500,000 copies of Adele's "30." "I think major labels have finally realized that this isn't a fad," Hofstetter said.
◗ Major labels are pressing sizable quantities of older records. As Hofstetter said, a TikTok meme featuring a hit from the '80s can spark a vinyl order of 50,000 copies.
◗ Independent records that were delayed in 2020 re-entered the production queue when musicians prepared to return to touring and on-the-road promotion.
◗ Musicians who wrote and recorded new music during the pandemic added that work to the to-do list.
More pressing plants could help the situation, but starting a factory is a substantial task.
"It's not like, 'Hey, I bought a machine. I'm ready to press,'" Banta said.
Chip Viering is president of Indy Vinyl Pressing, which isn't a pressing plant but a company that facilitates the making of vinyl records for independent labels and musicians. Viering said he works with a handful of factories that use decades-old machines and with a handful of plants that use new technology to make records.
"It takes so long to find one of these refurbished 80-year-old machines," Viering said of the prospect of launching a pressing plant. "To get them installed and debugged? If you start now, that's a six-month process."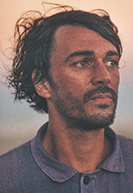 Indianapolis singer-songwriter Richard Edwards said potential owners frequently ditch the idea of a pressing plant after considering the financial commitment.
"It's like owning anything old and the challenge of sourcing parts when stuff goes wrong," he said. "Every step of that process is kind of a nightmare."
'Mood' tunes
Known for his work in Margot & the Nuclear So and So's, which disbanded in 2014, Edwards maintains a solo career he describes as "essentially making records and selling them to a very modest but super-enthusiastic group of people."
"For the last five years, I've been able to make a really good living doing that," he said.
Edwards recently unveiled plans for an album titled "New Mood," which will be released in digital format on March 18. The vinyl plan for "New Mood" breaks down as 400 copies of transparent records, sold for $27.99 each and shipped within 60 days of March 18; 250 signed copies of gold-colored records, sold for $39.99 each and shipped within 30 days of March 18; and 50 signed copies of a multi-colored "smoke" variant, sold for $39.99 and shipped in March.
"New Mood" features Edwards collaborating with keyboard player Dave Palmer, whose resume includes work with Fleetwood Mac and Aimee Mann, and Perla Batalla, who used to tour as a backing vocalist for Leonard Cohen.
Regarding the challenges of vinyl production, Edwards said he scrapped an idea for a 7-inch single because pressing plants aren't willing to make the format.
"I get it," he said. "If you've got enough work to last you the next three years, why are you putzing around with stuff like that?"
Because of delays in manufacturing records, Edwards reconsidered his business model of selling pre-orders of albums to finance vinyl production.
"In three months, you would have [the albums] and you would send them to people," he said. "That was pretty reasonable. It's harder to tell people, 'You'll get it in November, but give me money now.'"
Inside the music
Romanus Records owner Banta said he prefers to not sell pre-orders because he doesn't want to hold people's money for lengthy periods. For instance, 2,000 to 3,000 copies of four different Romanus releases could be in the process of being manufactured at the same time.
"You're holding on to thousands and thousands of dollars of people's money for months," Banta said. "They're trusting you will deliver on all this stuff. If it's too many, it's kind of unsettling."
One advantage of Banta's waiting until he has records in hand is the ability to advertise the products in photographs rather than in illustrated mock-ups. He avoids the question of, "Does the vinyl actually look like what you said it would look like?"
In tandem with his label, Banta has an unusual manufacturing business in which items such as sand and liquid are encased in vinyl records. Each is handmade, and Banta's clients have ranged from rapper Young Thug, who wanted green slime in his LPs, to the "Mortal Kombat" soundtrack featuring "blood" in the records.
On Jan. 1, Romanus issued a live album by Australian band King Gizzard & the Lizard Wizard that featured custom variants for Indianapolis record store Square Cat Vinyl and Chicago's Shuga Records. The records included sand-filled, glow-in-the-dark and holographic options.
Cutting for sound
Founded in 2003, Joyful Noise Recordings has released albums by notable underground acts such as Kishi Bashi, Son Lux and Sebadoh.
Label boss Hofstetter said song licensing and digital sales are healthy revenue streams for Joyful Noise, but the label has a strong physical-media presence, thanks to an annual vinyl subscription series.
The unknowns of production put the 2022 subscription series at risk, Hofstetter said.
Last fall, he thought, "We can't reasonably rely on the manufacturers to get us the records. If I can't tell you when it's going to show up, I don't feel good about selling that."
Following a conversation with a friend who encouraged Hofstetter to do whatever he could to hang on to the subscription series customers, Joyful Noise came up with a decidedly old-school solution.
As a placeholder for the eight full-length albums in the subscription series, Joyful Noise will mail out lathe-cut 7-inch records featuring bonus tracks from the albums.
Lathe-cut "technology" consists of a needle cutting into a piece of plastic in real time.
"If a song is three minutes long, it takes three minutes to cut that song," Hofstetter said.
Instead of relying on an outside pressing plant, Joyful Noise has a 1940s lathe-cut machine, the Presto 6N model, in the company's office.
As the Joyful Noise website notes, "Currently, it takes more time to make a vinyl record than it takes to create a human being." The lathe-cut 7-inch mono records are a gesture to preserve Joyful Noise's community of vinyl fans. Four hundred "early bird" subscriptions sold out at $200 each.
"We decided, 'Let's lean into what we can control and hope that people understand,'" Hofstetter said.
Looking ahead
Indy Vinyl Pressing President Viering said his customers need to act fast if they hope to sell new records in the upcoming holiday season—that's 2022.
"We're spending a lot of time convincing people they need to get in the game now," Viering said. "They would have to have an order placed by Feb. 1, or real close, to get records by Christmas."
Acting fast is a priority for Banta and his Romanus artists.
"I've been very frank with bands we're talking to: 'The moment you have something ready, we have to send it off. It has to go. You don't have to have a release date in mind, but we need to start the process,'" he said.
Singer-songwriter Edwards has more albums on the way after "New Mood," and he said Virginia-based Furnace Record Pressing is looking out for him.
"They're holding space in August and September for stuff I don't have mixed yet, just so I have a place in line," Edwards said. "Solutions like that are helping a little bit."
Karma co-owner Ector said he doesn't expect the vinyl production crunch to ease in 2022. He said he's seen major-label projections for what companies want to press this year and what realistically can be completed.
"It looks like it's about half," Ector said.
Meanwhile, he said, Karma always is looking to buy used records to maintain that part of the store's inventory. Ector said he's certain it's a philosophy shared by Indianapolis record stores Indy CD & Vinyl, Luna Music, Irvington Vinyl & Books and Square Cat Vinyl.
"Who knows how many records are sitting in people's basements and garages that are waiting to be unloaded into a store?" Ector said.•
Please enable JavaScript to view this content.