Volkswagen of America Inc. is partnering with the city of Carmel to test what it calls machine-vision software that will harness data captured by city-installed cameras to help public officials with future transportation planning and support emergency services.
The auto company said Wednesday that Carmel will be the first city in the world where the software—which was developed in-house—will be used to gather traffic and intersection data.
Already, Volkwagen is using the software to optimize production at two German plants—Wolfsburg and Zwickau—by monitoring quality checks for vehicle assembly and logistics.
"The future of transportation will require more data connections and sophisticated analysis than ever before," said Johan de Nysschen, chief operating officer at Volkswagen Group of America, in a written statement.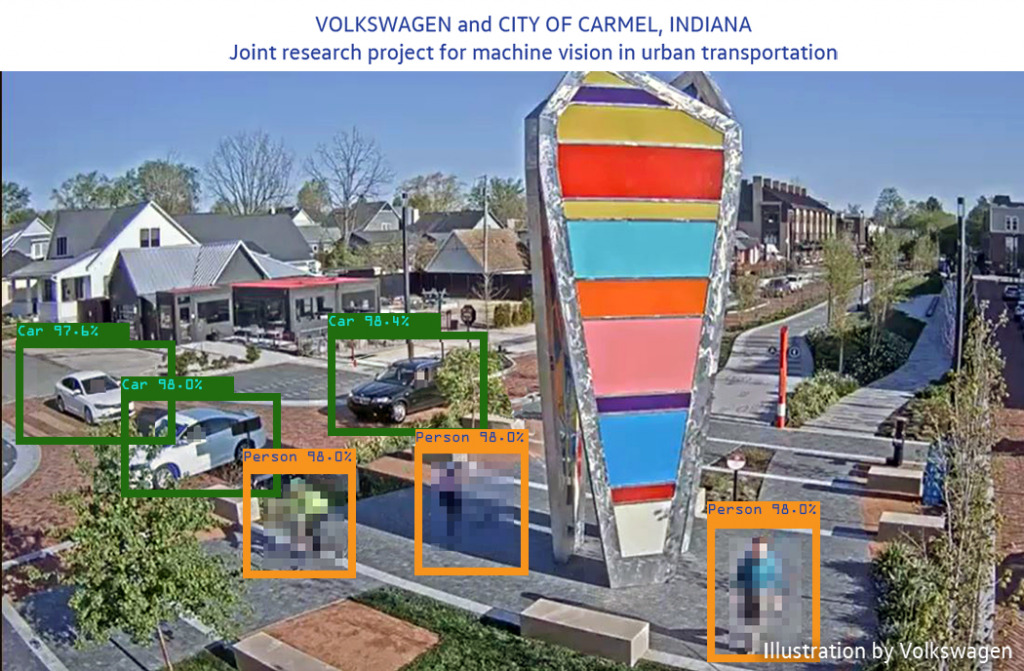 "We see our tool as an opportunity to provide cities with more usable data on mobility to help shape their future transportation needs, from pedestrians and vehicle drivers through public transit," he said. "We're grateful to the city of Carmel for partnering in this shared research effort."
Volkswagen's software will be used with cameras Carmel has already placed at key intersections and will analyze the traffic flow of cars and bicycles, as well as pedestrian movement and parking spot utilization.
It can also provide an automated data snapshot of an intersection or street location to support emergency responses and reaction during natural disasters. It could eventually help with immediate needs such as the flow of traffic before and after major events, Volkswagen said.
A more efficient traffic flow could also help to reduce environmental impact of transportation, the company said.
"With enhanced software from Volkswagen, Carmel can more easily expand our view of traffic flow throughout the city," Carmel Mayor Jim Brainard said in a statement. "As we plan for public transportation needs in our future, our ability to capture more sophisticated information will help us make better decisions"
The company said the software will not track individuals or specific vehicles. A dashboard will gather data from the cameras, but the images themselves will not be stored. Only the counting data will be available for use.
When Volkswagen introduced the software last year for use in its manufacturing plants, it said the software uses artificial intelligence to analyze optical data. "The procedure is similar to the human capability of recognizing, processing and analyzing images," the company said.
Volkswagen said it has been working on the technology for several years.
Please enable JavaScript to view this content.