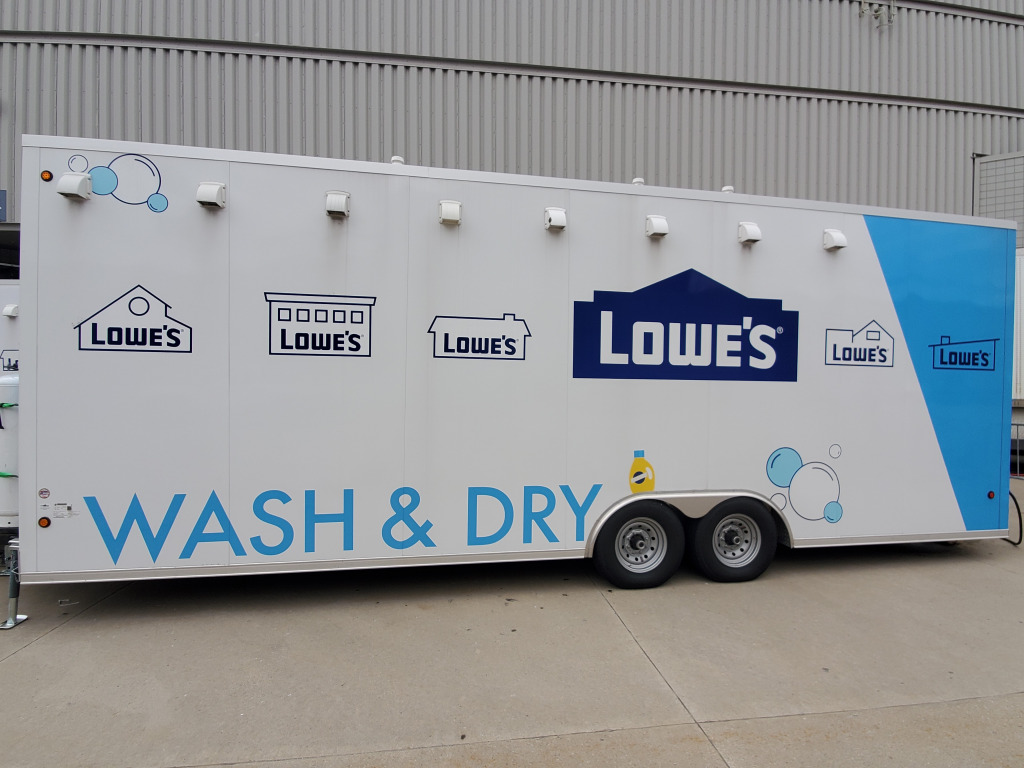 To help the city of Indianapolis pull off hosting all of March Madness, thousands of volunteers have planted trees, picked up trash, delivered sports drinks to players inside the bubble and sanitized practice courts in between team sessions.
But perhaps the least glamorous—yet very important—volunteer task has been collecting, washing and drying the dirty uniforms for the players and personnel for 68 teams in the tournament.
At the start of the tournament earlier this month, laundry was on an 18-hour per day cycle with machines running from 7 a.m. to 1 a.m., according to Jiffy Lube of Indiana President Steve Sanner, who is overseeing the operation.
The laundry hums out of two trailers, each equipped with eight washers and eight dryers that are parked behind the Indiana Convention Center.
The volunteers are washing game uniforms, practice uniforms and towels. The dirty laundry is dropped off, carted over to the trailers, washed and dried and returned to the teams. The clothes are tracked in color-coded bags and each players' uniforms stay on the same loop of laundry to prevent any mix-ups.
Some of the smaller schools in the tournament only came with one set of practice gear, so the clothes had to be cleaned nearly every day.
The loads have lightened now that the tournament is down to 16 teams, but as of 5 p.m. Wednesday, volunteers had done 12.8 tons of laundry on site. That's the equivalent of the weight of 191.8 Charles Barkleys. Sanner said they've only lost three socks.
"We're humming like a fine-tune machine now," Sanner said.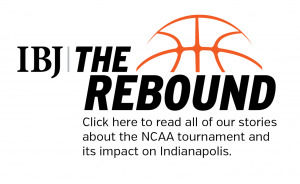 Sanner said he has had about 35 volunteers helping with laundry, plus one staff member from the Indiana Sports Corp. The volunteers have included his wife and daughter, Emmis Communications employees, Indiana Bureau of Motor Vehicles Commissioner Peter Lacy, former Pacers Sports & Entertainment executive Bill Benner and his wife, an equipment manager for Ball State University and Ryan Vaughn, president of the Indiana Sports Corp, to name some.
"It's been kind of a who's who of Indianapolis coming in to help the laundry committee," Sanner said.
Sanner said it's not a glamorous job sorting through sweaty uniforms, but he's grateful that people have been willing to do it.
"It's just a crazy schedule and the volunteers are what make it go," Sanner said. "They'll work 12 hours a day for a T-shirt because they just want to help."
Benner said he was impressed with how organized the laundry operation was set up. He worked on two laundry shifts and drove the dirty laundry from drop-off location to the trailers, and then carted back the clean loads.
"It's such a necessary part of everything that's going on," Benner said. "Laundry, hello, you kind of think of the more obvious stuff, but you don't think of how essential laundry is."
Please enable JavaScript to view this content.