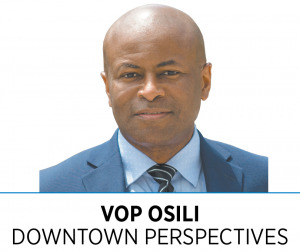 It is no surprise that the pandemic has taken a toll on our city, but the shifting nature of office work, the need for affordable housing, investing in small businesses and the desire for connectivity and urban living have given us the opportunity to rethink and reimagine a better and stronger vision for downtown.
Local government has a responsibility to collaborate with community partners and business owners to invest in and create opportunities that will make downtown a better place to live and work. This means investments in affordable housing, new work opportunities, public safety, and enhancing downtown's appearance and attractiveness.
For downtown to be a better place to live, we must remain intentional in our investments in affordable housing to better ensure that those who wish to work and live downtown can do so. Our downtown cannot be a welcoming place for all if we do not help provide housing opportunities for all, and this includes those currently unhoused. We must continue to be intentional in support of these efforts.
For downtown to be a better place to work, we remain committed to helping ensure that there are employment opportunities for everyone, including people returning from the criminal justice system, and I am proud of the departments in our local government that have set an example in providing these opportunities. It has become a greater focus that many of the projects we work on have a skills-enhancement component, and we must continue to develop this element within the scope of the initiatives and projects we support.
And, along with this, it is important we continue our investments in the success of our small businesses, the backbone of our economy. The city's Office of Minority and Women Business Development has been a great example by helping broaden our business base, both enhancing initiatives for existing small businesses and helping those entrepreneurs who are growing new ones. This helps our downtown, as many of our small businesses benefit from being in close proximity to so many other businesses.
Starting some years back, in an investment in what is now the Business Ownership Initiative, we have been proud partners with organizations like the Indy Chamber, the Indy Black Chamber of Commerce, Develop Indy and Employ Indy to provide small-business owners and entrepreneurs access to free one-on-one coaching and programs like the Rapid Response Loan program for businesses hurt by the pandemic. As these businesses thrive and grow, so do our city and our downtown.
Investments in public safety are critical. I am proud to support Mayor Joe Hogsett's recent investment in public safety, cleanliness and outreach in the downtown area, which includes increased overtime shifts for IMPD bike patrol officers and funding for businesses to apply for the b-link program, which enhances public safety by linking security cameras, personal and business, to IMPD.
And to the list above we must add continuing the beautification of our downtown. It is difficult to ignore the popularity of downtown on any given night. And to complement the work of our downtown business establishments and our entertainment and convention industries, the investment in increased numbers of cleaning ambassadors, through Downtown Indy Inc., will only further enhance our downtown's attractiveness as not only a great place for working and living but also for entertaining. The initiative also includes outreach efforts engaging with residents experiencing homelessness to ensure they are connected to services.
These investments and more help ensure that downtown continues to be the thriving success at the heart of our city and state. It is vital that my colleagues and I on the City-County Council—along with the mayor, city departments and community partners—continue to work in strong collaboration as we prepare for a cycle of reinvention after the global pandemic.•
__________
Osili, a Democrat, is president of the City-County Council in Indianapolis and represents District 11, which includes much of downtown.
Please enable JavaScript to view this content.