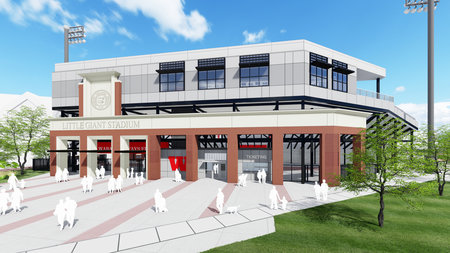 Wabash College plans to build a $13 million football stadium for its NCAA Division III team.
The stadium will have seating for a total of 3,550 fans in its grandstand, suites and the W Club Lounge.
The project is funded from the $225 million Giant Steps Campaign, the largest fund-raising campaign in the school's history.
"An anonymous group of donors has pledged substantial funding for the construction of Little Giant Stadium, and we are grateful for their passion, enthusiasm, and commitment to our students," President Gregory Hess said in a prepared statement.
Wabash is the sixth-winningest football program in NCAA Division III. Since 2001, the Little Giants have a 166-34 record. In that span, they have won eight North Coast Athletic Conference championships and made the Division III Playoffs eight times.
The college's track and field team, which also will compete at the stadium, has won 13 indoor and outdoor North Coast Athletic Conference championships since 2011.
Groundbreaking on the new stadium will be Nov. 9. The team's current Little Giant Stadium will come down at the end of this season. The new stadium is expected to be ready for the 2020 season.
Those donating to the stadium project have chosen to pay tribute to former Wabash football coach Frank Navarro by naming the playing field in his honor. Navarro coached the Little Giants from 1974 to 1977, with his 1977 team posting an 11-2 record and advancing to the Amos Alonzo Stagg Bowl (the championship game for Division III). Wabash lost the game to Widener 39-36.
The stadium, which is being designed by the DLR Group in Kansas City, will include four suites and the W Club Lounge on the second level. The main concourse will include a Hall of Giants, which will pay tribute to Wabash's accomplishments in intercollegiate athletics. Indianapolis-based F.A. Wilhelm Construction is serving as construction manager.
Wabash, an all-male liberal arts college located in Crawfordsville, has enrollment of 882.
Please enable JavaScript to view this content.