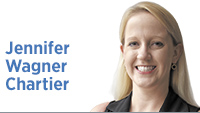 It was quite a legislative session, am I right?
With business mostly back to usual at the Statehouse after two years of a pandemic, it felt like there wasn't a hot-button issue lawmakers weren't eager and ready to touch. From guns to abortion to how history is taught to who's allowed to play youth sports, every week brought a new twist.
The best news: Hoosiers were actually able to engage with their government in person, so there were protests and live news reports and heated constituent exchanges—all staples of democracy that work together to put pressure on elected officials.
I could write quite a bit on what happened in the session and my opinions about some of the policies lawmakers prioritized, but I'll leave that rich fodder for my fellow columnists. Suffice it to say, there were a number of legislative solutions in search of real-world problems.
As we put this session in the rearview mirror, I want to offer some advice for anyone who actually got what they wanted at the Statehouse over the past three months: Say thanks.
There definitely are perks that accompany the role of part-time state lawmaker, but I've lamented before that Indiana provides limited professional support to our senators and representatives, and we cram all our legislative business into a span of three or four months, depending on the year. Done right, these jobs are downright exhausting.
Lawmakers don't hear "well done" as often as they hear "what the heck" from their constituents, or even from the groups lobbying them one way or another. Outrage is the language most frequently spoken inside those walls—and there are plenty of obvious reasons for that. But hidden among the headlines were legislative bits and bobs designed to make our state a better place. (Hint: Look for the bills that didn't pass strictly along party lines.)
Even if you don't feel charitable about any bills that made it through, consider offering a word of thanks to lawmakers who voted your way on legislation you didn't support. In a trifecta majority-Republican state, I can assure you it ain't always easy being a Democrat.
One last pointer: If you're reading this as the leader of a group that asked activists to show up at the Statehouse, write letters, make phone calls, send texts or engage with the legislative process any other way, make sure you loop back with them after session and do two things: (1) Let them know what happened to the bills you asked them to engage on; and (2) say a huge thanks to them for giving up their time, talent and treasure to support your cause.
Far too often in issue advocacy, we call on volunteers to take action, but we never tell them the outcome. This leads to fatigue and burnout. If you want them to come back next session, you owe them gratitude and honest communication.
Speaking of the next session, it's never too soon to start planning ahead, working on your priority issues, and praying that there's more focus in 2023 on kitchen-table issues than on the culture war.•
__________
Wagner is a lifelong Indianapolis resident and owner of Mass Ave Public Relations. Send comments to ibjedit@ibj.com.

Click here for more Forefront columns.
Please enable JavaScript to view this content.